Opinion
A week's worth of nutritious and delicious plant-based meals (2 of 4)
Kitchen Tips

Author: Isobel
Published: December 1, 2020
From one-bowl carrot apple muffins to African peanut soup with rice balls — here are 7 days' worth of recipes to inspire magic in your kitchen!
When it comes to putting together a well-balanced meal-plan, there's a healthy eating rule of thumb to remember: enjoy a wide variety of foods including fruit, veggies, legumes, wholegrains, nuts, and seeds. You can learn more about cooking and eating the plant-powered way here.
And now — on to the food! Here's the second in our series offering you a week's worth of plant-based meal ideas to cover you from breakfast to dessert, and everything in between. If you're pressed for time or feeling less than ambitious, jump to the 'quick n' easy' meal plan instead – no judgment! 😉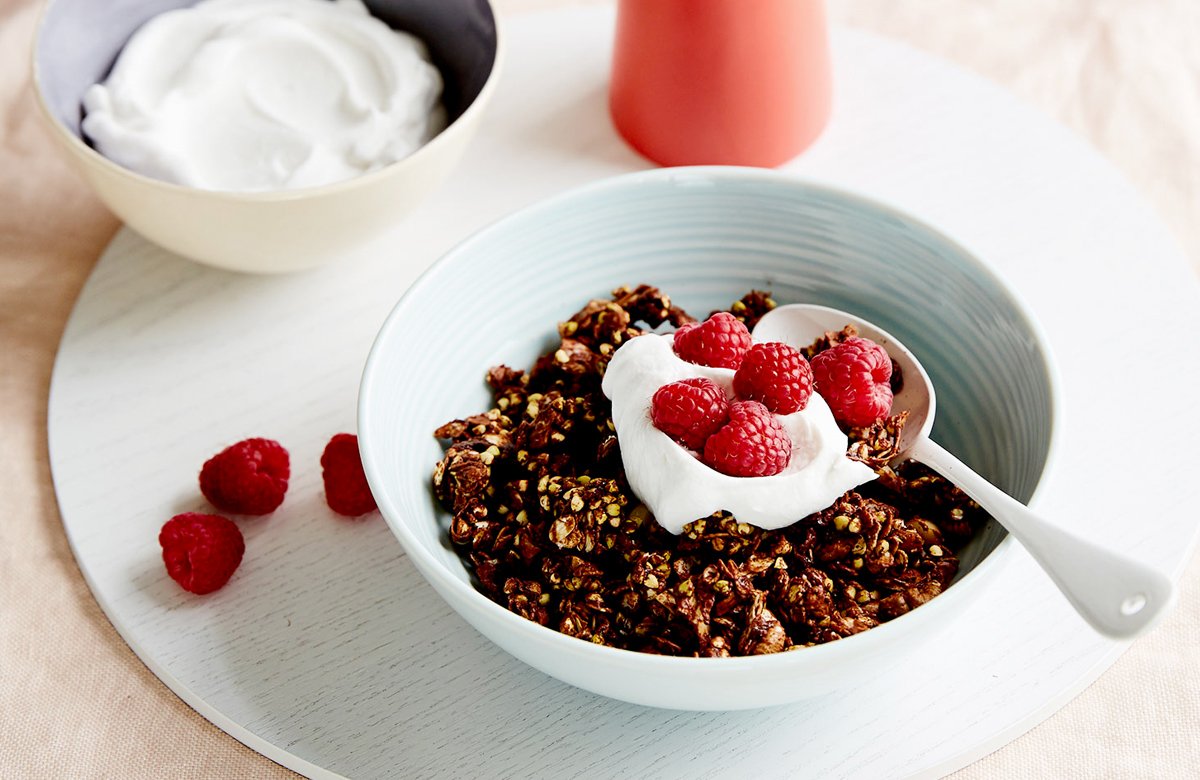 Breakfast
That nutty-chocolate granola goodness above? Believe it or not — it's technically a health food. Packed full of nutritious oats, buckwheat groats, nuts and antioxidant-rich cocoa, it's healthy-delicious. You could substitute the brown sugar for date sugar to make this even better for you and, if you like an extra chocolate crunch, stir in 1/3 of a cup of cocoa nibs once the mix is cool.
Richa Hingle has created an omelet with a twist: it's fluffy, savoury — and completely egg-free! Made with moong dal (split mung beans), this omelet is tender, yet hardy enough to stand up to a robust potato filling. Turmeric gives it that yellow hue, and kala namak lends it an eggy (read: sulfurous!) aroma! Kala namak is also known as 'black salt', but don't let the misnomer fool you — it's actually pink in colour. You can find it online or at most Indian grocery stores.
Rich in antioxidants, vitamins and minerals, the super berry açai bowl is a perfect summer breakfast to lighten up and cool down.
You might also like to try:
While we're here, don't forget the pleasures of some toast! Peanut butter and sliced banana makes a treat Elvis would be proud of, while fresh pear with blackberry jam is a personal favourite. Vegemite is a perennial classic with buttery spread (some of which actively lower cholesterol) — or paired with sliced avocado, which might sound a bit bizarre, but is really tasty!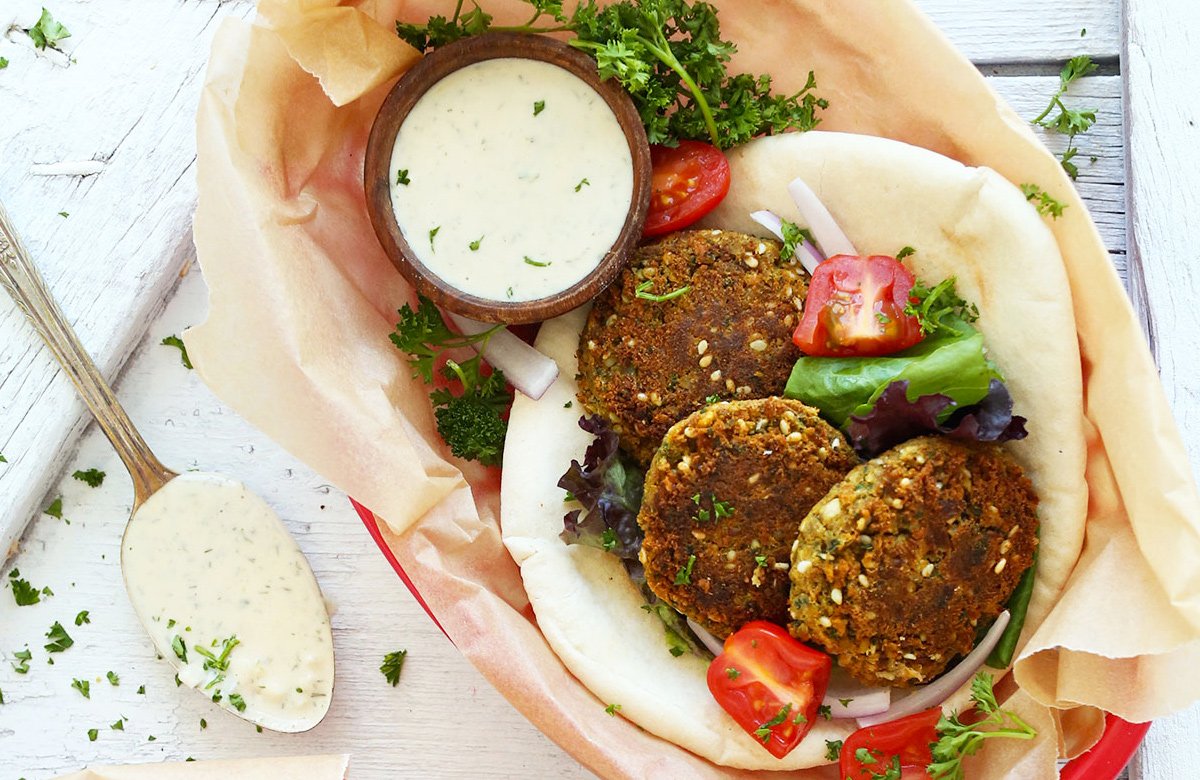 Lunch
Crispy on the outside, tender on the inside, and no deep-frying required! Minimalist Baker's easy falafel are delicious as-is — or ready to be tweaked as you like it. Swap out the parsley for coriander (and/or mint); add chilli flakes if you like it spicy, and, if you don't feel like hummus, perhaps this dairy-free and creamy homestyle tzatziki will fit the bill nicely.
Packed with crunchy pickles, protein-rich tofu and beautiful fresh salad these teriyaki tofu sandwiches with zingy pickles from Full of Plants are a dream come true. If you're in a rush, feel free to substitute the savoury sesame 'doughnuts' with your favourite bread. I love this filling in a crusty mini baguette!
A little bit Mexican-inspired, a little bit Southwestern, and a whole lot of delicious — this fresh black bean and corn salad is packed with protein and fibre, and is perfect for picnics, potlucks, parties and lunchboxes (simply leave out the optional feta to keep it fully plant-based — or try one of these dairy-free cheeses).
More lunch options: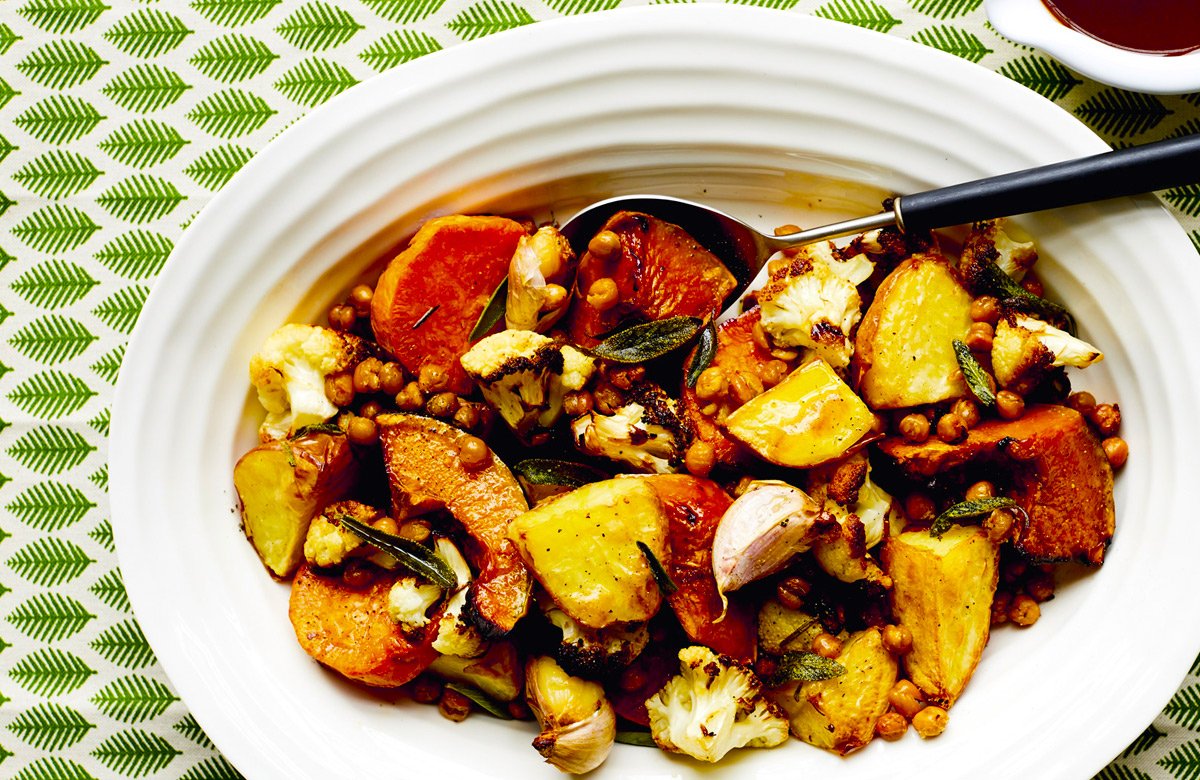 Dinner
Golden roast vegetables with crunchy chickpeas — add a protein boost to your classic roast vegetables with these crispy chickpeas, and bonus points for pouring gravy over the whole thing! 😀
How many dals can there possibly be? Trick question, because the answer is limitless! 😀 This spiced lentil and Swiss chard dal from Vegan Richa is a standout example — delicious with rice, quinoa, millet or flatbread.
Also from Vegan Richa (I'm on a bit of a curry high at the moment) is this South Indian vegetable coconut curry — mildly spiced with a delicious array of textures, this seemingly simple dish (that introduced me to the transformative power of tempering spices!) is a true delight.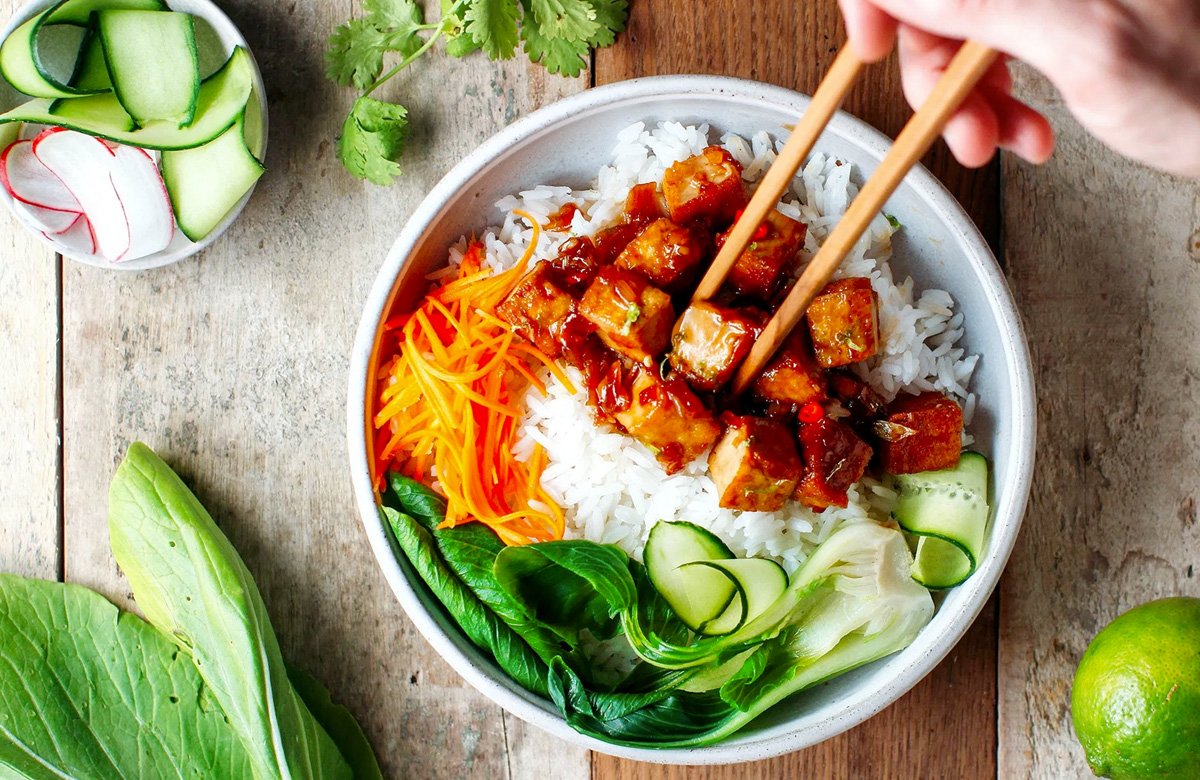 Saucy caramelised tofu bowl — if there's one tofu recipe you need to taste, it's this one!
Or try your hand at: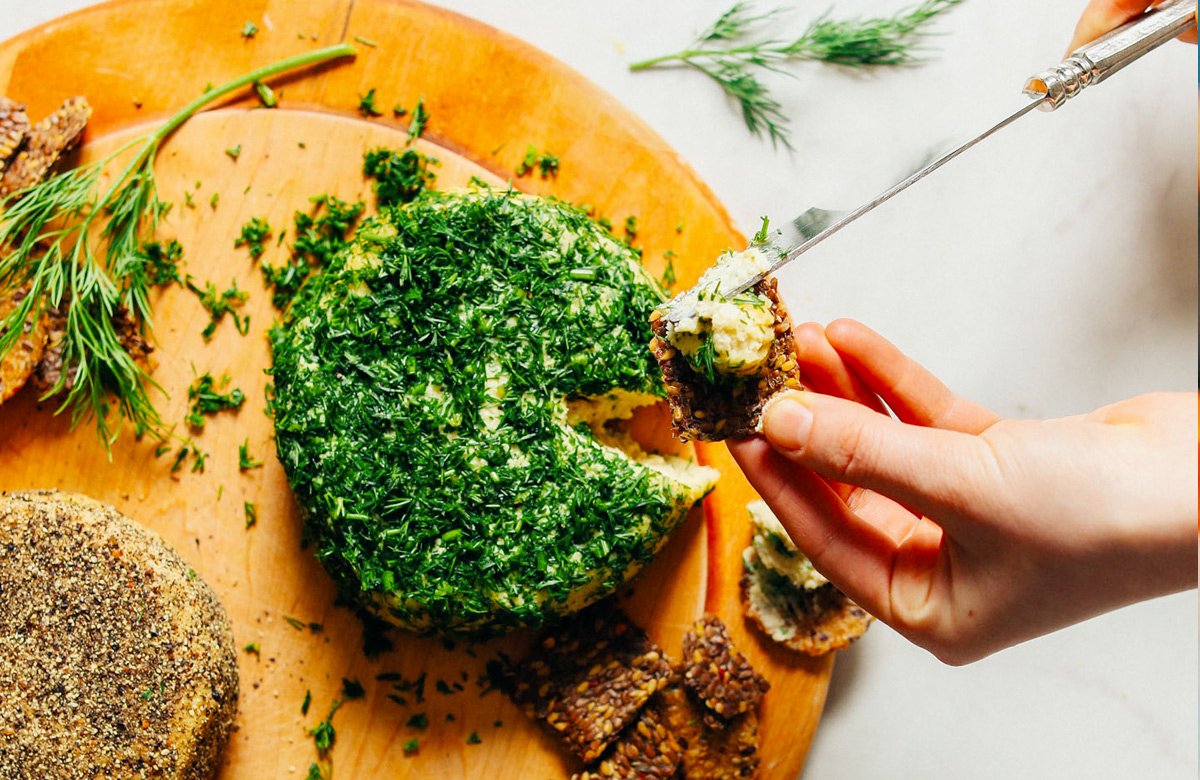 Snacks and dessert
Make your own cheese? It sounded impossible to me a few years ago … until I realised what you could do with a few cashew nuts! This easy probiotic cultured vegan cheese from Minimalist Baker just might be your first step into the fermenting world. First step, cheese — then, who knows? Soon you just might have a cupboard full of bubbling sauerkraut and kimchi like I do!
For chilly nights, lazy weekend brunches or afternoon teas, there's nothing quite like (liberally) iced cinnamon rolls. What is it about home-baked goods that make the world seem a-okay? <3
My favourite treat as a kid was Cherry Ripe bars — that dream-team combination of coconut, cherry and chocolate. Well, they're here again (in truffle form) for a reunion tour that's completely plant-based — and totally delicious.
You may also like:
Cherry, pear and apple cobbler — stunningly vibrant, and a perfectly juicy balance between sweet and sour.
Creamy, tangy and moreish — these devilled potatoes make perfect appetisers for a party (or Netflix snacks for a night on the couch).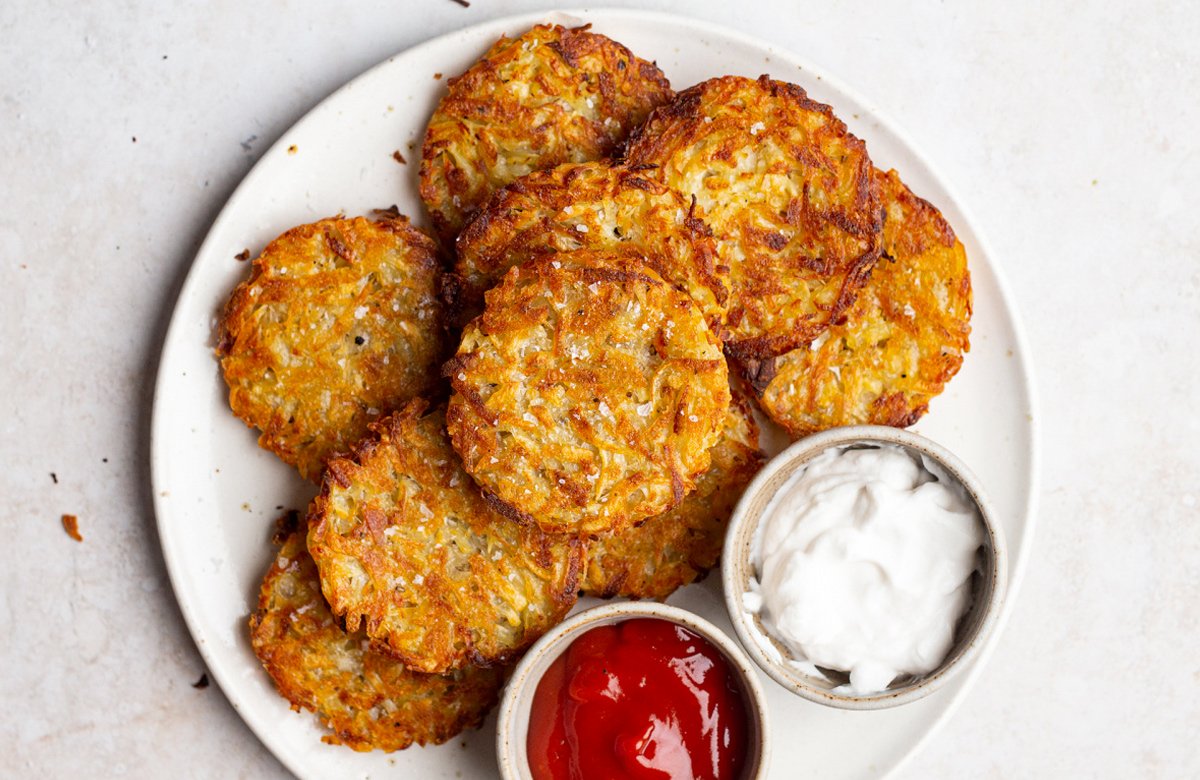 Hungry for more?
Click here to find weeks one, three and four in this series!
If you're just after something quick and simple that requires minimal energy output on your end — we've also gathered a handy list of easy plant-based meals you can throw together in 15 minutes or less, featuring plenty of meals you're probably already familiar with. You can thank us later – for now, there's meal prep to be done!