News
6 Halloween product drops that'll haunt you if you miss 'em
Lifestyle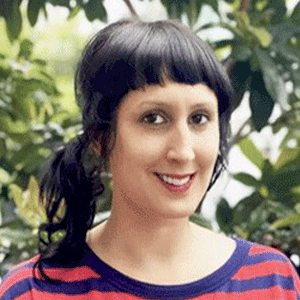 Author: Jacqueline
Published: October 25, 2022
While new plant-based products are welcome any time of year, there is something extra exciting about seasonal product drops – especially when that season is Halloween.
As a child growing up in Melbourne in the 80s, Halloween passed me by. It was rarely spoken about, and it certainly wasn't something any of my friends or I participated in.
As an adult, I've come to love the spooky season. Aside from it providing an excuse to flex my creative muscles in the costume and interior decorating departments, it gives me a reason to buy way too many treats, watch all the scary films, and witness – with absolute joy – the many vampires, ghosts, killer clowns and witches that swarm suburban streets in search of candy.
It should come as no surprise then that any Halloween product drops that also happen to be vegan, have me bursting with an excitement so great, I could practically levitate. If you can relate, then read on for some seasonal product releases that'll make you scream.
Heinz: Black garlic mayo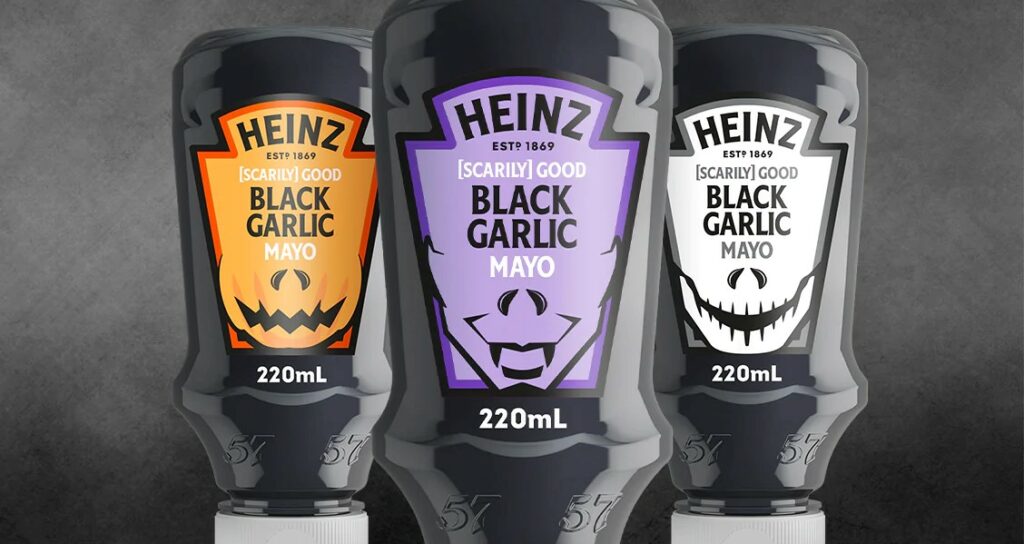 When the folks over at Heinz US announced the release of their cleverly packaged 'Tomato Blood', backed by this superb ad campaign, never in my wildest nightmares did I expect Australia to reap the rewards of their black magic. And when I say black, I mean black.
This limited release black garlic mayo is rich, tangy, and black as tar. The sweetness of black garlic is a real flavour pop in your mouth, and if I'm honest, a far more exciting release than their re-packaged ketchup.
With three different label designs, you won't find this mayo on any store shelves. Head over to the Heinz website to purchase, before it disappears for good.
Billson's of Beechworth: Pumpkin spice & sour scream cordials (and boozy pre-mixes)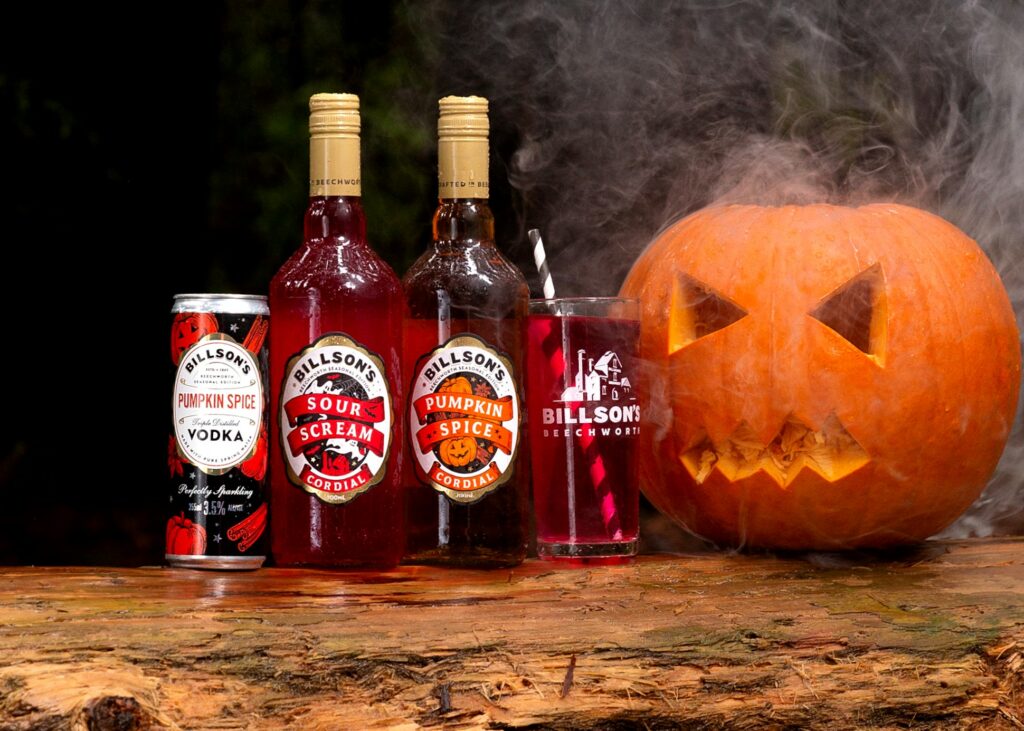 I'm a sucker for a themed drink at the best of times, so when I came across this seasonal range from Billson's of Beechworth, I was sold.
Complete with a soda bar and brewery, Billson's have been bottling up their drinks since 1865. While my imagination leads me to believe this must be a vampire owned business that has been operated by the one tight-knit group of soda-sucking vamps for the past 150+ years, logic (and the internet) tells me otherwise.
With their Halloween drop consisting of pumpkin spice and fruity orange 'sour scream' cordials – and matching canned vodka pre-mixes to boot – I promise I won't make any jokes about ghosts being here for the boos. Instead, I'll pass on the good news: with the exception of flavours featuring honey, the Billson's range have been confirmed vegan-friendly by the company*. So even if Halloween ain't your thing, I'm sure a toffee apple, strawberries & cream, or fairy floss soda is. Not to mention the various liqueurs and spirits that deserve pride of place on any bar.
You can find the full range on the Billson's of Beechworth website.
*Confirmed correct at time of publication.
Ferguson Plarre Bakehouse: Little monster cupcakes
It just wouldn't feel right talking Halloween and treats without giving mention to the sweet delight of the humble cupcake.
Victorian bakery-chain Ferguson Plarre have added an impressive range of vegan cakes to their menu over the past few years – and luckily for us spooks and ghouls, they've made certain to cater to our plant-based needs come holidays!
You'll be able to find these little googly-eyed monsters in display cabinets in upwards of 70 stores throughout Victoria, but why take a chance on these selling out when you can order them online for pick-up or delivery…? You can order directly through their website, but be sure to check out what other vegan-friendly goodies are on offer, too. You might be pleasantly surprised at how many results a search for the word 'vegan' returns!
Lil' Becky's Hotsauce: Leatherface Becky and Pennywise Becky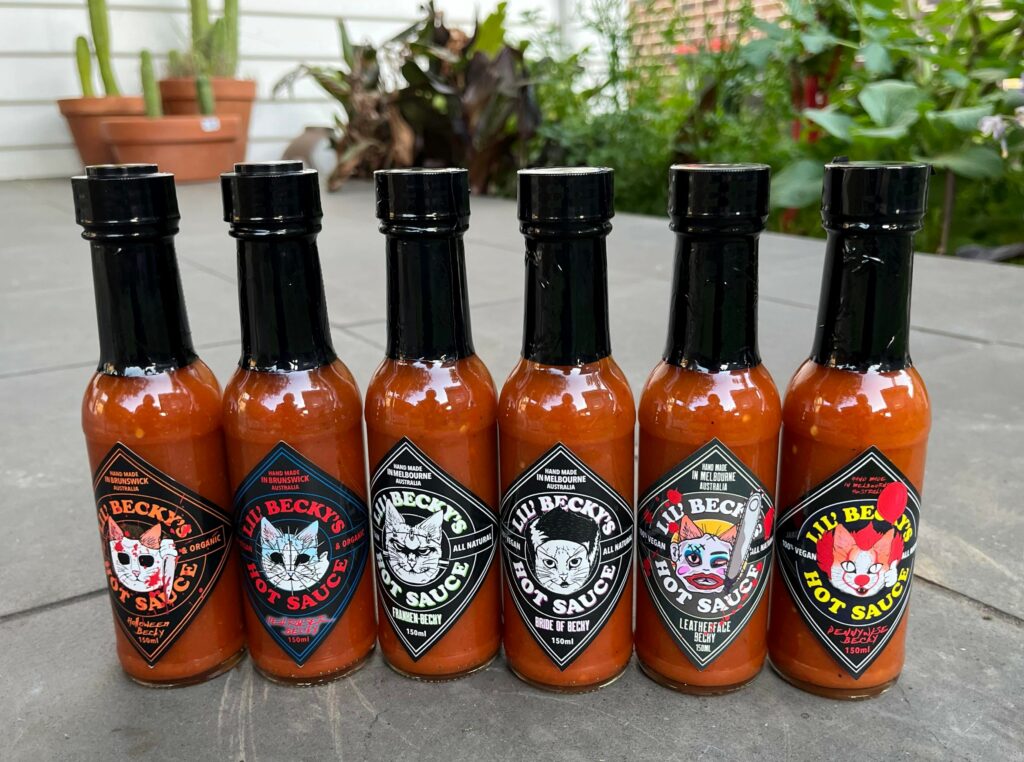 While Lil' Becky's Hotsauce is still a relatively new business, their Halloween releases have become the stuff of legend.
After the release of Halloween Becky and Hellraiser Becky in 2020, Franken-Becky and Bride of Becky were next to join what I call the 'Halloween Hot Sauce Hall of Fame'. This October though, it's all about Leatherface and Pennywise.
The Becky behind the brand presents as an unassuming ginger and white cat, but she's known to have a more sinister side. On a recent visit to Hot Sauce HQ, I was lucky to meet the feline that started it all. Upon offering my hand for a gentle pat, Becky responded quickly with a sharp bite that drew blood. While unfortunate, what a convenient segue to mention that the permanent range includes the aptly titled, Bloody Becky – a sauce created purely for the ultimate Bloody Mary.
While the range focuses on depth of flavour rather than creating a sauce so hot it makes you panic that your internal organs may have caught on fire – the hotter sauces in the range can make for some great trickery, if treats aren't your thing.
You can order Leatherface Becky and Pennywise Becky directly through their website.
Chupa Chups: Skull pops
If you're looking for a sucker to add to your candy bowl, look no further – Chupa Chups have you covered!
These skull pops come in orange, lemon, grape and cola flavours, with an extra special fizzy-brained surprise! They're sure to please even the most discerning of trick or treaters, but more importantly – they may just save you from a gang of zombies, should they find their way upon your doorstep. There's nothing quite like the cool, calm and collected response of, "Brains? Sure, I got 'em!", in the face of hungry, snarling zombies.
Aside from the role these play in preparing for the zombie apocalypse, they're also readily available at Coles supermarkets for an easy share-pack treat grab. Thank you, Chupa Chups – your good, sugary deed has not gone unnoticed.
You, Me & Bones: Ghosties, pumpkins, coffins and tombstones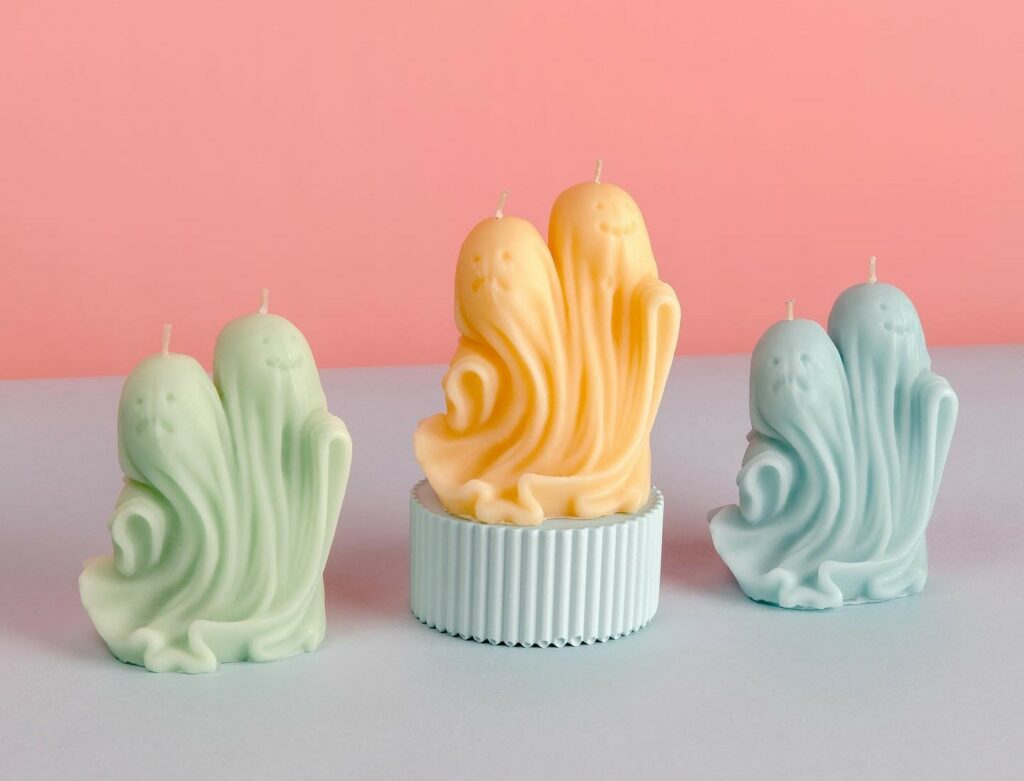 The seasonal range of hand-poured candles by Melbourne-based You, Me & Bones really are a treat for the senses. Beautifully crafted, they double as home décor for Halloween (and beyond), with a range of fragrances that'll leave you drooling:  a ghost that smells like buttered popcorn; a sad crème caramel-scented pumpkin; a tombstone of oakwood and dirt – I'll take the lot! (okay, maybe that last one doesn't quite leave you drooling, but it's worthy all the same 😉)
While the Halloween range may be for a limited time only, much of their aesthetic lends itself to the year-round ghoul. Check out their bleeding dolls heads, skulls and wax-melt brains, if that's your thing. And if it isn't, you can always get in touch for a bespoke one-of-a-kind candle of your choosing.
You can order their range directly through their website.
Note: Aside from the anatomical heart, spinal cord and tulip candles, all products have been confirmed vegan at time of publication.
Bonus round
While not new releases, these products are more than deserving of a special mention:
Swizzels Love Hearts and Fizzers: If you're looking to bulk out your candy bowls the animal-friendly way, Kmart now stock multipacks of these nostalgic British-made sweets.
Pechkeks Misfortune Cookies: With the focus always on fortune, things can get a little boring. I mean, Halloween is the one time of year to unleash your inner negative Nancy so don't hold back. These black misfortune cookies give you the lowdown on what most people are too scared to even think about. Try them … if you dare.
For avid gardeners: There's no harm in sharing your love of gardening via dark humour with the outside world. And for the eco-friendly home composter looking for a sign…? This is it!
Ouija board planchette bath bomb: After a big week of seances, treat yourself to a relaxing hot bath, and soak your spirit in the fragrance of moon lake musk.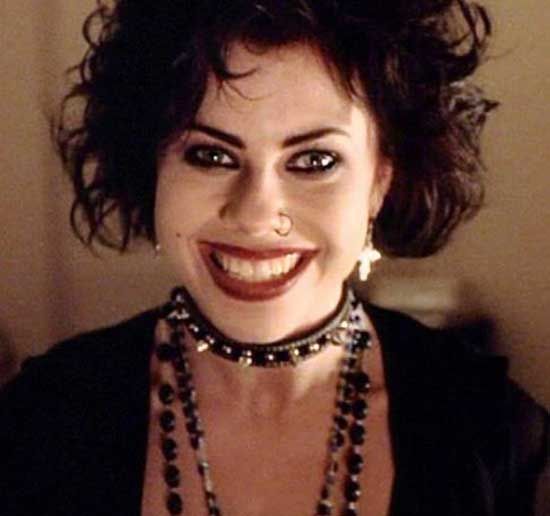 For plenty of Halloween-themed food ideas and candy suggestions, take a look at my comprehensive guide to Halloween. Otherwise, what are you waiting for?! Go forth and shop!