There are countless restaurants, cafes, bakeries, and pubs in and around Adelaide these days that are either 100% vegan or renowned for being very vegan-friendly.
I visited for the first time earlier this year and was overwhelmed (in the best way) by all the options! For anyone else in the same boat, I thought it might be handy to put together a shortlist of the absolute must-visit hotspots. Had to consult the local vegan experts for this one!
Whether you're Adelaide born-and-raised, or just in town for a visit, be sure to add these foodie-favourite plant-based spots to your to-do list… 
Gilles St, CBD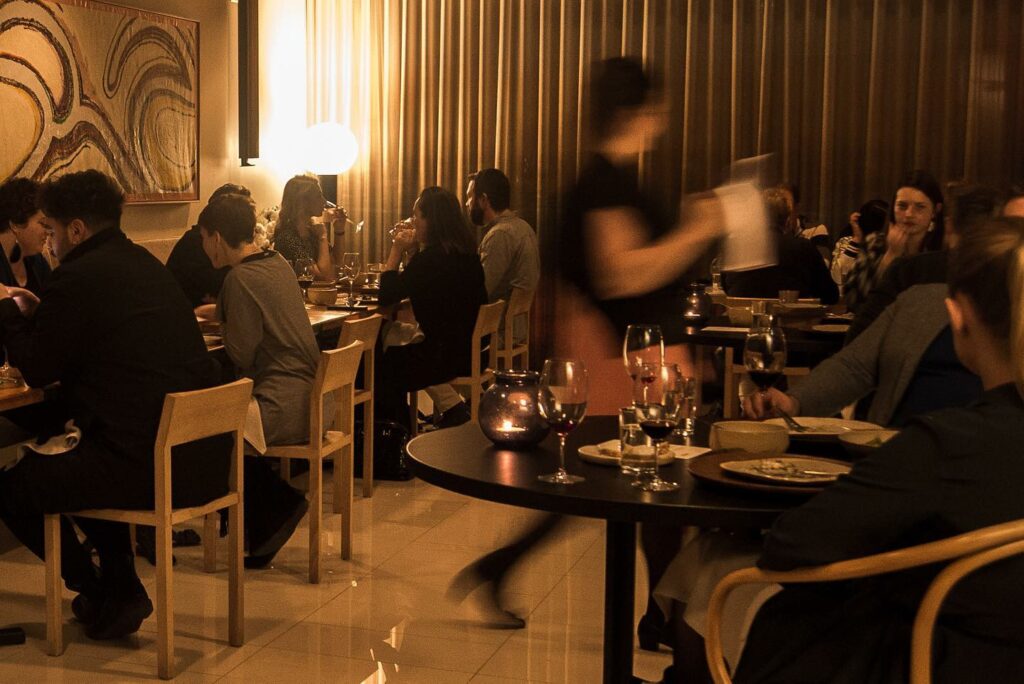 Allegra Dining Room was Adelaide's first vegan fine dining restaurant when it opened in 2019 – and it's been setting the bar deliciously high for more to follow ever since! Tucked away above the popular Etica pizzeria in Adelaide's south-east, and boasting a cosy, booth-seating atmosphere within, Allegra provides the perfect vibe for an intimate date night or fancy vegan dining experience with friends and loved ones. 
The full-course (and flavour-packed) dinner presented each night aims to showcase a selection of contemporary plant-based dishes that best represent the season – made with locally sourced foods, but inspired by a variety of culinary traditions from afar. This ethos means that the menu changes throughout the year depending on what's in season, but is always reliably centred on quality plant-based ingredients "treated thoughtfully and simply" to elevate them to a new level of sophistication.
Past menu highlights include melt-in-your-mouth smoked celeriac with kale and macadamia cream, and a 'meaty' king oyster mushroom schnitzel drizzled with gravy.
Allegra Dining Room is open Thurs-Sun from 6pm to 12am. See opening hours.



Check out Allegra Dining Room on Instagram
Rosetta St, West Croydon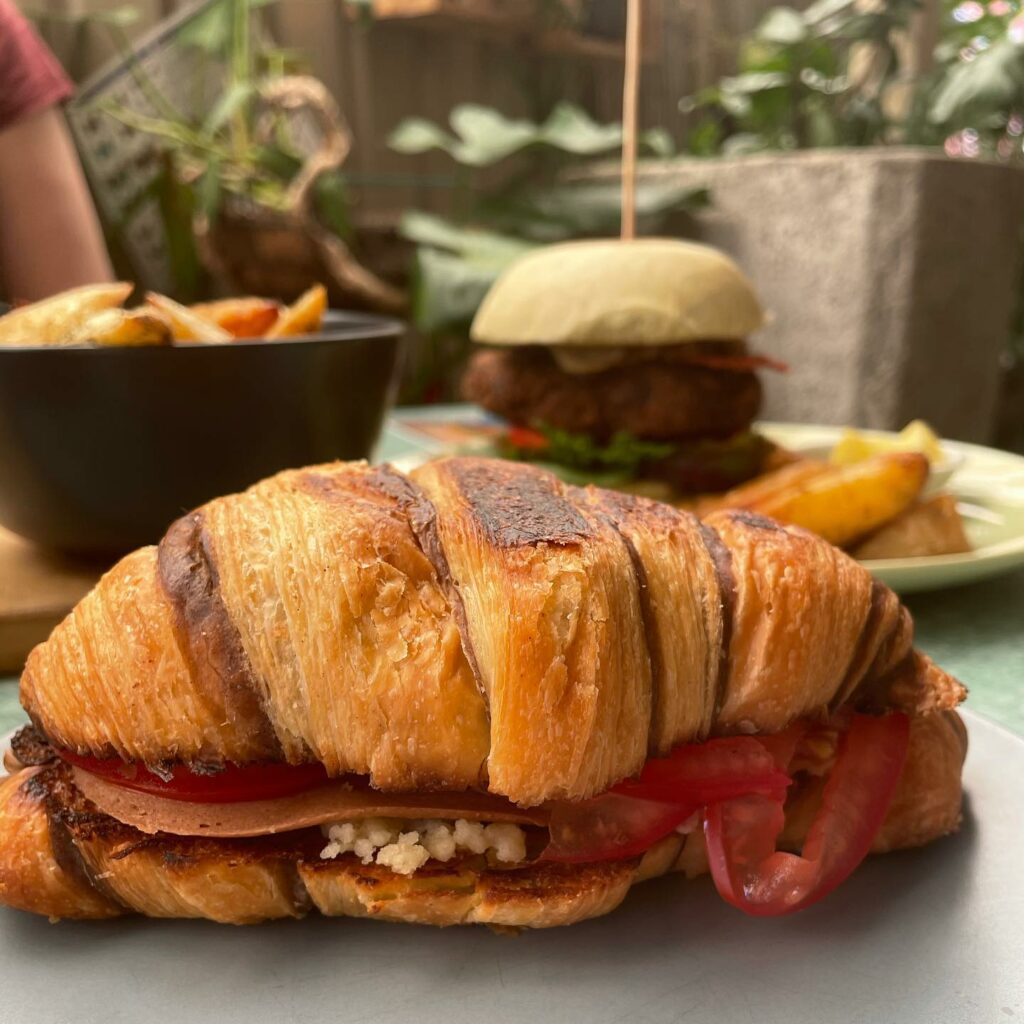 Nestled in the heart of West Croydon, just next to the train station, is a delightfully leafy vegan haven with some of the best plant-based brunch options in all of Adelaide! Joy of Flora is first and foremost a vegan kitchen and cafe, but it's also a sustainability-focused catering business, art exhibition space, and function space. Between the airy indoor seating area and the rustic (and dog-friendly!) 'secret garden' out the back, it's perfect for any occasion, from a casual catch-up or work-from-café sesh, to a larger plant-based-food-fuelled get-together.
Joy of Flora is renowned for its tempting menu of comforting, home-style meals, but also features lighter options like fresh salads, smoothie bowls, and juices, and sweeter treats like croissants and raw cakes. My personal recommendation for an indulgent vegan brunch would be the McJOF – Joy of Flora's take on a McMuffin – which features a plant-based sausage patty, egg, and melted cheese, with a hashbrown to top it all off. Dare you to find a yummier way to start the day!
Joy of Flora is open Tues-Fri from 7am to 3pm, and Sat-Sun from 8am to 3pm. See opening hours.



Check out Joy of Flora on Instagram
Port Rd, Aldinga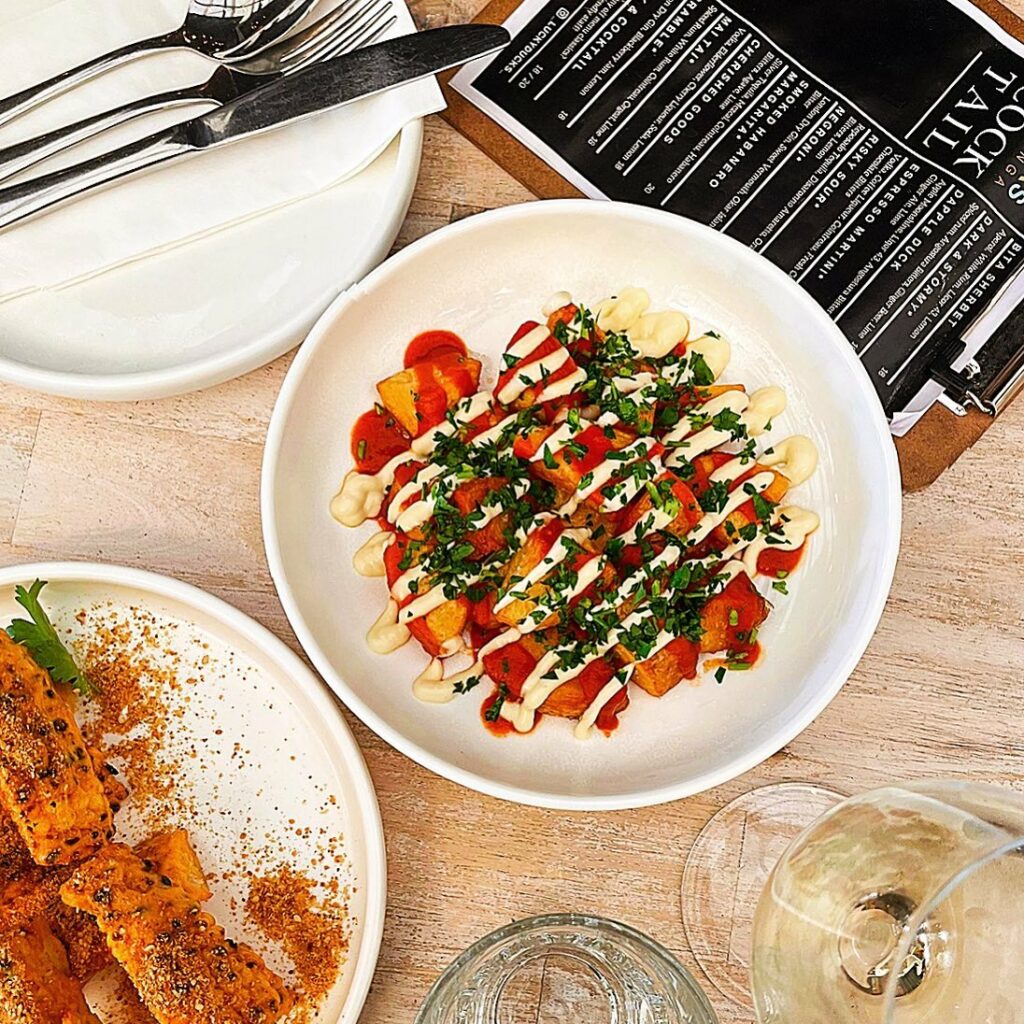 Having just opened in 2022, Lucky Ducks is a relatively new addition to Adelaide's vegan scene – but in concept, it actually dates back a little further. One of the chefs and owners, Jac, decided to run a vegan pop-up during an early COVID lockdown, and was blown away by the sheer level of enthusiasm and demand from locals who were interested in trying more plant-based food. Clearly a winning idea!
And so, Lucky Ducks was born, securing a permanent spot in the thriving seaside food precinct of Old Coach and Port Road – with a contemporary, relaxed vibe and a freshly installed shipping container bar to keep the drinks flowing. Lucky Ducks is particularly proud of their wine list, which features a selection of sustainable, natural wines from local Fleurieu makers that perfectly complement the 100% plant-based menu.
With dishes like za'atar pulled mushrooms, salt and pepper eggplant, karaage cauliflower bites, and basil cheesecake with summer fruits, every meal at Lucky Ducks showcases just how interesting and wholesome vegan food can be.
Lucky Ducks is open Thurs-Sun from 5pm to 10pm. See opening hours.



Check out Lucky Ducks on Instagram
Payneham Rd, Evandale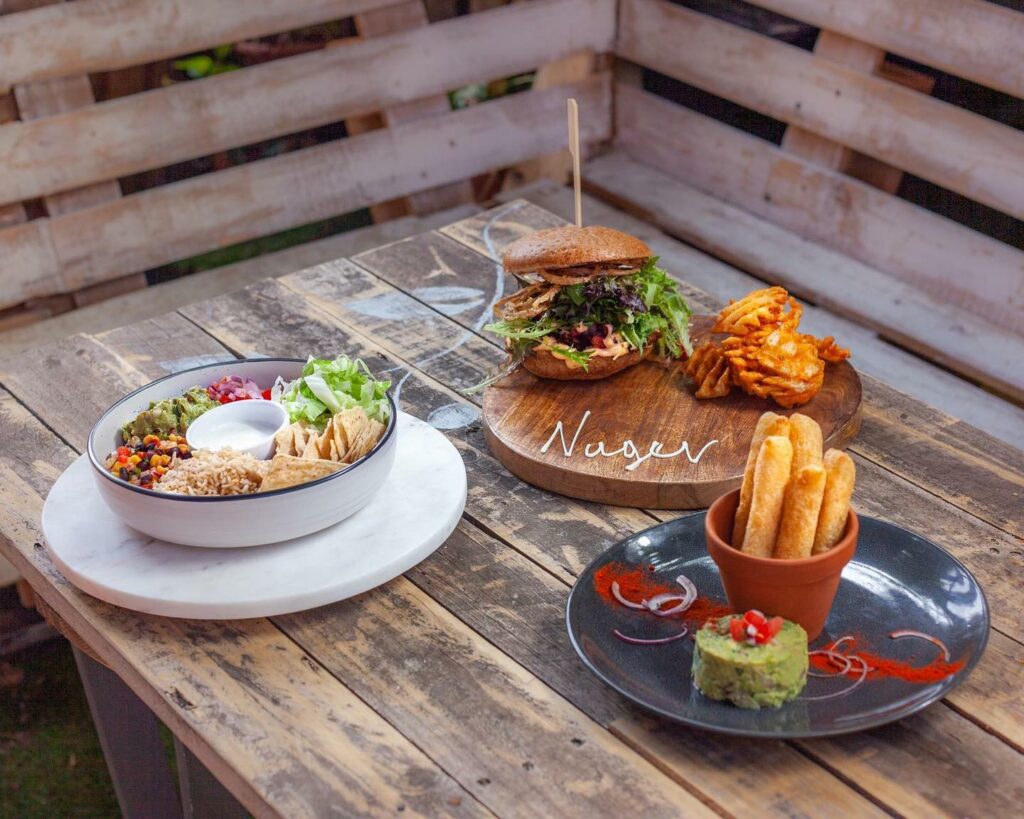 The only thing backwards about Nagev is the name – it's 'vegan' in reverse! Otherwise, this plant-based café's approach to serving up modern vegan breakfasts and lunches is incredibly straightforward and satisfying, making Nagev by far one of Adelaide's most popular plant-based spots. 
When you visit their strip-shop-style space on bustling Payneham Road, prepare to be blissfully swallowed up by one of their comfy couches and the cute, succulent-peppered decor as you ponder the menu – which is packed with all-vegan, South-American-inspired pies, wraps, burgers, toasties, and desserts. 
Crowd-favourites include Nagev's delectable eggplant parm, fully loaded nachos, and their heavenly biscoff cheesecake, served with a (surprisingly perfect) zesty dollop of lemon sorbet. If that last option makes your mouth water, be sure to check out Nagev's dedicated dessert nights on Thursdays and Fridays!
Nagev is open Weds-Mon from 9am to 3pm. See opening hours.

Third St, Bowden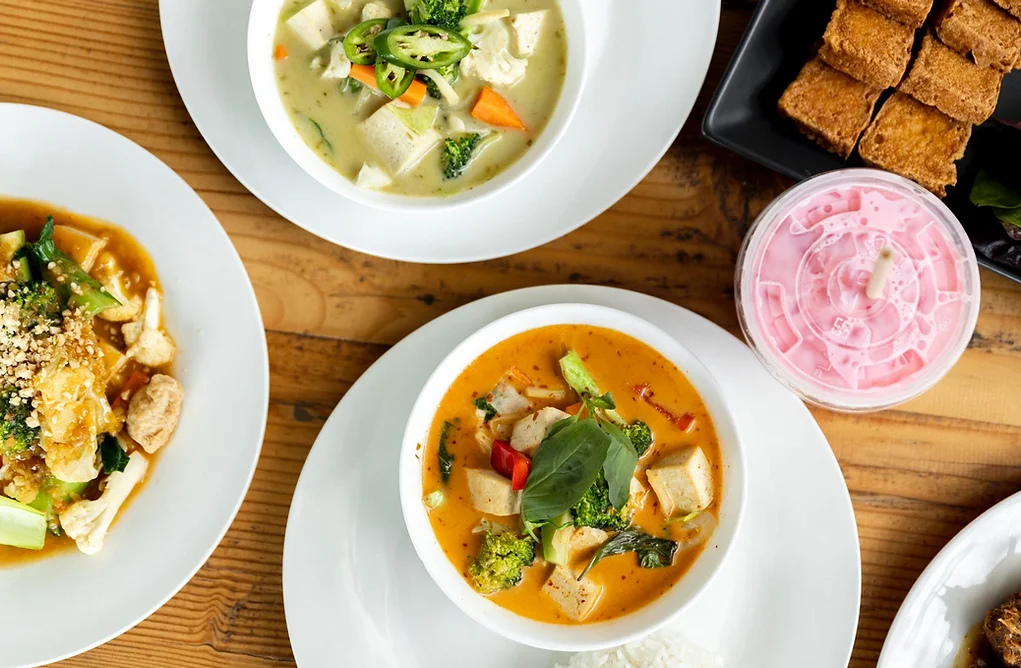 I've been a fan of PinAn Veggie Time since they first opened up in Brisbane in 2017 – it was the best option for vegan Thai food there at the time, and it may just be the best option for vegan Thai food in Adelaide now! 
This wholesome vegan family business (named after their son, PingAn – how cute!) relocated down south in 2019, and now operates a bustling food stall at Plant 4 Bowden, an industrial-style, sustainability-focused community venue packed with food-truck style mini-restaurants. 
In this new location, PingAn Veggie Time is still serving up 100% vegan versions of all their old hits, including homemade Thai curries, pad Thai noodles, pad see ew, crispy vegan chicken tenders, BBQ buns, mushroom skewers, and more. 
The night-market atmosphere is super relaxed and fun – perfect for a low-key plant-based dinner and some drinks with pals!
PingAn Veggie Time is open Weds and Fri from 12pm to 3pm and 5pm to 8.30pm, and on Sat and Sun from 12pm to 3pm. See opening hours.



Check out PingAn Veggie Time on Instagram
Semaphore Rd, Semaphore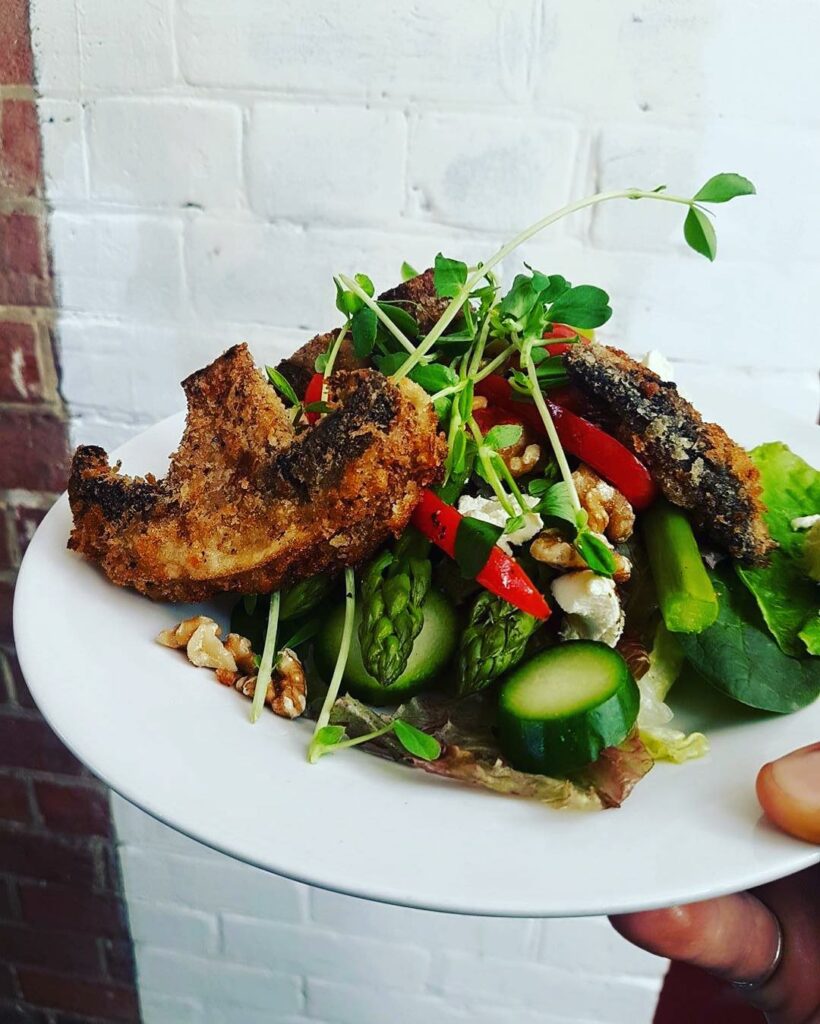 Sarah's Sister's hardly needs an introduction if you're a local – her reputation precedes her, and it's little wonder why! This light-filled, breezy eatery on Semaphore Road has been fully vegan since 2021, and has always been focussed on sustainability, serenity, and cultivating an inviting, homey atmosphere. Visually, the vibe is a quirky mix of corrugated metal, splashes of colour, and polished floorboards, with a peaceful back deck overlooking the garden centre. 
And Sarah's Sister's food is just as relaxed as the space, with the menu offering not just quality coffee but comfort food done well. Brighten up your morning with a sunrise bowl (chia pudding, coconut yoghurt, maple-peanut granola, seeds, and seasonal fruit) or spice up your afternoon with a hearty bowl of shakshuka (maghrebi-inspired, earthy tomato sauce, tofu eggs, almond feta, and local sourdough). Or stay the whole day and do both! It's not like you'll want to leave this vegan paradise anyway 😉
Sarah's Sister's is open every day from 9am to 3.30pm.



Check out Sarah's Sister's on Instagram
Grenfell St, CBD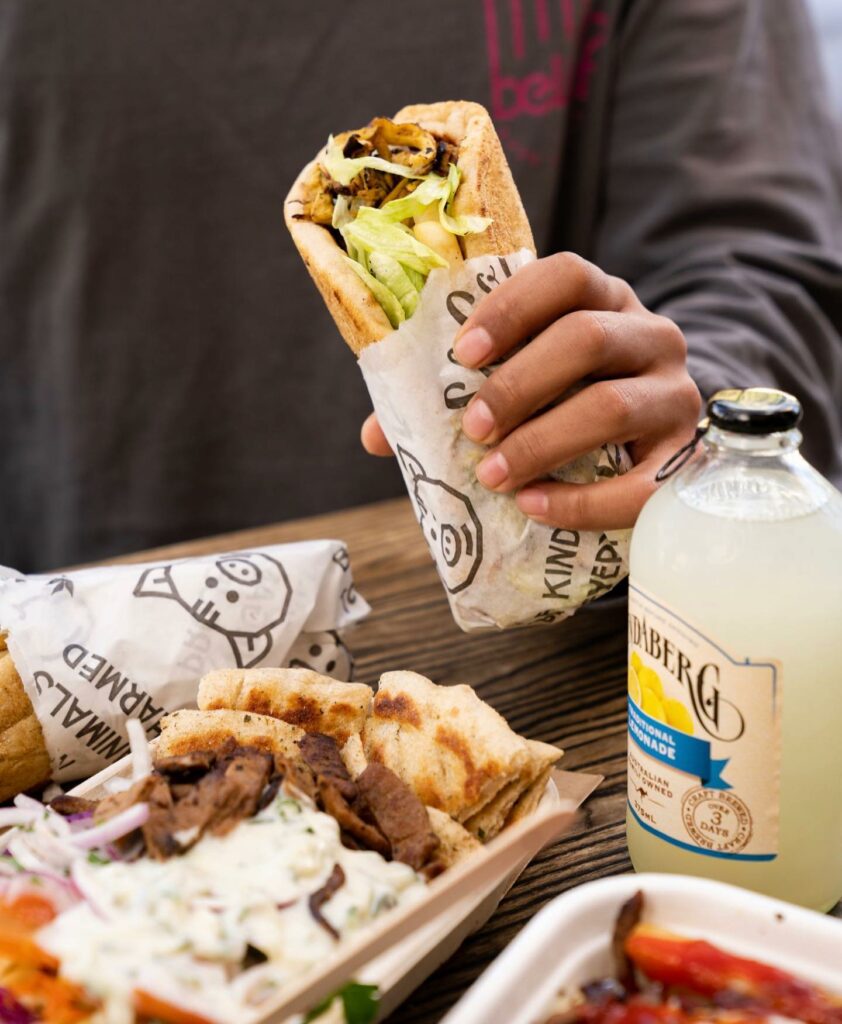 Introducing your new go-to for easy takeaway: Staazi & Co, a mobile food van (and now, brick-and-mortar shop on Grenfell Street) dedicated to bringing mind-blowing vegan Greek food to the hungry streets of Adelaide. Operating since 2017, Staazi & Co have well and truly cemented themselves as one of the most beloved Greek eateries around – vegan or not – which speaks to just how authentic they're committed to making their food. 
The whole menu is plant-based, prepared fresh, and full of both love and veggie goodness. Staazi & Co also makes great use of meat and dairy alternatives to veganise traditionally meat-heavy Greek dishes. Their open 'yiros' plate, for example, comes with juicy plant-based 'lamb' served on a toasted pita and dressed with a range of zesty, fresh ingredients like slaw, tomato, red onion, and dairy-free tzatziki. 
Staazi & Co may be relatively small for a food joint, but it more than makes up for it by packing a huge amount of heart and flavour into every pita – a great vegan option for on-the-go. 
Staazi & Co is open Weds, Thurs, and Sun from 12pm to 8pm, and on Fri and Sat from 12pm to 9pm. See opening hours.



Check out Staazi & Co on Instagram
Adelaide Arcade, CBD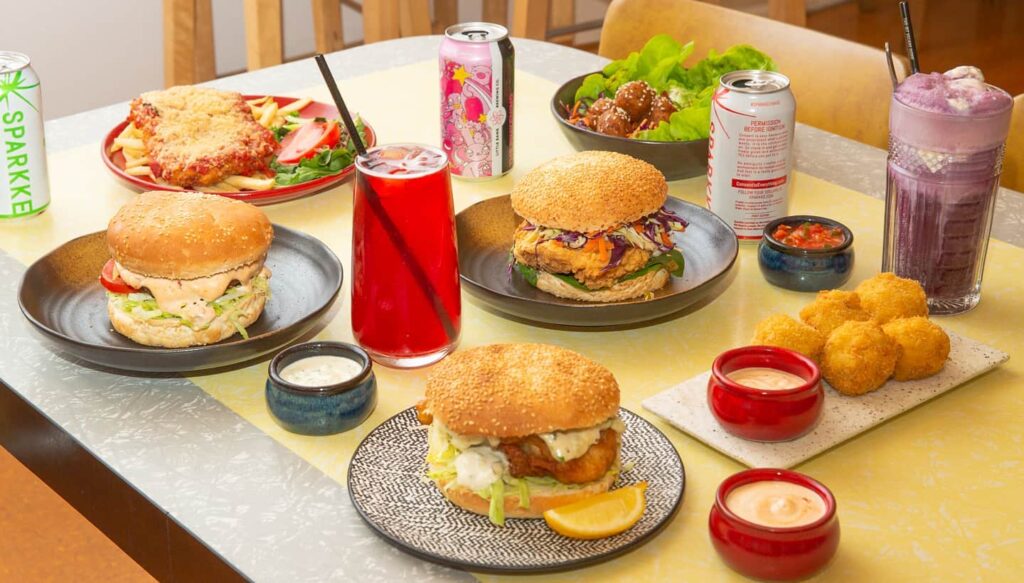 Perched in a unique location atop Adelaide Arcade's historic Grand Ballroom (with a balcony overlooking Rundle Mall), Two-Bit Villains is a vintage-inspired soda bar and restaurant serving up vegetarian, Americana-inspired cuisine – with heaps of gluten-free options, and just about everything able to be made vegan!
Their handcrafted specialty sodas are made with real fruit and spices, and perfectly complement the rest of the classic, diner-style menu. Grab one of their award-winning vegan beef or chicken burgers, a stack of waffles, sugared hot donuts, nachos, or a dairy-free sundae (I did say Americana-inspired, right?). 
And once you've emerged from your lovely little food coma afterwards, be sure to browse their racks of rockabilly clothes and eclectic jewellery, or stock up from the vegan butchery range they have on offer. Two-Bit Villains has been making their own meat alternatives for more than 10 years, so they know what they're doing – and I love that they're now making it possible for people to cook their own 'meaty' meat-free meals with their products at home, too!
Two-Bit Villains is open Weds-Thurs from 11.30am-3pm and 5.30pm-8pm, Fri from 11.30am-9pm, Sat from 11.30am-8.30pm, and Tues from 11.30am-3pm. See opening hours.



Check out Two-Bit Villains on Instagram
McHenry St, CBD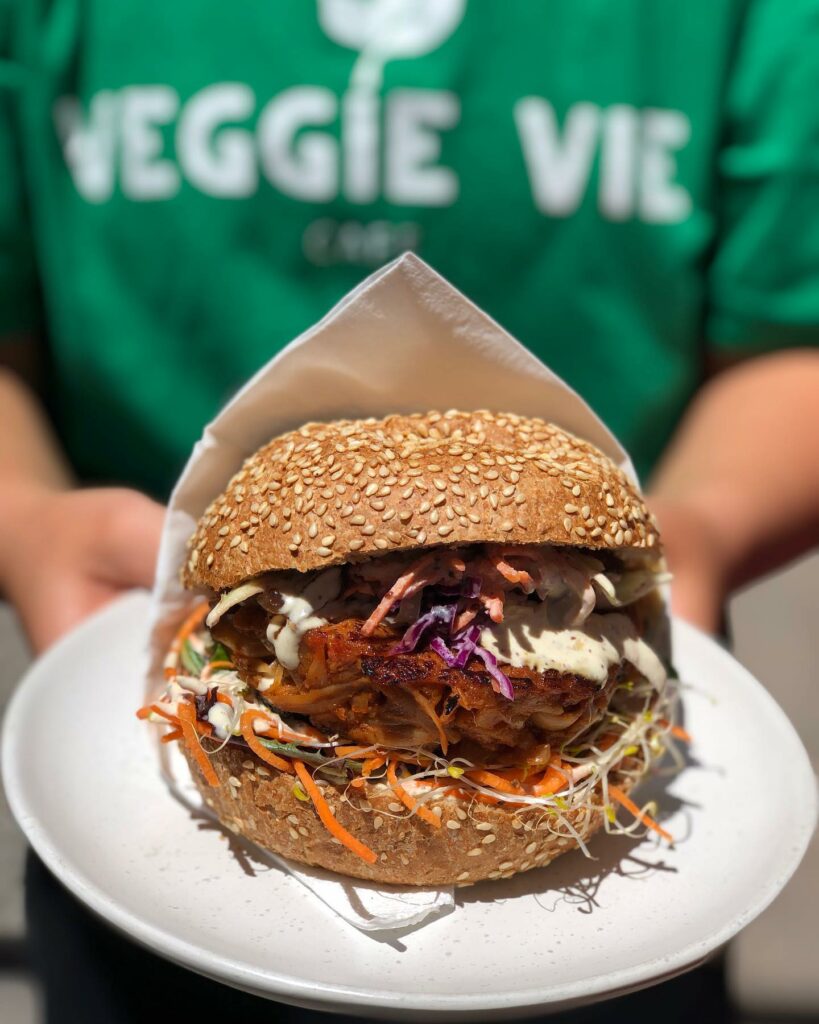 For simple, nourishing vegan food and drinks, you're not going to want to miss Veggie Vie, a veritable plant-based oasis hidden down a laneway in Adelaide's restaurant district. Veggie Vie actually started out as Veggie Velo, a mobile burger shop that owners Manu and Monica ran from a tricycle, of all the adorable things. The scheme was so successful that they later evolved into a juice bar – only to keep growing due to popular demand! 
Veggie Vie recently set down roots as a restaurant in its new, permanent spot on McHenry Street, and it's already drawing crowds eager to try its expanded menu of ever-tasty, humble vegan fare. Expect filling dishes like burgers, curries, and soups – with particular standouts being their barbeque jackfruit burger, their famous hot pot, and their vegan garlic prawn pizza (!) with olives, pesto, and dairy-free mozzarella. 
The restaurant space is also decorated with everything greenery-related, and festooned with trailing vines – so your dining experience will be plant-based in more ways than one!
Veggie Vie is open Mon-Fri from 8am to 2pm, with dinner availability on Thurs and Fri from 5.30pm. See opening hours.



Check out Veggie Vie on Instagram
Pulteney St, CBD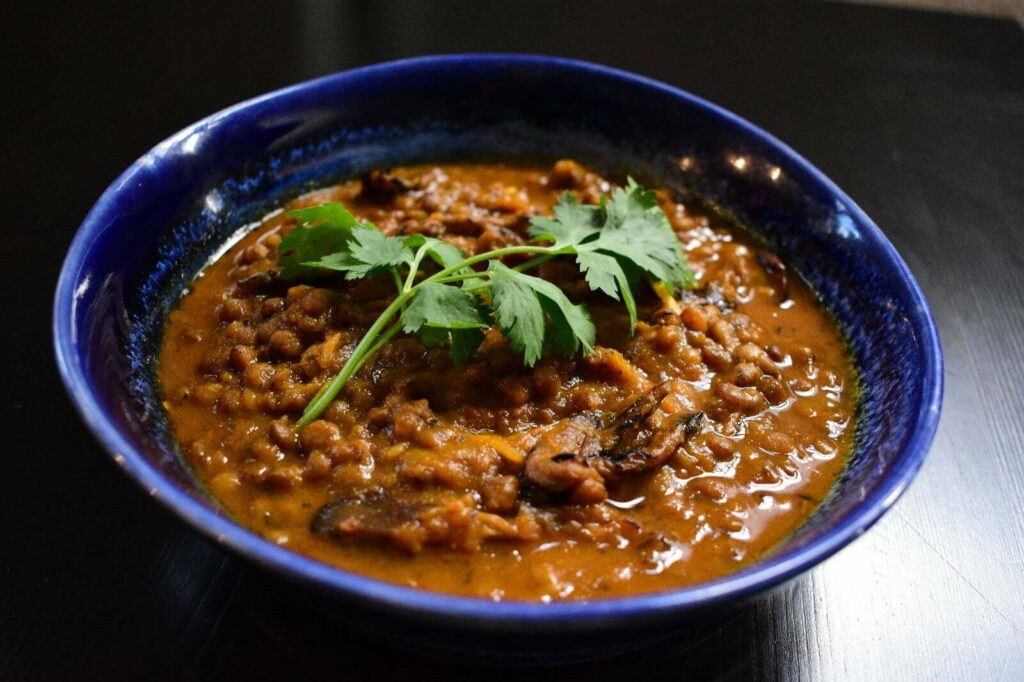 Vegan multi-cuisine restaurant, Veggo Sizzle, is so good that it has locations both in Adelaide and Sydney. And trust me, once you try their food, you'll see why one location just wasn't enough! 
Veggo Sizzle is family-owned and flavour-forward, with the aim of providing authentic plant-based meals from a variety of cuisines from around the world, including Indian, Thai, Italian, American, Chinese, and Western. As such, their menu features everything from soups and wok-tossed stir-fries to sizzling noodle dishes and fried rice, hearty burgers, curries, desserts, and more – all made from the best fresh ingredients. 
Veggo Sizzle is open Mon-Thurs from 5pm to 9pm, and Fri-Sun from 12pm to 9pm. See opening hours.



Check out Veggo Sizzle on Instagram
Increasingly spoiled for choice…
With more and more plant-based options popping up across Adelaide every day, this top 10 list barely makes a dent.  Be sure to keep tabs on Happy Cow and local vegan Facebook groups for community updates! There are almost too many menus and plant-based dishes to explore…
Just kidding. The limit does not exist 😉
Keep 'em coming, Adelaide!