The Gold Coast has had a bit of a glow up when it comes to plant-based food, with plenty of 100% plant-based restaurants found up and down the coastline (as well as a huge range of spots offering plant-based options) … You just need to know where to find them 😉
Here's 8 of the best spots on the Coast for delectable, crave-worthy vegan meals and treats, guaranteed.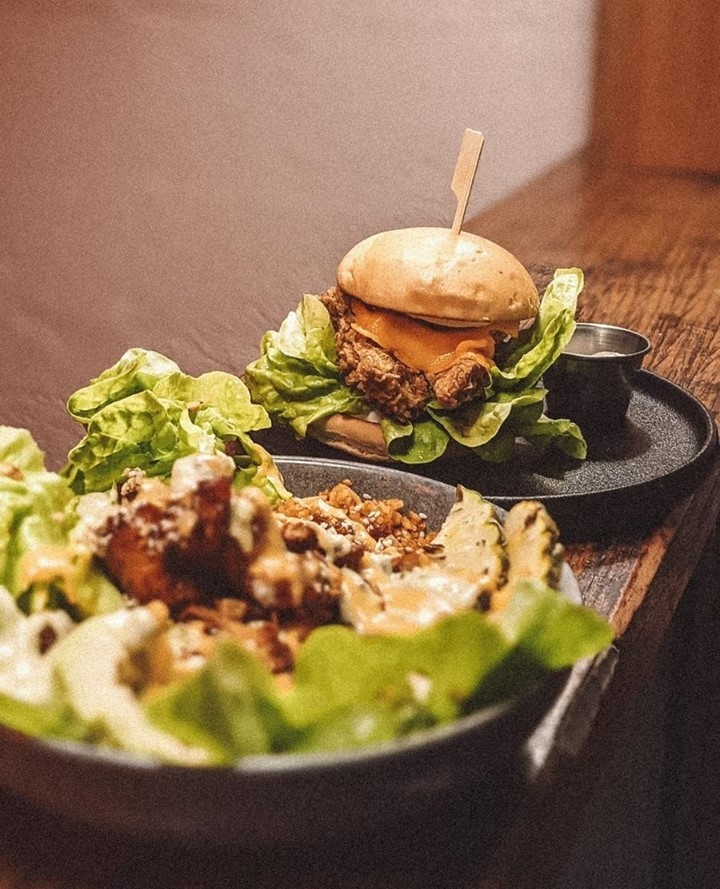 This hidden gem – excuse me, cherub – is one of my Gold Coast faves! Tucked away in a converted warehouse space in Burleigh Heads, this fully plant-based bar serves delicious house cocktails (and the classics), bar snacks, tacos, and burgers with DJs spinning tunes throughout the week. 
Not sure what to order? My pick: sticky buffalo wings in red dragon sauce and mozzarella sticks to start, the mixed taco plate to share, and when I'm not into sharing, the spicy fried chick'n burger with a 'paper daisy' gin cocktail!  
2/29 Lemana Lane, Burleigh Heads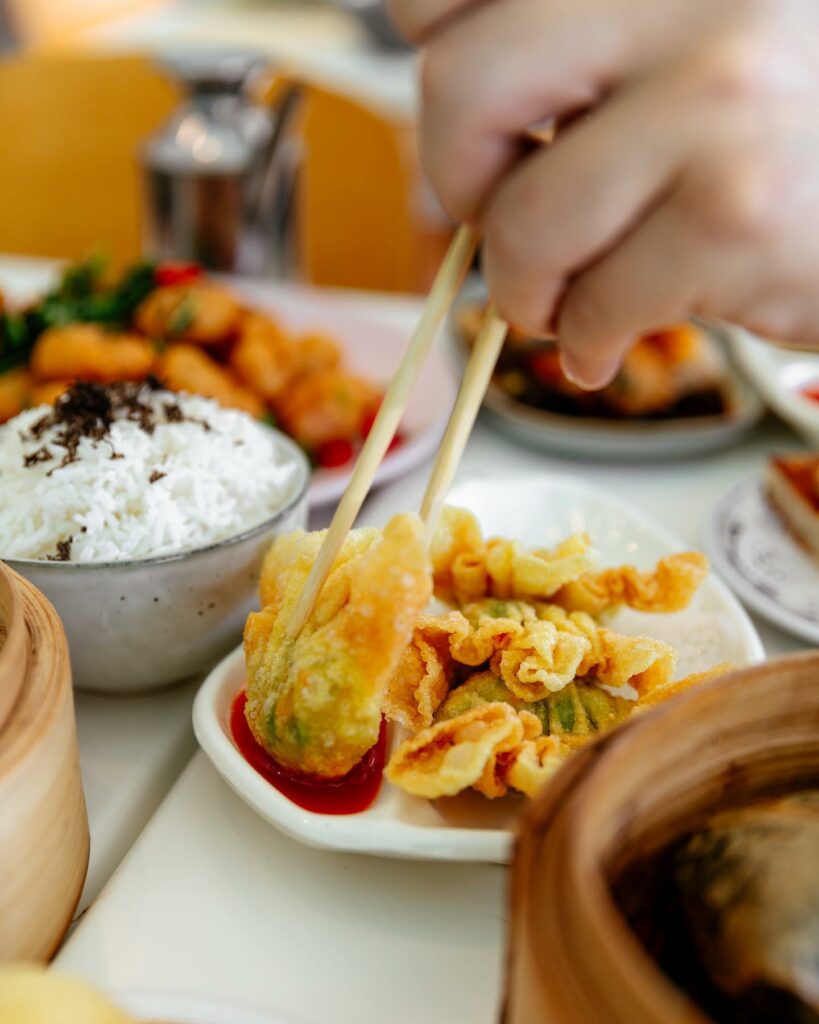 I hate playing favourites, but Easy House is up there vying for the title of greatest of all time. Situated in a busy little food centre off a main road, this small but mighty restaurant is a must-try! The menu has seemingly endless options, with something to suit everyone – the yum cha menu is extensive, as are the heartier mains, but you can order a combination of both. This family-run restaurant is also budget-friendly, which is always a bonus. Go on a day you're hungry so you can try as much as possible! 
My picks: XO noodles (always), sesame prawn rolls, and Chinese coriander dumplings for small bites. For larger plates, try the eggplant with special sauce hot pot, wonton soup with seasonal vegetables, and mapo spicy tofu. 
90 Markeri Street, Mermaid Waters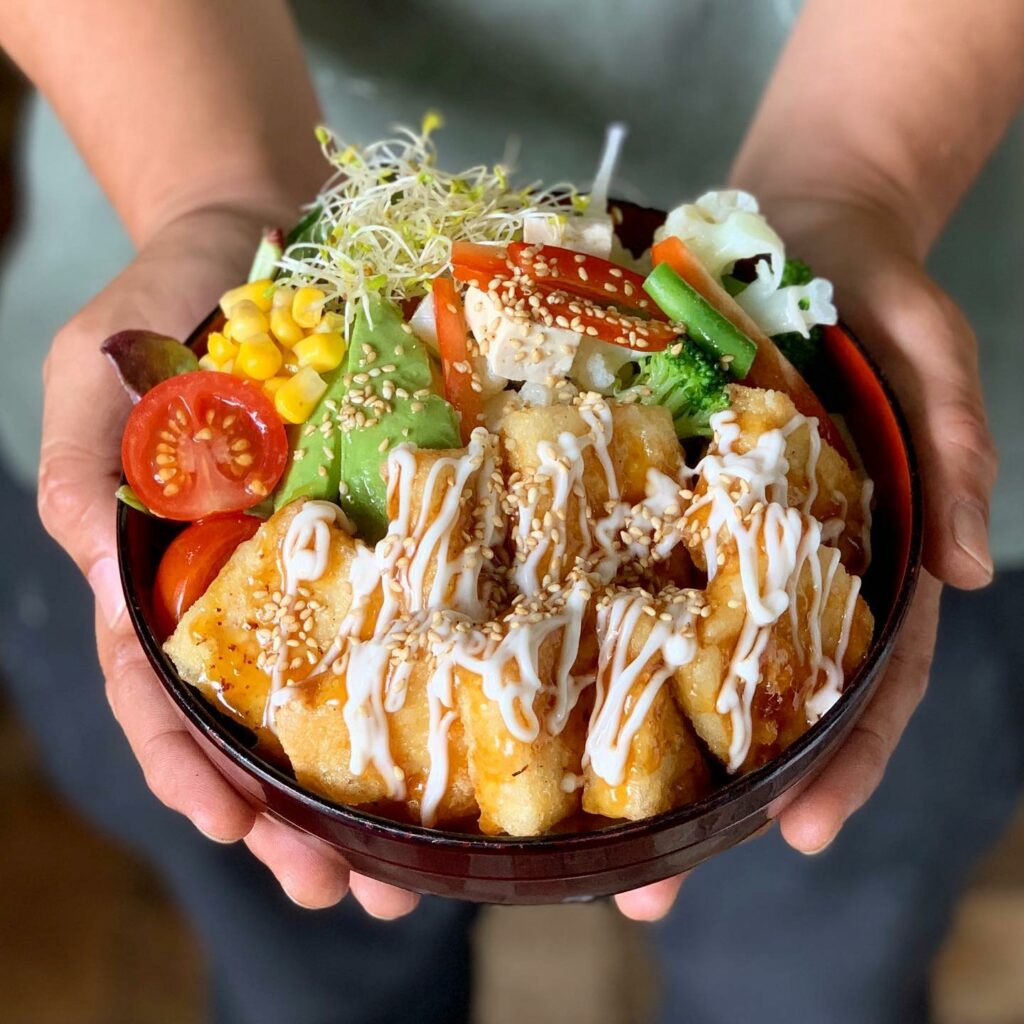 This place might be the Coast's most surprising little secret, situated a short drive from the bustling main stretch of the GC. They make some of the best plant-based Japanese I've had, for dine-in or takeaway. Step through a curtain into the restaurant and you're met with possibly the loveliest staff of all time, and a choice of indoor-ish or outdoor seating … But the food is the star of the show.  
My favourites: nasu miso den (seared eggplant with sweet miso sauce), smoked edamame (addictive!), aka ramen, and spicy lime karaage … but honestly, anything you order will hit the spot! 
7/50 Woodland Drive, Reedy Creek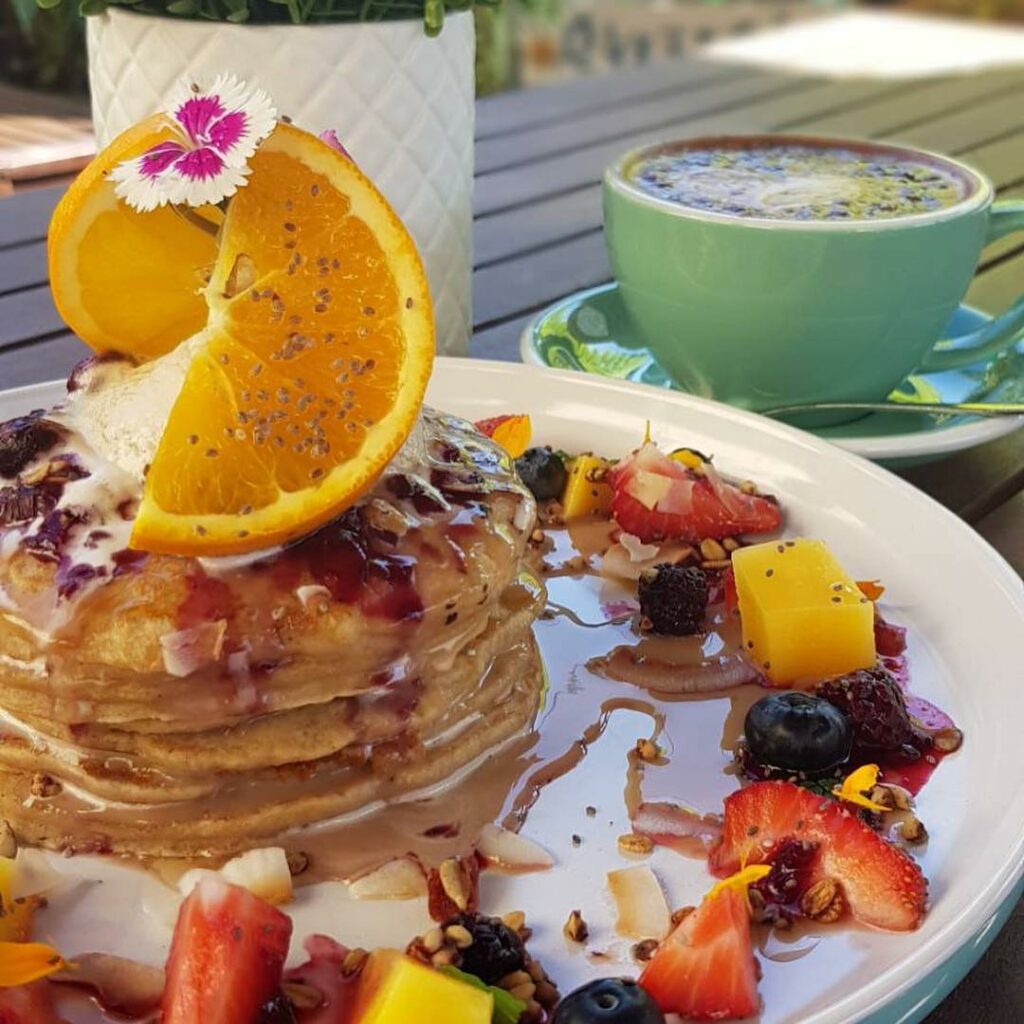 If you're looking for a food-topia where there's a flavour or dish to suit everyone, Doko Demo V is the place to go. Located in Burleigh Waters, Doko Demo V has a 'just stepped into vacation mode' vibe with bamboo, palms, and grass thatching surrounding you as you smash – I mean, chew slowly – your plant-based goodies.  
Start with bang bang popcorn chicken and gua bao for starters, then check out their range of Asian flavour sensations (think Balinese curry, laksa and okonomiyaki). Or indulge in some classics like burgers and gyros. The selection at Doko Demo V will have you coming back for more, and more, and more… 
2/2 Sunlight Drive, Burleigh Waters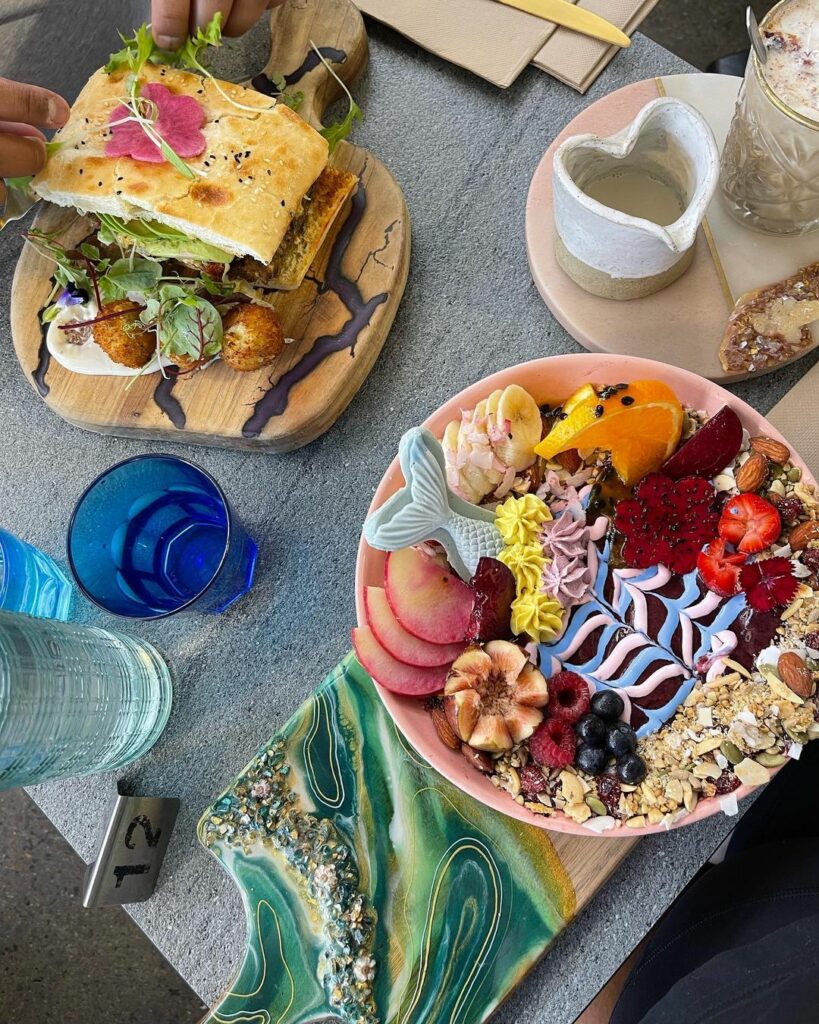 There's a reason this place is always busy – the plant-based food not only tastes incredible, but looks like art! The ethos for the crew behind The Cardamom Pod is eating your way to a better world (something I'm all about) and ensuring what they offer is 'clean and conscious plant-powered' food. The place is vibrant with colour, natural light and the steady hum of conversation … and the cake cabinet is a sight for sore eyes! 
It's hard for me not to order the flourish buddha bowl, which is as wholesome and delicious as it sounds, or the 'life is berry peachy' pancake. The colours, the flavours, the textures: all on point!  
3/3 Brolga Avenue, Southport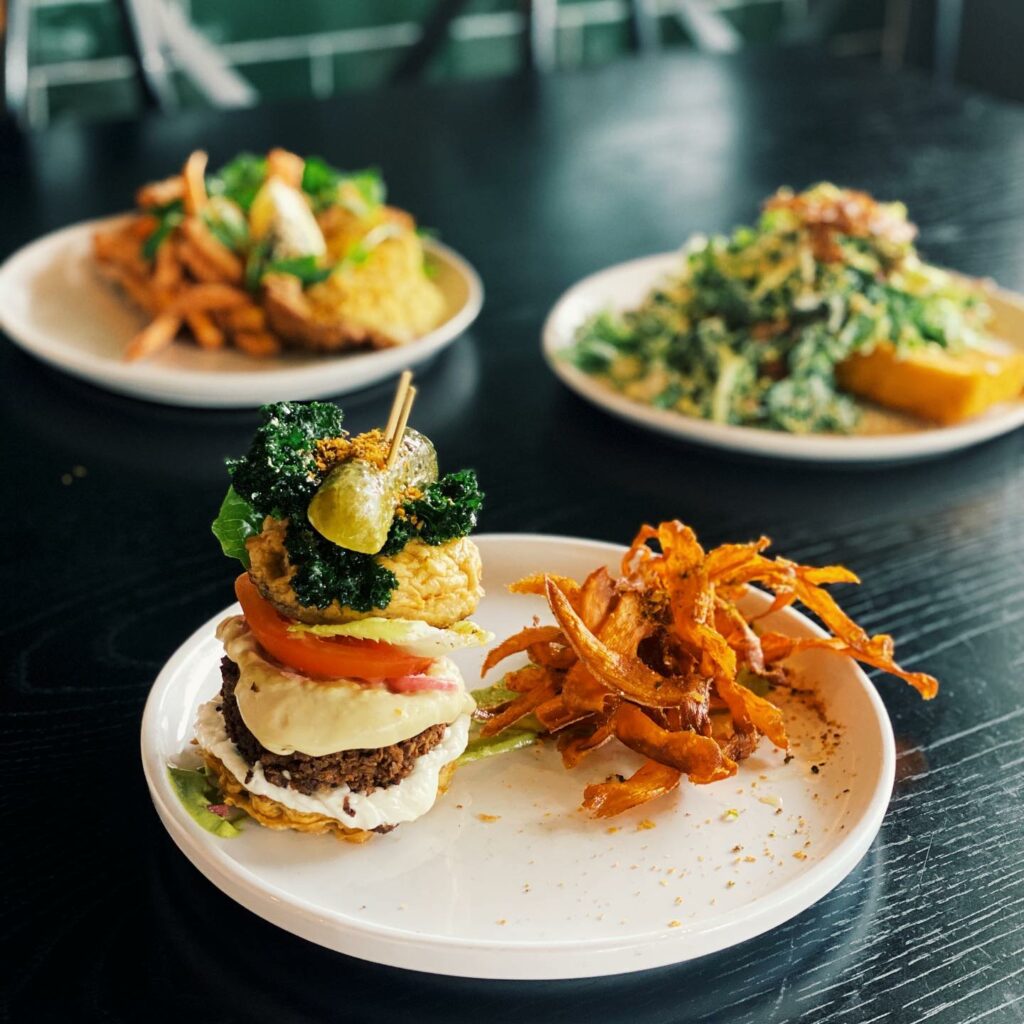 Greenhouse is a firm favourite on the Gold Coast – although their Brisbane restaurant closed after a five-year run, their delicious eats are still being served thick and fast in Miami!  
The food is fresh, wholesome and bursting with expertly-mixed flavours, with a focus on wholefood plant-based offerings that will not only fill your belly with deliciousness but fill your heart with a smile too … it's that good. It also happens to be entirely gluten-free so, coeliac friends, may you delight in the opportunity to order whatever the heck you want.  
My go-to dishes are the cauliflower wings and Korean rice cake for starters, and the jackfruit and sour cream enchiladas to share … and for something sweet? The rocky road brownie or the pecan pie.
1916 Gold Coast Highway, Miami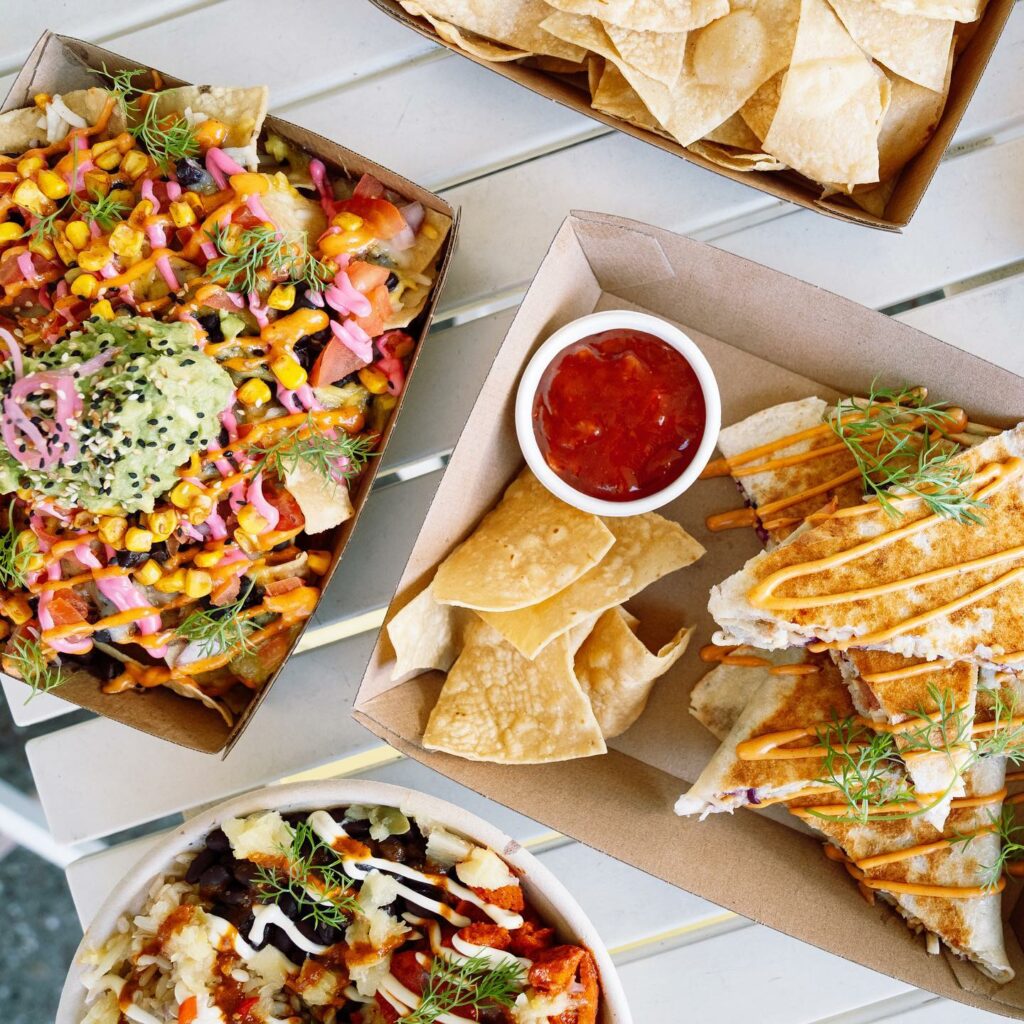 Burritos, tacos, and nachos, oh my! (And salads and sides too.) This Palm Beach institution serves up 100% plant-based, 100% flavour-packed, Mexican-style food for dine-in or takeaway. And it's just a hop, skip, and a jump from the beach (5 min walk) – so you can sink your toes into the sand while you eat!   
The 'smoken jackfruit' and 'mole-ay chick'n burritos' are my tried-and-tested favourites, or grab the tacos a la 'peck'n duck' or 'full of beans' – you can't really go wrong here. 
The breakfast menu is simple, with Mexican twists on a few classic dishes, and even features a sweet, toasty quesadilla filled with banana, chocolate, maple syrup, and berries. That's pretty drool … I mean cool. 
1114 Gold Coast Highway, Palm Beach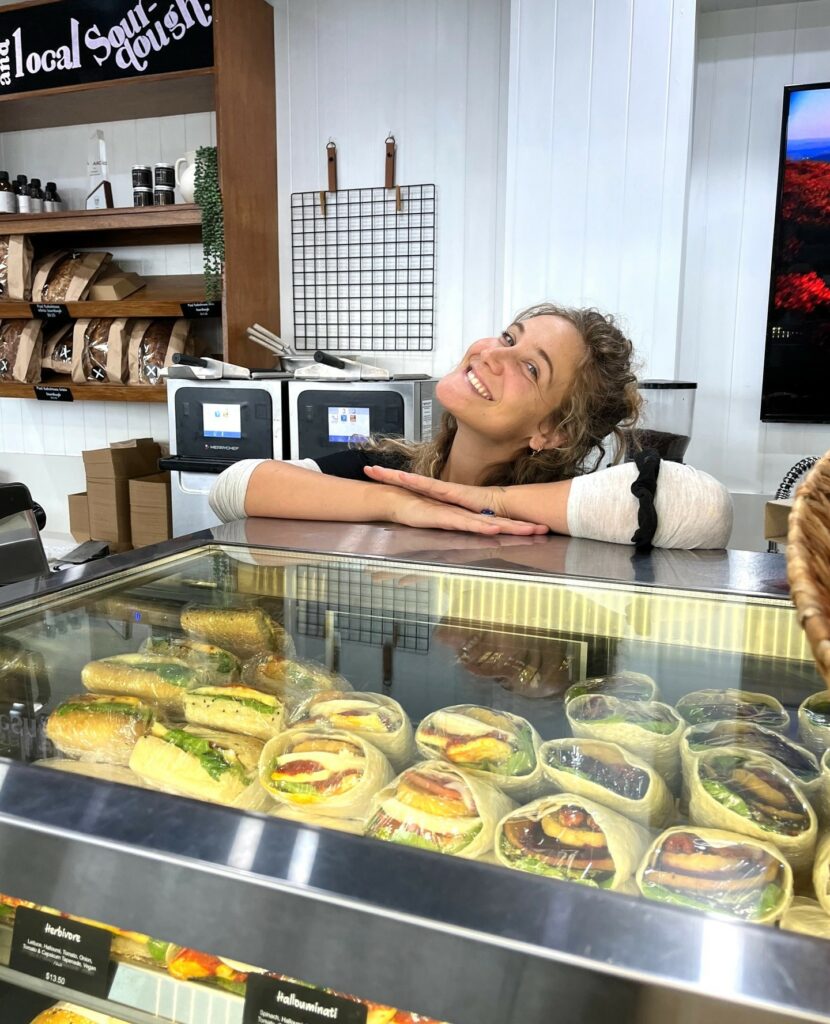 I'm almost reluctant to share this special little secret of the GC … but tucked inside a BP in Tugun, this cute and classy convenient store stocks some of the best vegan cheeses, chocolates, pastas and other goodies your dollar can buy. You can even grab plant-based sandwiches, wraps, and – wait for it – vegan croissants, both classic and raspberry coulis-filled! You will not regret stopping in here.  
472 Golden Four Drive, Tugun 
The Gold Coast's plant-based scene may be a fledgling one but it is strong and growing. If you live in the area (lucky you!), I hope you can treat yourself to these spots regularly. If you're visiting for a sun-drenched holiday on the Coast, I hope this article reads like an itinerary for your stay – rest assured you'll be heading home mighty pleased and satisfied.
To find more vegan gems hidden along the Gold Coast, check out @veganonthegc on Instagram. This lovely lady, Jane, has made a full-time job of showing us what vegan goodies can be found in the area. Happy treasure-hunting!