Opinion
Make or buy: Plant-based swaps for milk, butter and eggs
Kitchen Tips

Author: Isobel
Published: June 16, 2020
Are you allergic to dairy or eggs? Perhaps you've got a vegan coming over for dinner, or are thinking about trying a plant-based diet yourself. Maybe you're just looking for a new recipe for a kitchen adventure.
Well, I hope I can help! Below are some of the best plant-based 'dairy' and 'egg' products, and recipes, I've come across over the years.
I will say now that obviously we all have our own personal tastes — what might be perfectly balanced for me might taste terribly bitter to you, for example — so my favourites might not be your favourites.
And that's okay! Because, if that is the case, I'm very happy to tell you that there is no 'one' soy milk (or vegan butter or egg replacer or…) and if you don't like one brand, the next promises to be quite different — so I encourage you to shop around and find one that clicks for you. Or try your hand at making your own 🙂
Butter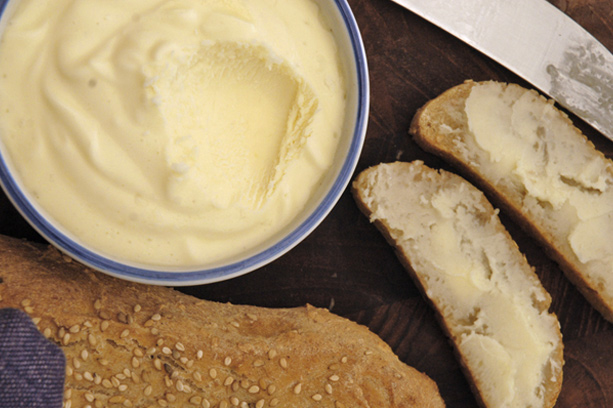 Buy
'Buttery' by Flora Plant is, hands down, the best supermarket-style vegan butter I've come across. I'll be honest — many of the plant-based margarines out there are down-right nasty, but Flora Plant seems creamier, with a nice, slight saltiness and minimal oily aftertaste.
Best used in sandwiches, on toast and in cooking, I reckon — it's a bit too strong in flavour for sauces like béchamel. Naturally lactose-free, it's also soy-free, so good for people with allergies.
I've also found it's handy to keep a Naturli's Organic Block in the fridge for baking or emergency toast situations.
I said the Flora was supermarket-style — well, this joy in a jar from Botanical Cuisine is 'health food shop-style'. Outrageously expensive, thankfully a little goes a long way. I save this delight for times when I can really taste it — dripping on crumpets, slathered onto raisin toast, spooned into hot buttered rum … you get the idea 🙂
Make
Originally named 'Game-changing vegan butter' (it really is a game changer) this recipe — from the oh-so lovely Danish vegan food blogger, Nina — for meltable, spreadable and scoffable vegan butter is simple to make at home with easy-to-find ingredients. You might even have everything you need in your pantry right now.
Milk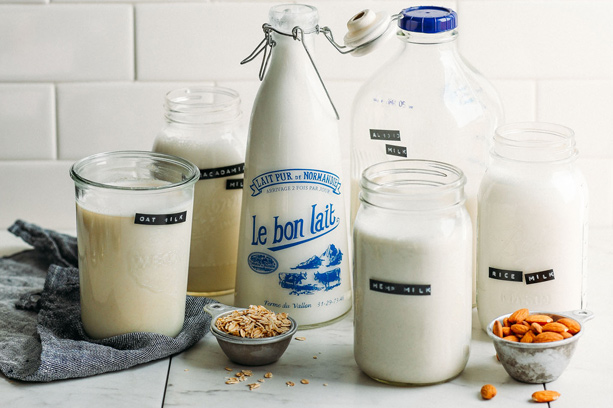 Buy
I adore Bonsoy. Creamy, gently sweet and moreish — I love it in coffee, milkshakes, custards and sauces. It's absolutely magical in rooibos tea, and is the 'secret' ingredient in the silky béchamel sauce I make weekly for Sunday-night lasagna — a fully plant-based affair as I use Minced for the tomato ragù layer.
But back to Bonsoy:
Created by Japanese soy masters using recipes perfected over many centuries…
It's also so iconic it's got merch.
Oatly is another winner. It's creamy, contains 38% of your daily recommended calcium, and it's delicious. Their barista blend is specially formulated to froth for coffee, and their chocolate oat milk is … well, buy two is all I can say.
For baking, smoothies and porridge, I like to use oat milk (P.S. Coles have a few lovely organic ones available that are half the price of Oatly). I'm trying to drink more of this because oats are so good for us. Also this:
An Oxford University study has found oat milk is better for the environment than dairy and other plant-based milky drinks. It uses fewer resources — less land and way less H2O — than most other alternatives. Pappas says oats can grow in harsh, arid areas, making it an ideal milk option for an increasingly hot, dry climate.
(The source for and link in that quote are here, by the way.) So, more oats, everyone!
Hot tip: Let's be honest, the sad reality is that some plant-based milks can curdle when they hit hot tea or coffee. If you're adding your plant-based milk to something hot — try warming it first! Just a quick blitz in the microwave (or in a saucepan on the stove) and you're good to go. I know it takes a little longer, but you have to wait for the kettle to boil anyway, right? 😀
Make
Do you have a high-powered blender? Well then, you also have the power to create your own plant-based milk! Fresh, delicious, and often a fraction of the cost — homemade plant-milks are a dream. You might like to start with this simple recipe for oat milk from Love + Lemons.
Did you know hemp milk is a thing? Hemp seeds pack a powerful nutrition punch, and are a good source of amino acids, protein, fibre, essential Omega-3 and Omega-6 fatty acids and all 10 essential amino acids. Not bad for a little seed that also whizzes up into a super creamy milk!
So, if you'd like to give hemp milk a try, Minimalist Baker has a great recipe to mix up your own batch — she also has recipes for other plant-based milks, such as almond, coconut, rice, oat and macadamia. (And if you don't have a nut milk bag, don't worry, in a pinch you can use a clean, very thin t-shirt or tea-towel. Or just make oat milk — no bag required!)
Eggs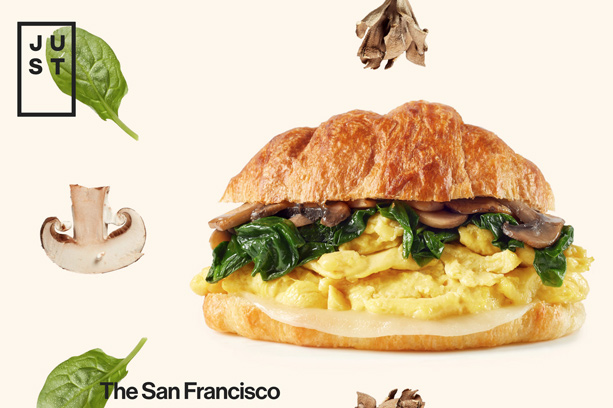 Buy
Our US friends are able to buy the famous JUST egg — made from plants (not chickens) — that apparently makes the fluffiest and most delicious omelettes, scrambles and French toast. (JUST's mission, by the way, is laudable and pretty dang inspiring to boot — they're really putting their money where their mouth is.)
Alas, JUST is still a dream for those of us in Australia. But we still have some fun options available 🙂 I've not personally tried Orgran's Vegan Easy Egg but it sounds like it makes pretty good frittata-style dishes.
I do often use Orgran's No Egg which is great for mimicking the binding qualities of egg white in muffins, cakes and other baking adventures.
Make
I was thinking I'd open this bit with something about how 'there isn't a vegan fried egg yet' … however, it seems there actually is. (I'd be tempted to use silken tofu instead of firm though, and just be very careful when flipping.)
Which means there's also a vegan toast dipping sauce, a.k.a. vegan egg yolk, from It Doesn't Taste Like Chicken — and it just looks too good for this world.
Fried not your thing? Here's a handy guide for make-at-home egg replacements to use in baking. Find the full chart, and more (super healthy and delicious) baking tips, at No Meat Athlete.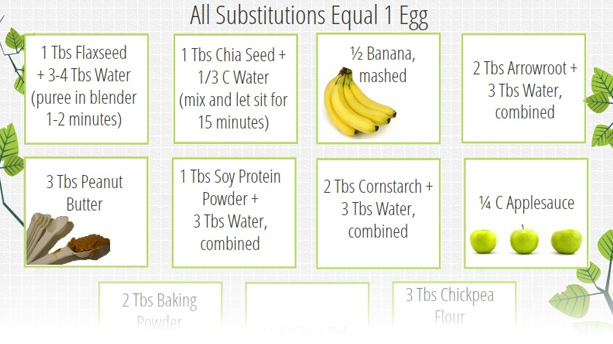 If you're up for shaking up your breakfast routine, you might like to try your hand at tofu scramble. This recipe (with video) is loaded with plant-based protein and vegetables — and devised by a real live food scientist, Jessica Gavin (so it's got to be good, right?)
Tofu scramble is easily customisable with anything from curry powder (add after sautéing the onion) to tomato chutney (serve alongside). If you don't like avocado or capsicum — no problem! Use zucchini instead, or mushrooms. Add a splash of non-dairy milk for creaminess, or grate over some vegan cheese. You could also sprinkle on a spoon of nutritional yeast ('nooch') for garnish — while also adding a fantastic burst of B-vitamins (including the elusive B12).
I haven't forgotten dessert — and this is where aquafaba shines! If you're new to this miracle liquid, then America's Test Kitchen has you covered with their guide to aquafaba. And once you're down with that you'll be able to make muffins, meringues, chocolate mousse, mayonnaise, cocktails and ice-cream!
Well, now it feels like there's a plant-based version for just about everything when it comes to eggs — except maybe the shell 🙂
Bonus! Sour cream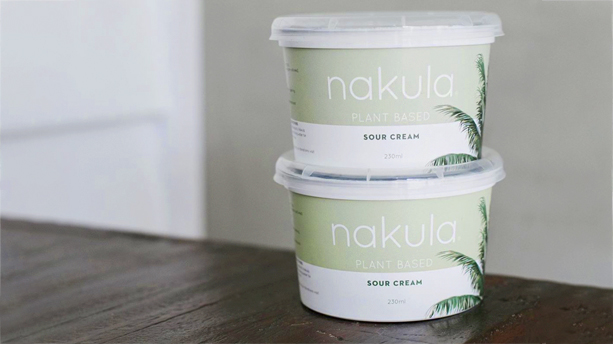 Buy
I had to include this as I've only recently discovered Nakula Sour Cream and am right in the middle of having a high-school crush on it. Tangy, spoonable and moreish, I've used it in curries and burritos, and even as a dollop on desserts — it was delicious with a deep, dark chocolate mudcake, and very tasty with raspberry jam on scones!
Make
This recipe on VegKit for healthy Cashew Sour Cream (can we please agree that cashews are healthy fats only?) is thick and creamy with a pleasant sour kick, and it's delicious on tacos.
With so many easy product swaps — and an endless number of recipes out there — why not continue exploring the infinite possibility of plants? You'll be amazed at what they can do!