Opinion
5 dishes that are gentle on the planet
Environment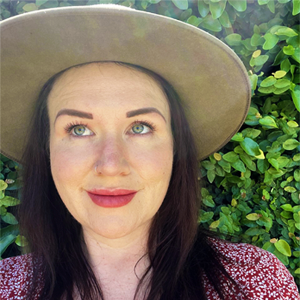 Author: Sophie
Published: November 11, 2022
Food nourishes the body and delights the senses, but did you know that the food you choose to put on your plate can also reduce your eco-footprint? That makes every meal an opportunity to be kind to the planet!
It's no secret that animal agriculture is one of the leading contributors to the climate crisis. In fact, it's well documented. How empowering it is then, that you can mitigate environmental damage simply by switching to more eco-friendly foods.
Take chickpeas, tempeh, and other protein-packed legumes and pulses, for example – aside from being resource-efficient to produce, they also contribute to soil health. That's a double whammy of good!
If you're looking for wholesome, planet-friendly meal ideas that pretty much equate to giving mother nature a big ol' bear hug – check out these nutritious, delicious recommendations. 😛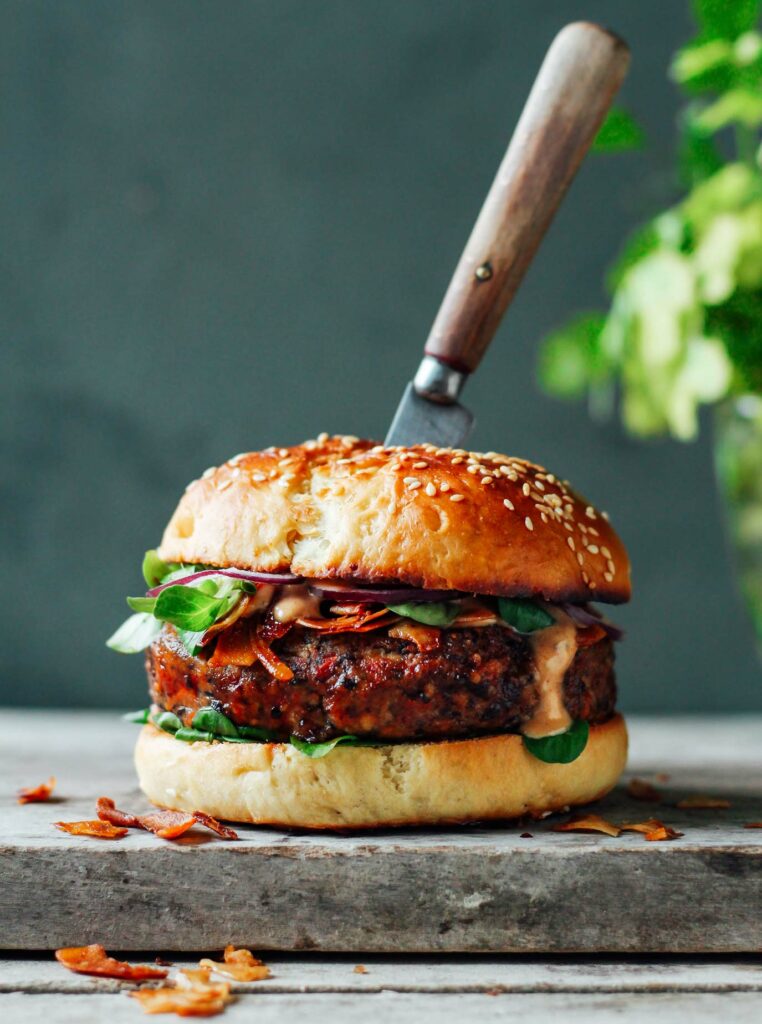 Smoky Tempeh Burger
This smoky tempeh burger is the ultimate low-impact dinner. Tempeh is less land and water-intensive to produce than animal products, and generates 94% less CO2 emissions than beef while still providing the same amount of protein!
The recipe also calls for mushrooms which are extremely land-efficient. In fact, a million pounds of fungi can be produced on just one acre of land – that's not mush-room at all…! Plus, there are black beans in there too – another ingredient which has received high praise for its low impact on the planet.
All this planetary health neatly packaged up into a drool-worthy burger? Yes, please! 😛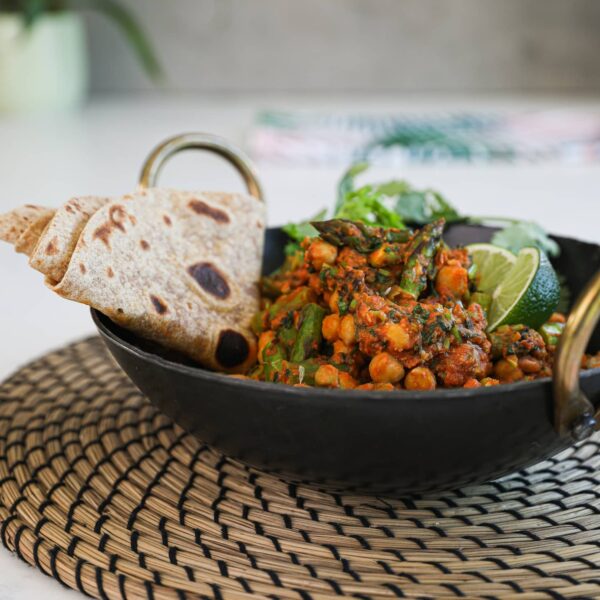 Tikka Masala
We all have our lower energy days, but your meals and the planet needn't suffer the consequences. Enter – this lazy tikka masala!
Chickpeas are packed with fibre, protein, and a range of vitamins, while keeping CO2 emissions low, low, low. They even nourish the soil they're grown in!
While you're relishing the fragrant spices of this delightful dish, you can rest easy knowing that 1kg of this wonder-food emits only 0.64kg of CO2. That's compared with the 25kg of CO2 emissions to produce a single kilo of beef, just in case you're keeping score! 😉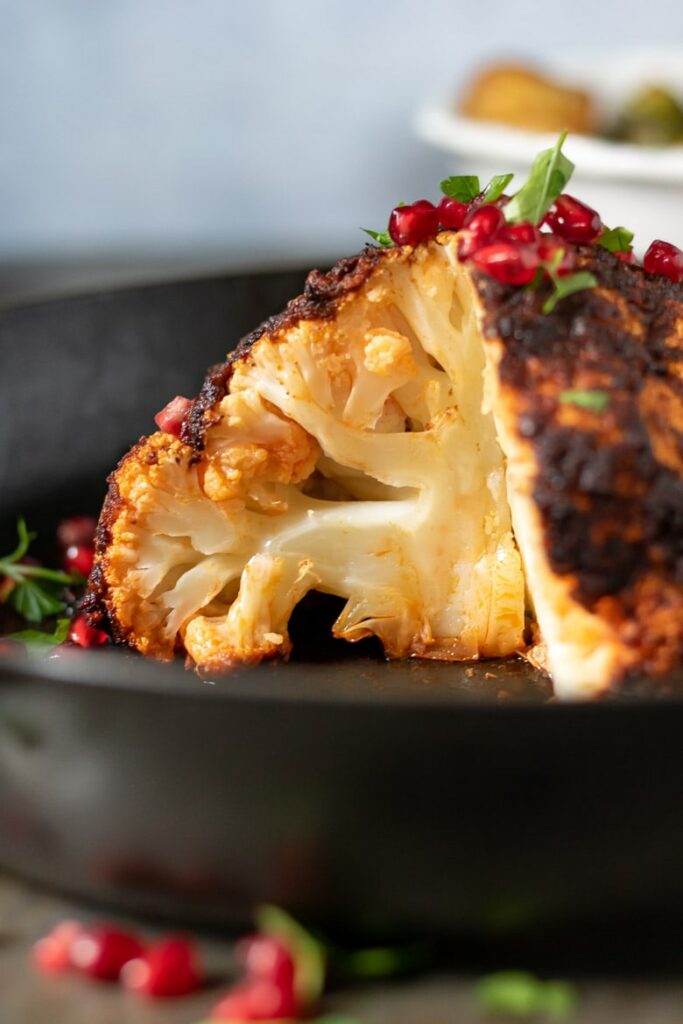 Whole-roasted cauliflower
This whole-roasted cauliflower is a showstopper as a main or side!
Cauliflower is rich in vitamins B and C, and a mere 100g of raw cauliflower provides more than half the recommended daily intake of vitamin C! What's more, 1kg of cauliflower emits just 0.31kg of CO2, and uses an average 285 litres of water – compared to the 15,000 litres it can take to produce 1kg of beef! With stats like that, I feel zero guilt about the hefty amount of cauliflower I consume! 😉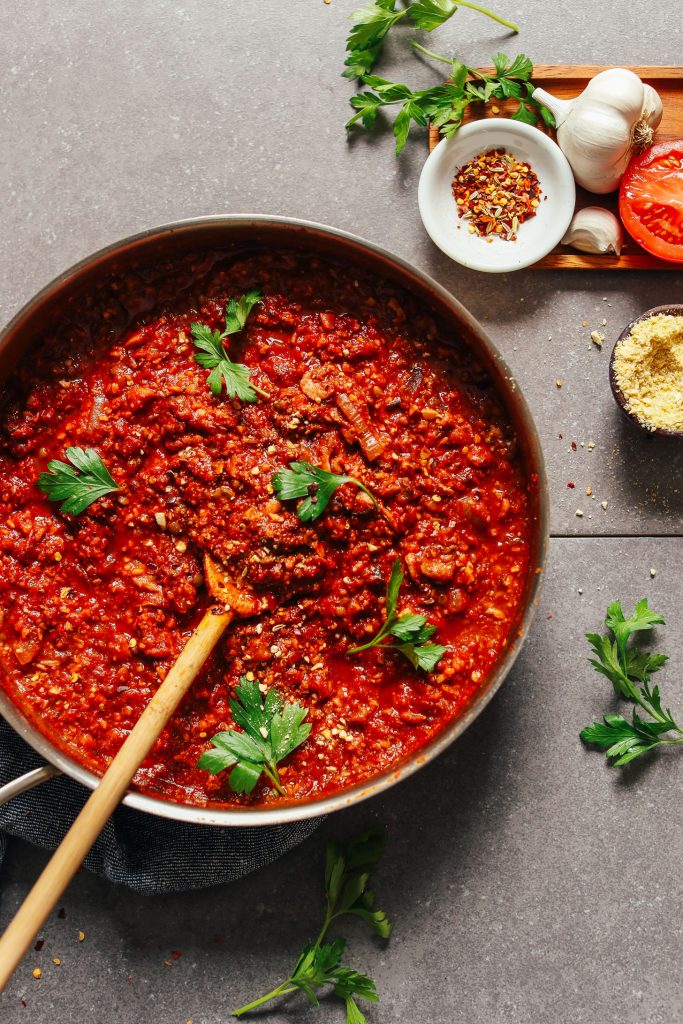 Tempeh Bolognese
I'm calling on protein-rich tempeh again because it is THE golden child! And who can say no to a one-pan wonder?! This bolognese is a perfect mid-week dish to feed the whole family, or leave you with plenty of leftovers.
It's loaded with tomato – the sustainable red fruit we all know and love – and begs to be paired with whole-grain pasta (which, would you believe, is relatively low impact in terms of water usage and its carbon footprint, too).
Alternatively, pair it with vegetables of your choosing. Filling, tasty, and versatile.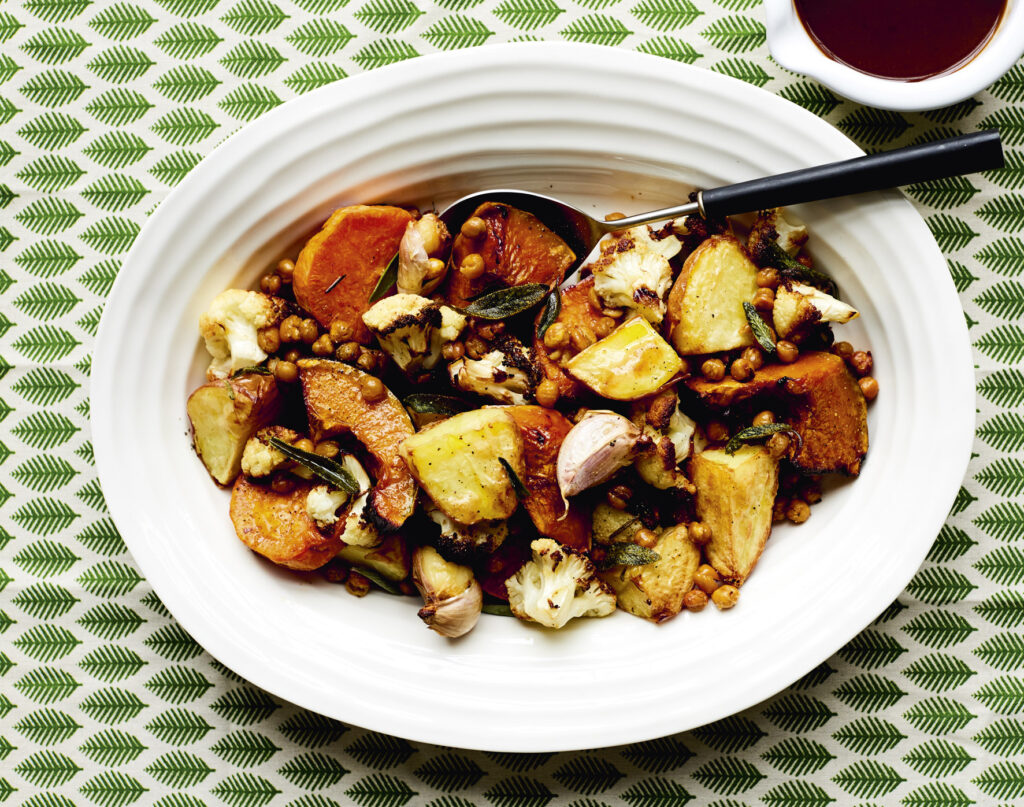 Roast veggies with garlic-herb chickpeas
This low-impact list wouldn't be complete without an appearance from potatoes! These roast veggies with garlic-herb chickpeas hit the spot on heartiness, flavour, and on kindness to the planet. Potatoes have a very low water footprint and low carbon emissions, too.
Pumpkins add a rich sweetness to this dish, and are also super sustainable, emitting just 0.14kg of CO2 to produce 1 kilo. And in fact, most other root vegetables follow suit in terms of sustainability.
Who doesn't love helping the environment whilst carb-loading?!
Diet change, not climate change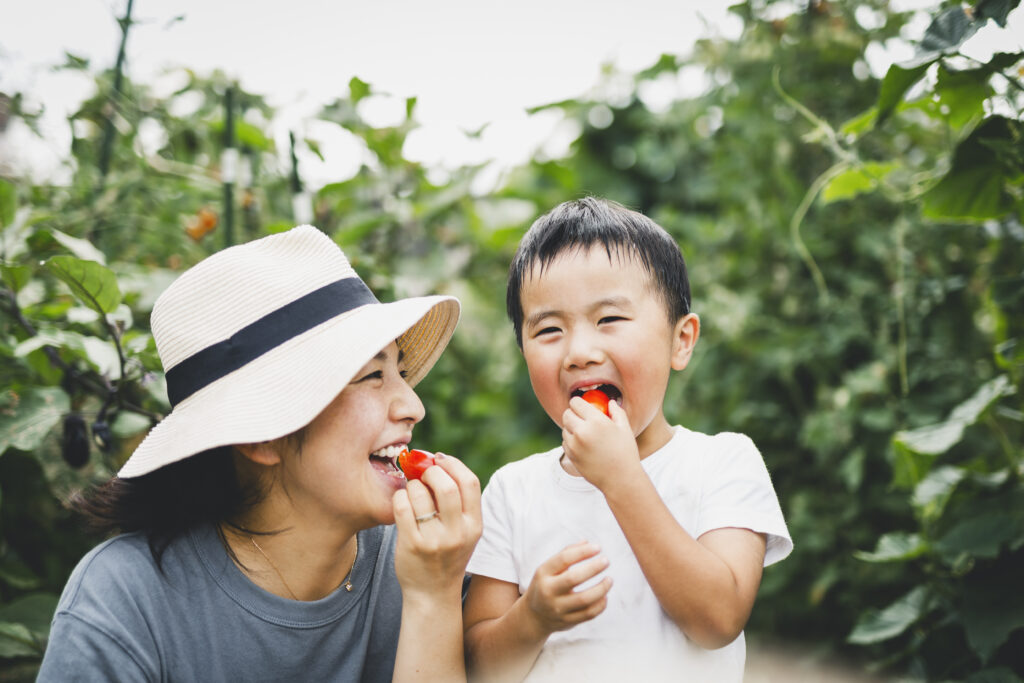 The daily news cycle can make it easy to feel overwhelmed and powerless to help the planet, but change begins with each of us.
With every choice– and indeed, every meal we eat – we are creating the future we wish to see. So perhaps whip up a tempeh spag bol tonight, and cast your vote for a healthier, brighter future for everyone. The planet will thank you.