Queensland may not be renowned for its plant-based food (yet), but Brisbane's foodies are on a mission to change that! As new veg spots crop up, vegans and veg-curious folks alike flock to these venues, demonstrating there's solid demand for plant-based dishes on every menu.
Here are 9 plant-based restaurants and cafes– plus a few bonus spots deserving of a shout-out – for you to eat your way through Brisbane.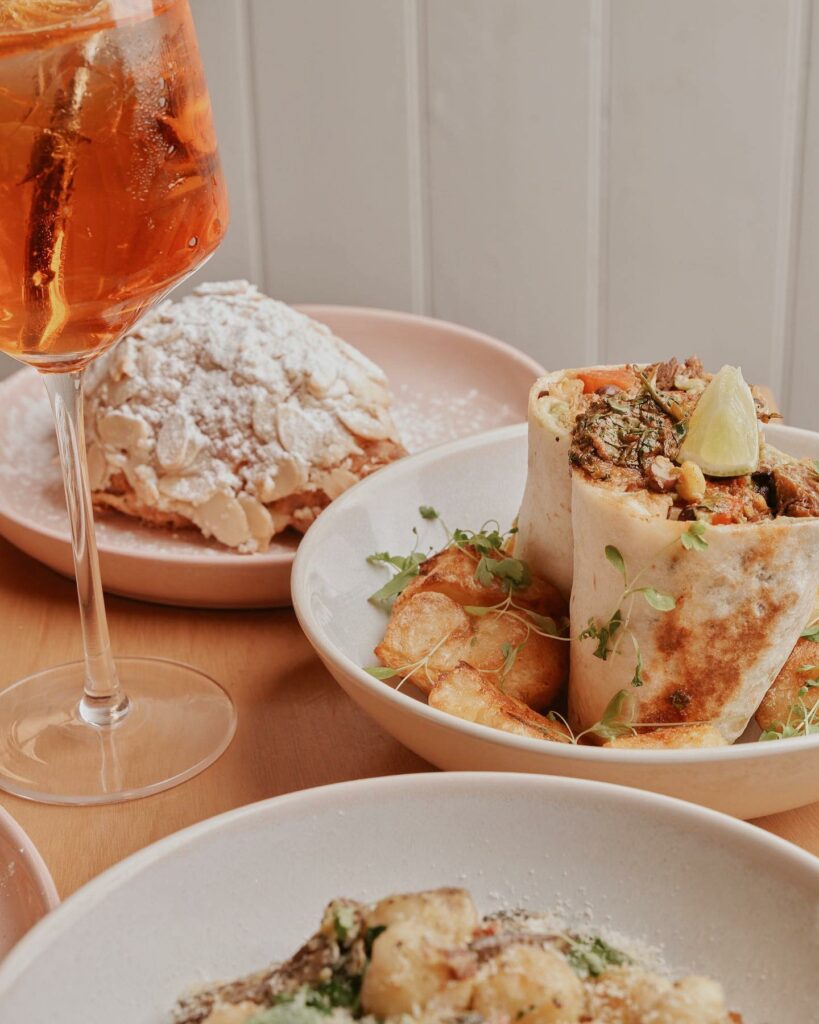 This light and airy space is set inside a Queenslander with a Scandi feel, just off the main stretch where Bowen Hills meets the Valley. The food is simple but hearty and next-level delicious, offering up triple truffle toasties, veggie bowls, and breakfast burritos for your savoury hankerings, plus choc fudge brownies, affogato, pastries and sundaes to get your sweet needs sorted. The team are also really warm and helpful. 
I can't go past the breakfast burrito, and the coconut margarita after 10am!  
52 Brookes Street, Bowen Hills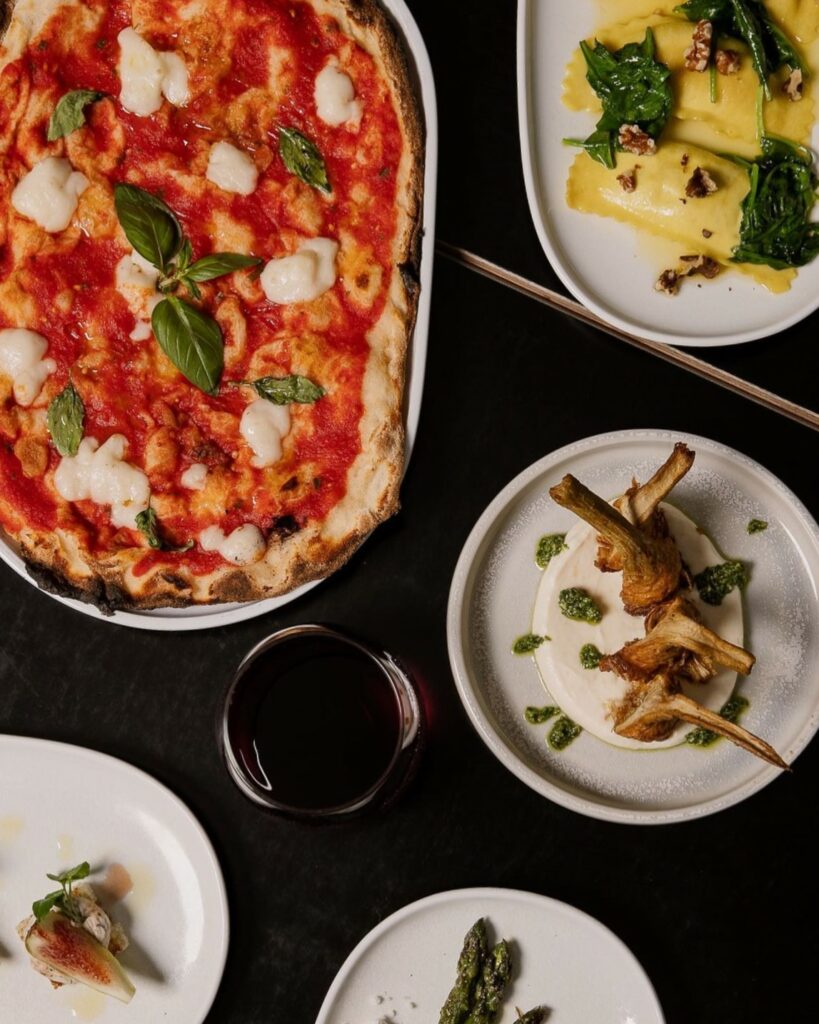 Delicious Italian food, so faithful to the authentic flavours of Italy that no one will know it's plant-based (don't tell Nonna)…  
Tucked into a cosy nook on the main stretch of West End, the gang at Nonna's Nightmare serve up traditional Italian food that will have you drooling from the menu alone. All the classics are here, from crumbed stuffed olives, arancini and focaccia, to pappardelle al funghi and beef ragu gnocchi. Not to be forgotten are your pizza rosse (tomato-based) and pizza bianche (white cheese or olive oil base). Sweet treats come in the form of cannoli stuffed with limoncello-infused ricotta, a Frangelico tiramisu, panna cotta and a 'gelato bun'!  
My favourites are the gnocchi beef ragu, Vesuvio pizza bianche, and the tiramisu.  
4/156 Boundary Street, West End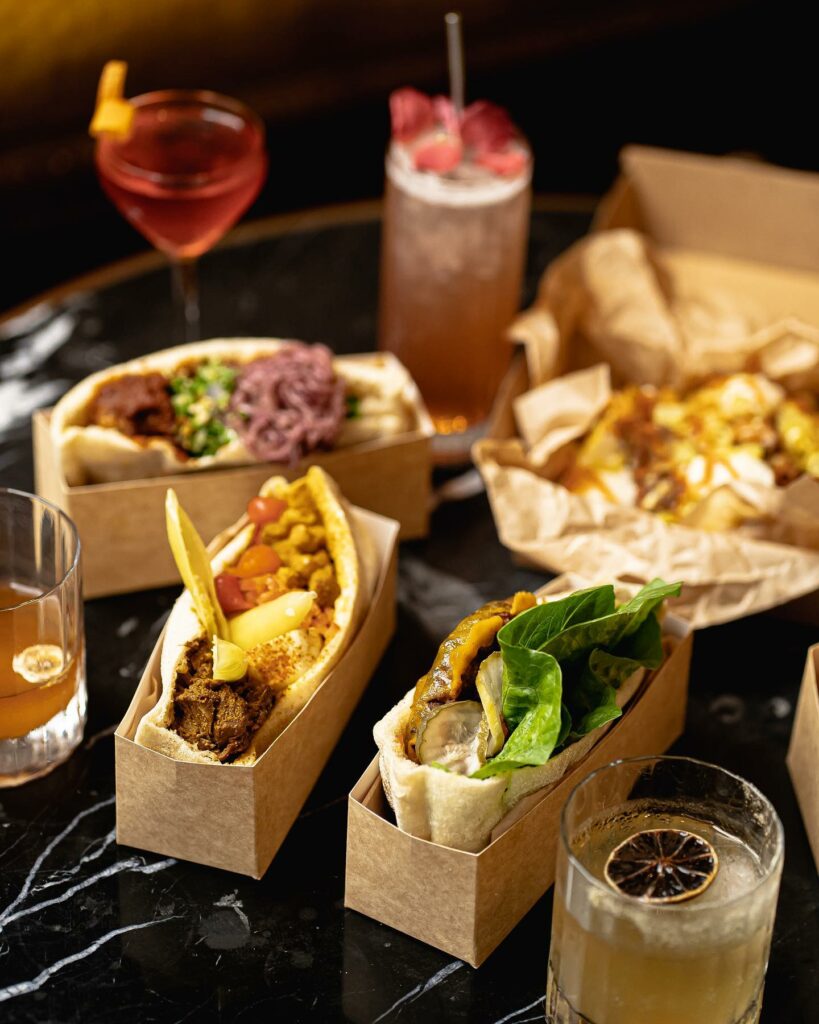 With a name that's fun to say, and gorgeous décor to match, Za Za Ta is one of my all-time faves in Brisbane. It's vegetarian/mostly vegan, and every dish is overflowing with flavour. Part of the Ovolo Hotel, this restaurant was named the best vegetarian restaurant in the 2022 Delicious 100 list – and for good reason! A melting pot of flavours using fresh, local produce, you'll want to order everything on the menu and share (sort of).  
I often find myself dreaming about the silverbeet and feta borek with whipped tahini and tomato, the BBQ cauliflower shawarma, and the old school hummus with braised chickpeas and jackfruit shawarma…  
1000 Ann Street, Fortitude Valley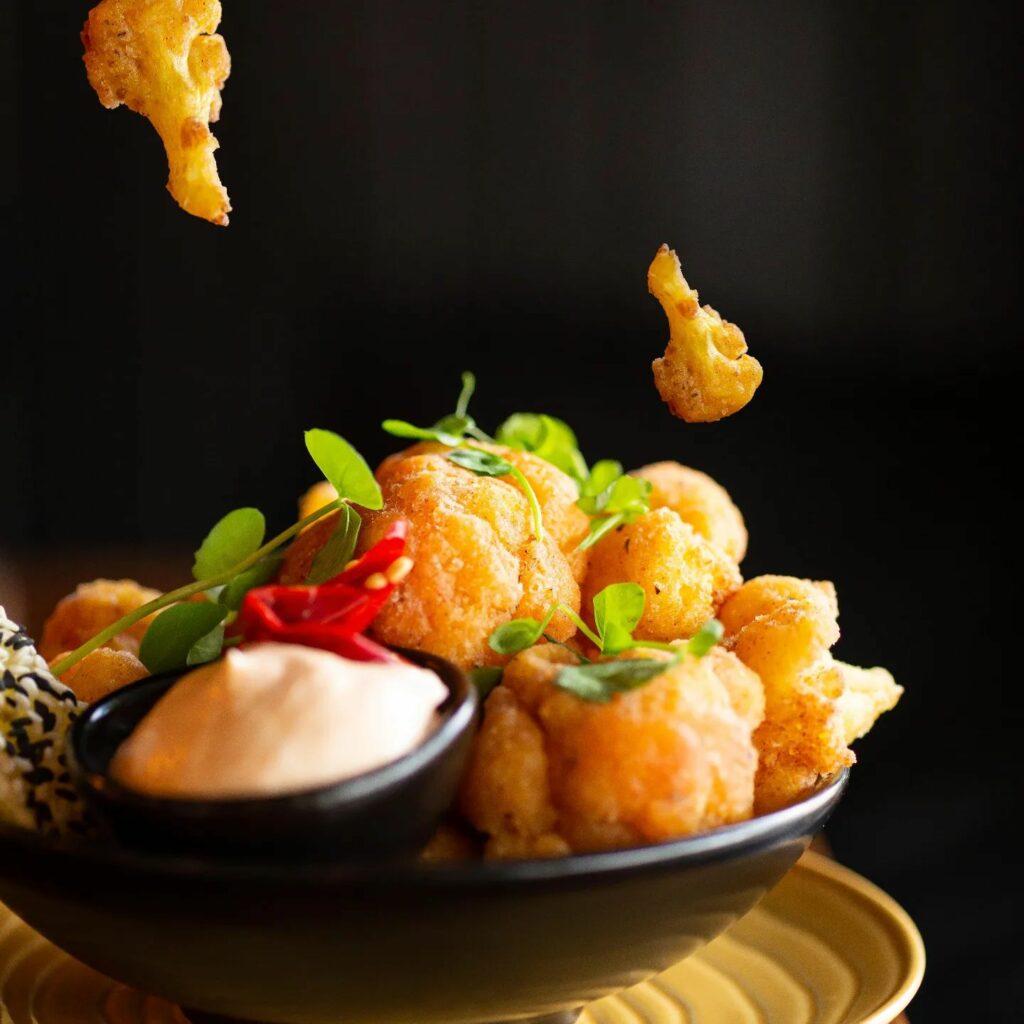 Another gem on the main strip of West End, the YCA crew are oozing with passion – and always slingin' delicious plant-based tapas (and cocktails). Great for a solo trip or a night out with your crew, you'll find plenty of mouth-watering plates to choose from. You Came Again offers easy takeaway options for nights when you simply need to be on your own sofa.
My picks are the YCA cheese platter, salt & pepper tofu, and lemon popcorn cauliflower bites … And the chewy walnut brownie for dessert
245 Boundary Street, West End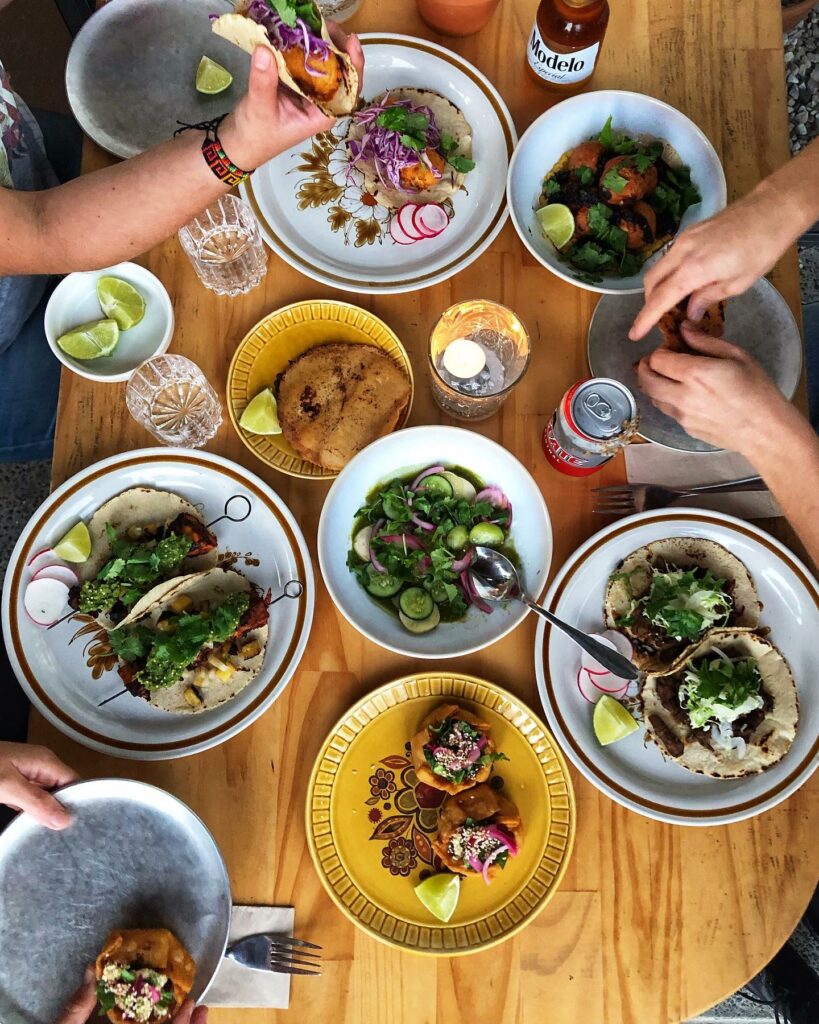 This wonderful restaurant in South Brisbane started out small with a spot in a communal dining space in West End. But the demand for their food was so high that they eventually moved into their own permanent venue, now a light and open space full of quirky art. The El Planta crew are dedicated to seasonal, local produce, so the menu changes weekly. What remains consistent though, is the exceptional flavours and friendly service.   
The pescado (a.k.a. 'fish' taco) is a delight, as are the corn ribs, tostada and cochinita … and don't get me started on the spicy margarita with whole jalapeño!  
58 Hope Street, South Brisbane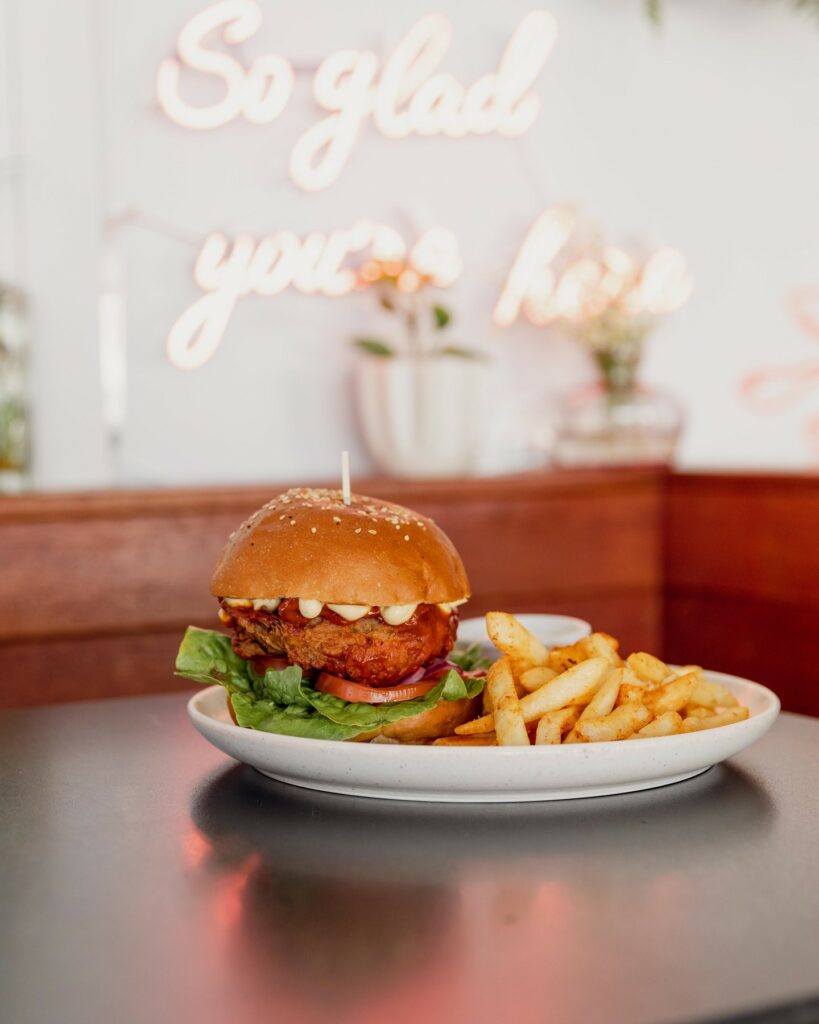 This 100% plant-based hangout in Paddington is absolutely worth a visit – the space is open and welcoming, the staff are wonderful, and the food satisfies the hungriest among us. The brunch menu is full of flavoursome and hearty eats (some of which you'll find on the dinner menu too), such as the CFC burger, truffle mac & cheese, and a meatball panini to die for … While your dinner here might also involve platters, pastas, paella, or even a house steak! 
My top picks are the CFC burger (it's a classic) and the eggplant steak gnocchi.  
Fun fact: Yavanna was started by Cale Drouin (the same fella who brought us Made with Plants and Get Plant'd), before the lovely team behind It's Mirchi took the helm in 2022. And they've honoured Yavanna's ethos by continuing to smash out plant-based excellence ever since.  
9/2 Latrobe Terrace, Paddington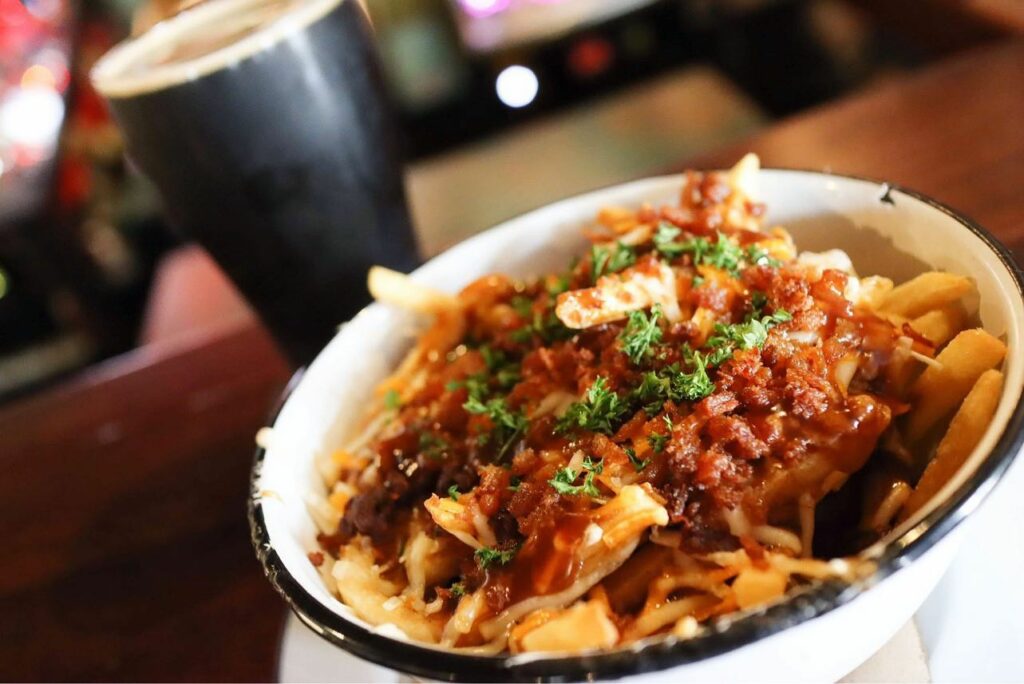 Whether you're an arcade kid from way back, love board games, or just want to soak up the atmosphere, Netherworld is a diner, drinking hole, and gaming centre all rolled into one. While they do offer non-vegan options for the traditional folks, they're plant-based first and foremost … Plant-forward, one might say. That's what we like to see!  
My go-to dishes are the karaage tofu, the beelzebun, or the Pegasus poutine.  
186 Brunswick Street, Fortitude Valley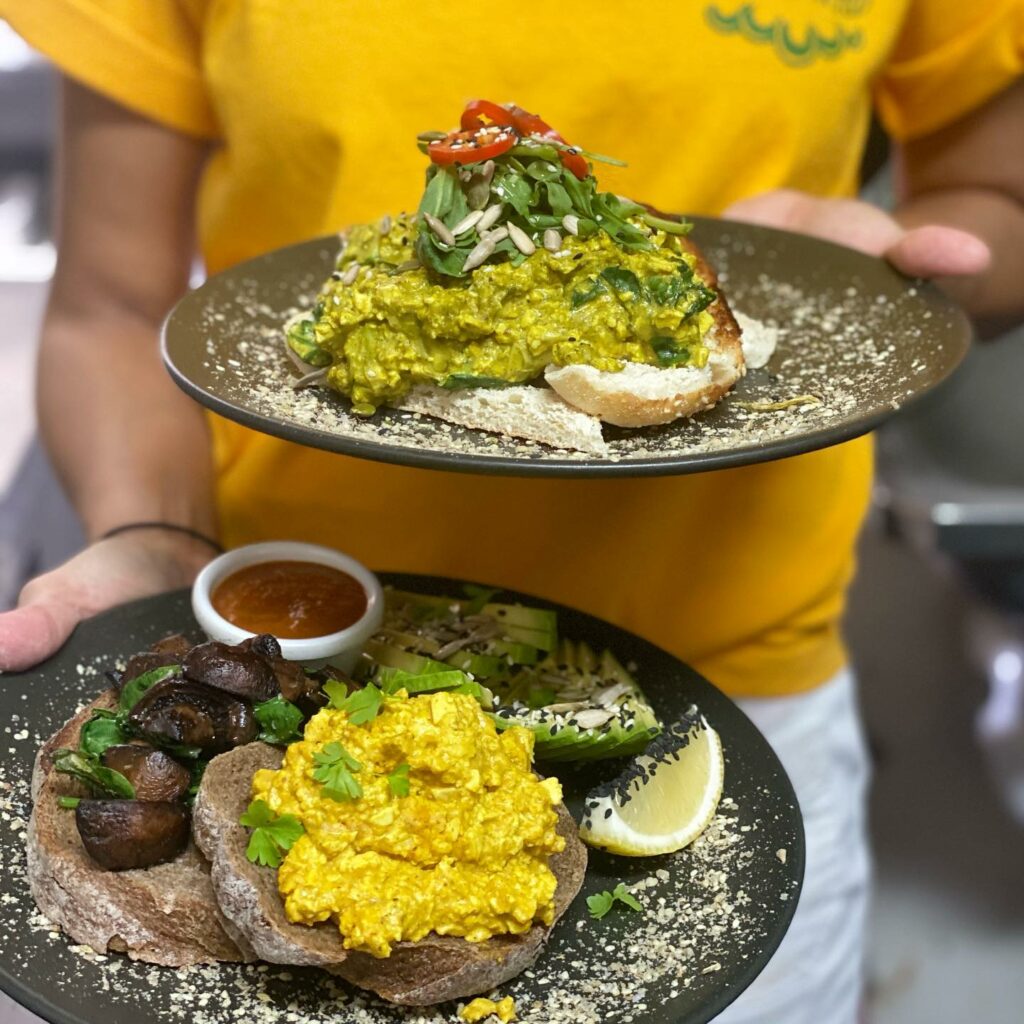 Dicki's is a New Farm (and now Ascot) staple for anyone wanting to enjoy downright delicious plant-based food in a fresh, simple space, every day of the week.
There are great share options like jalapeño cheese sticks and arancini balls, and there are 'it's so good I don't want to share' options like green 'eggs' on Turkish toast, tacos, and sticky 'duck' toasties.  
893 Brunswick Street, New Farm and 161B Racecourse Road, Ascot 
Special Mentions: vegan-
friendly
spots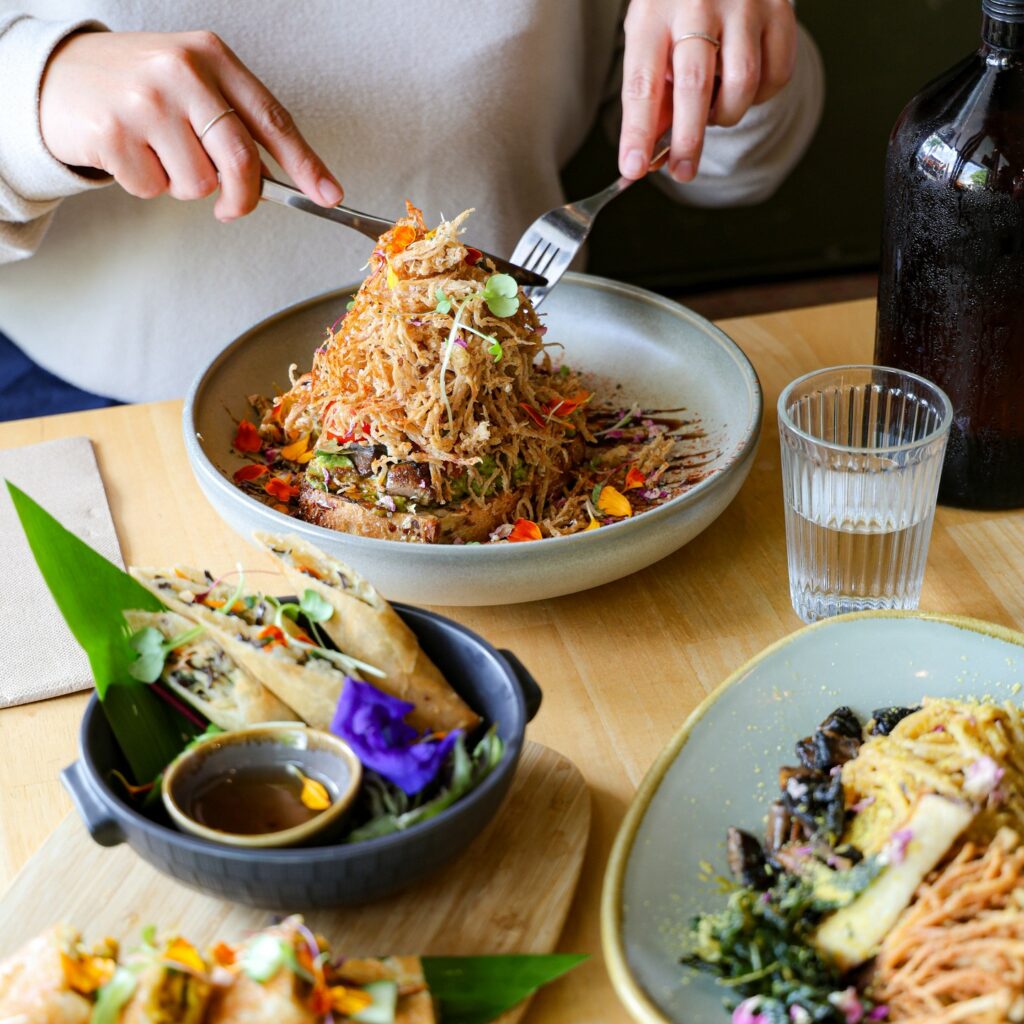 Pancha, in Hamilton, brings the homey café vibes with plant-based options that are FULL of flavour. The best part? Most of the produce you'll eat here is grown on their own farm or surrounding local farms!   
For the sweet tooth, there's fluffy soufflé pancakes served with grilled bananas and seasonal fruit. Or try a croffle – the delicious marriage of a croissant and a waffle – with your choice of toppings. You'll also find several variations of everyone's favourite mortgage wrecker, avo on toast, and a delightful kimchi burrito. Enough said.  
6/33 Racecourse Road, Hamilton   
If you're after a beautiful venue with delicious drinks and Chinese food that caters to vegans and omnis alike, Donna Chang is a must. It's downstairs from the Boom Boom Room (host to very plant-based friendly Japanese dishes!) in the city.  
The vegan banquet menu is packed with flavoursome dishes (and only has a two-guest minimum), featuring cold sesame noodles with chilli, fried eggplant and black bean, Impossible pork mapo tofu, Asian greens, and more! They even cater to those with coeliac requirements, so you know you're being looked after. 
171 George Street, Brisbane City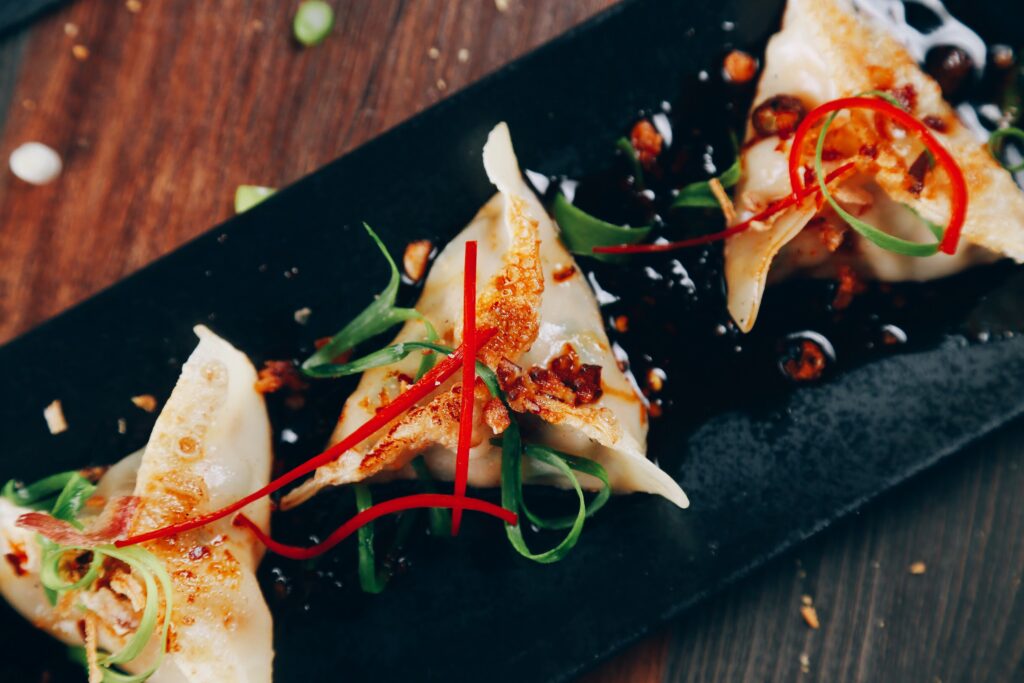 Mr Hong, a.k.a. Hong's, is perhaps Brisbane's best-kept vegan secret, beloved for their dedicated vegan menu with plenty of options, and excellent pricing. The staff are always friendly (no matter how busy) and there are plenty of bars and dessert bars close by.  
I always order the vegan wonton soup, smoked 'duck' rice paper rolls, or the lemongrass tofu bun (vermicelli salad).  
321 Montague Road, West End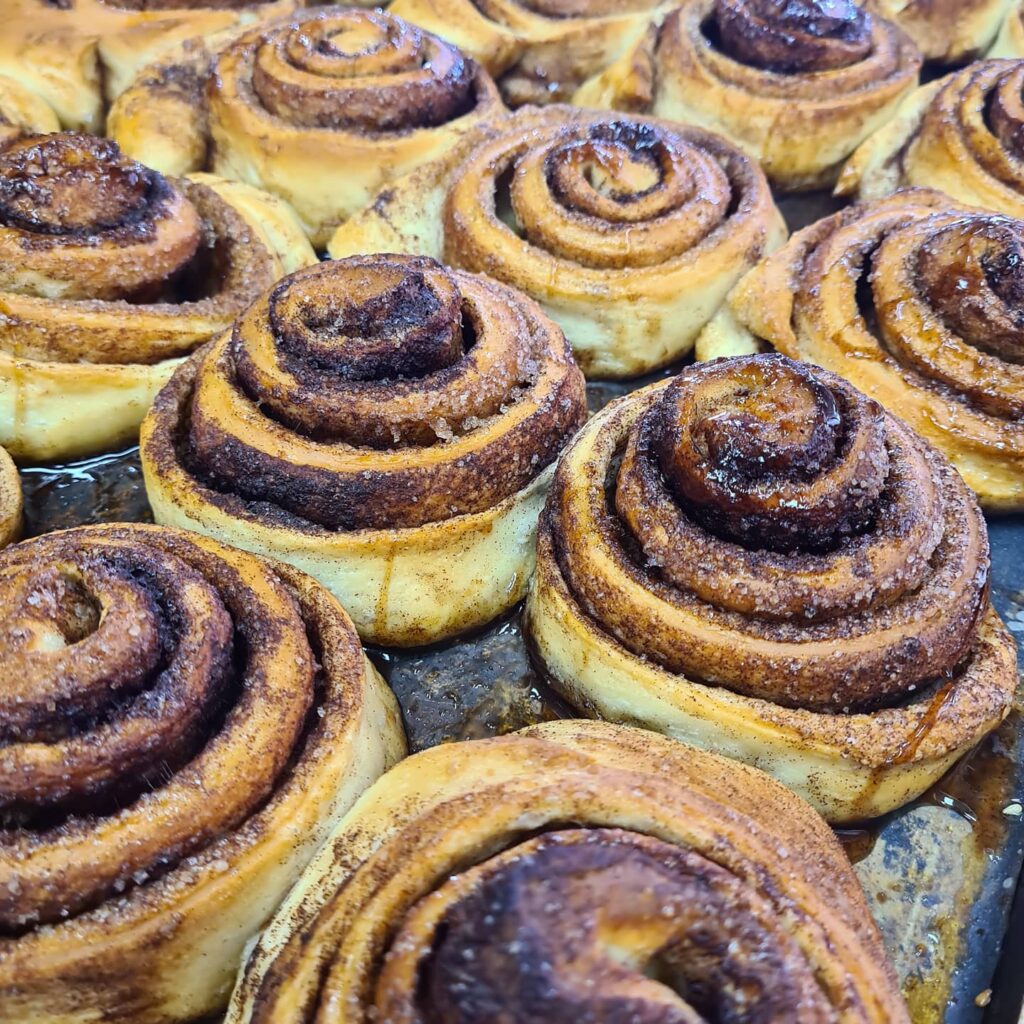 I cannot go past a bakery serving up vegan pastries so delicious you wouldn't know they're plant-based!  
Besides the great sourdough options, and the moreish vegan spinach roll, the croissants are utter perfection, flaky and buttery with a soft airy center. Tying for first place are the plain, almond, and pistachio flavours! 
West End, Red Hill, Spring Hill  
Get to eating…
Whether you're a Brisbane local craving a bit of restaurant-quality veg food, or a visiting vegan foodie who tends to map out holidays based on food recommendations alone (no judgement, planning yields results!) – this sunny capital city has a lot to offer.
Do yourself a favour and make the rounds at all of these venues for a smorgasbord of culinary delights! Not only will you find yourself utterly satisfied (and frankly, impressed), but you'll be helping to ensure kind businesses like these can stick around and feed more veg-inclined customers like yourself well into the future.