After years of petitioning from Australian fans, Krispy Kreme has just sprinkled two brand-new vegan doughnuts into their range 😍🍩
Drop what you're doing – this is not a drill! 
In celebration of World Vegan Day, Krispy Kreme has announced the long-awaited launch of not just one but two mouth-watering plant-based flavours: Fudge Brownie Bliss and Apple Custard Crumble. 
Krispy Kreme has always been about creating moments of joy through our delicious doughnuts … We're thrilled to bring our vegan-friendly doughnuts to Australia for all to enjoy.
– Aimee Cuatajar, Krispy Kreme ANZ head of marketing
The new Fudge Brownie Bliss flavour features a decadent, shell-shaped doughnut with a rich, brownie-batter filling, dipped in chocolate icing and sprinkled with choc biscuit crumbs.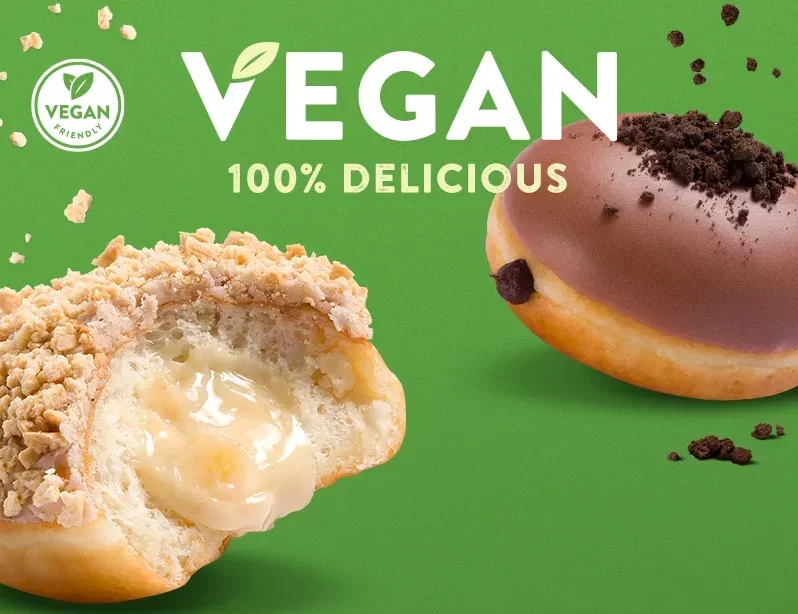 The Apple Custard Crumble doughnut, on the other hand, is less in-your-face decadent, more nostalgic and comforting. It's also a shell-shaped doughnut, but full of creamy apple custard, dipped in delicately spiced icing, and finished with a vanilla biscuit crumb. 
"Fudge Brownie Bliss and Apple Custard Crumble are a testament to our commitment to delivering incredible flavours to our customers, and I'm confident they will captivate the taste buds of vegans and non-vegans alike."
These piping-hot new plant-based options are available now at Krispy Kreme and 7-Eleven stores nationwide in Australia – and they're priced the same as other doughnuts in the brand's range.
A growing number of our customers have a vegan or plant-based diet, so we are thrilled to be stocking the new Krispy Kreme vegan-friendly range.
– Adam Jacka, 7-Eleven Australia marketing area lead
While the Apple Custard Crumble flavour is a permanent addition to the menu, the Fudge Brownie Bliss flavour will apparently only be available until December 4 – so get in quick if you want to try it!
For anyone who doesn't live close to a Krispy Kreme or 7-Eleven, the new vegan doughnuts will also be available to order on the Krispy Kreme website. 
We doughnut know about you, but we're super excited to try these new Krispy Kreme offerings – early reviews suggest they're a hole in one 😉
Maybe if Krispy Kreme hears enough positive feedback from Aussie customers, they might consider keeping both flavours on the menu … or adding even more plant-based options!
Header image: © Krispy Kreme