There's a whole world of healthy, simple veg recipes that don't sacrifice on flavour — even if they save on pennies! In fact, many cultures have a plant-based diet at their base that consist of protein-rich food.
This could be beans and tortillas, rice, or quinoa throughout Central and South America, dal and bread or rice in South Asia, lentils and injera bread in East Africa, or falafel and hummus in pita bread in West Asia.
When a legume and a grain are combined they do something magical which means you get a bigger serve of essential amino acids.
There's good news for the budget-conscious chef as most of the recipe ideas below contain pulses (beans, lentils, chickpeas, etc.) of some sort and, if you prepare these dishes with dried beans, rather than the tinned variety, it'll be even more affordable.
When preparing dried pulses, all you need to do is soak them in plenty of fresh water overnight — I like to use a glass bowl for this as it's non-reactive and won't leach anything dodgy. The next day, drain your pulses, and cover once again with fresh water. Bring to the boil (make sure to boil red kidney beans for at least 10 minutes) then reduce the heat and simmer and — as a general rule — simmer for 1-2 hours, or until the pulses are tender.
Now! Without further ado, here are a few recipe suggestions from my foodie friend, Jess. As you'll see, you can mix and match ingredients and have a play with flavours and herbs and spices — there's no right and wrong!
And yes, Jess always soaks his own pulses. You can trust him 🙂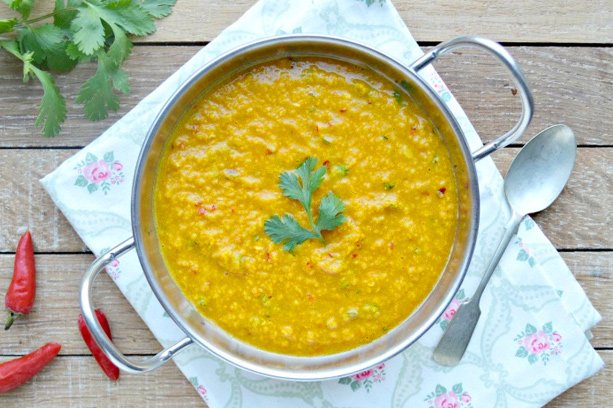 Red and or yellow lentils with rice (gluten free)
No soaking required: Simply cook the lentils at a high simmer in water until they're done
(spoon a few out and see if you can crush them easily).
Boost your vegetables: When ready to serve, remove the lentils from the heat and stir in some baby (or chopped regular) spinach. Cubed fresh tomato is another delicious addition, as is a squeeze of fresh lemon juice and a pinch of salt.
Twist: Sauté an onion in some olive oil and spices (suggestions below) before adding the lentils and water, or try cooking the lentils in stock instead of water for more flavour. And remember: legumes love salt. If you're able to include salt in your diet, then I recommend you give your shaker a workout 🙂
Spices lentils love: Turmeric, coriander, cumin, chilli, curry powder, garam masala
Alternative recipe: You might like to check out this red lentil dal from Gourmet Mum.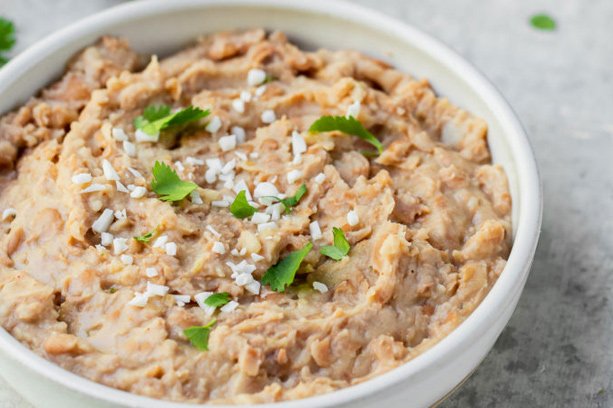 Refried bean stuffed tortillas
Soak: If using dried beans, you'll want to soak them overnight and then cook them until soft (roughly 1.5-2 hours). For refried beans, Jess recommends you use black, borlotti or kidney beans.
Mash: Smush those cooked beans with a potato masher (or you can use a fork — just please don't use a food processor!) then cook them with a little water to loosen up. Yup, despite the name, refried beans are traditionally cooked in water — but feel free to use a neutral oil, such as sunflower, instead.
Twist: Sauté some onion, garlic, herbs and spices before adding the cooked beans and water, and use stock instead of water to boost the flavour.
Herbs and spices refried beans love: Cumin, coriander (fresh and dried), chilli flakes, paprika of the hot, sweet or smoked variety.
To serve: Flour tortillas are the easiest to use as they won't crack or split, and can be used straight out of the packet, or heated for 10 seconds in a microwave. However, using corn tortillas will make this meal gluten free — just gently toast each corn tortilla in a dry hot pan for 30-60 seconds on each side to soften them up. Once your tortillas are warm, spoon a generous helping of refried beans on top — plus any extras you might like — fold up, and devour.
Jazz up that tortilla: Delicious as is, you still might like to level up with guacamole, hot sauce or salsa (either from a jar, or make it fresh with finely diced tomatoes, red onion, coriander, salt, and white vinegar). Try adding crunchy salad for a tasty burrito.
Alternative recipe: Find an easy approach to refried beans at Sweet Simple Vegan.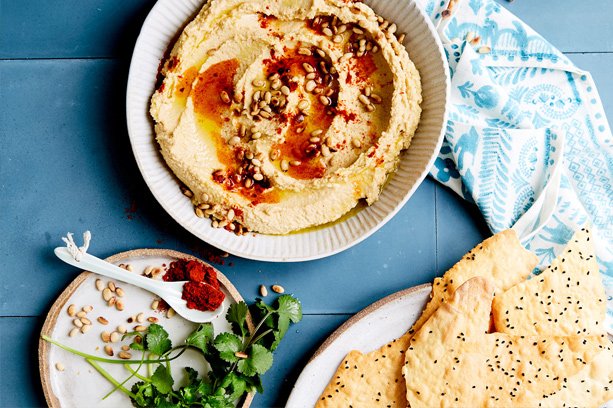 Homemade hummus with pita bread
Blitz: Combine cooked chickpeas, tahini, lemon juice, ground cumin, olive oil, and salt (fresh garlic is optional) in a food processor, then SLOWLY add water until the hummus reaches your desired consistency.
Spice it up: Sprinkle red chilli flakes and chopped parsley on to serve, followed by a drizzle of olive oil.
Make a meal: Homemade hummus pairs deliciously with fresh or toasted pita or other flat breads — you could make a stuffed pita with falafel (homemade or bought), salad and plenty of hummus.
Go gluten free: I think hummus is also delicious when paired with vegetable dippers like carrot and celery sticks, radishes, pickled chillies, whole spring onions, quartered onions and whole baby cos lettuce leaves are my favourites.
Go fancy: Garlic-mushroom hummus? You bet. Find 5 ways to fancy up your hummus at VegKit.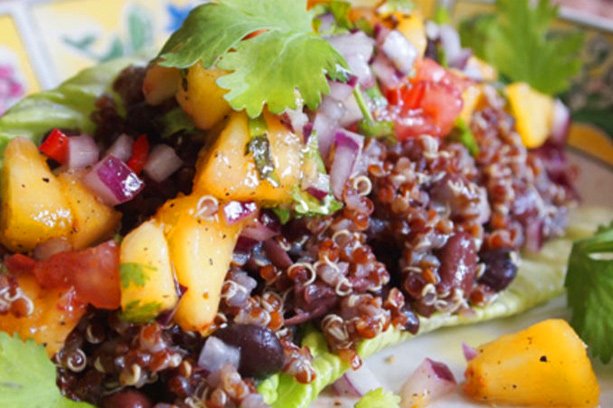 Bean and quinoa salad (gluten free)
Cooking quinoa: Jess says to add twice the volume of cold water as per the volume of quinoa that you have, bring it to a boil, and then cover it and put it on the lowest heat possible until cooked. (I'm a heathen and use a rice cooker instead.)
Spice it up: Sauté the dried quinoa in a splash of oil, along with a pinch of salt, pepper, cumin and cayenne powder (or chilli flakes), before adding vegetable stock instead of water and cooking as above.
Power up with beans: Add black or kidney beans to the cooked quinoa and stir through gently. You can use tinned beans, or dried ones you've soaked overnight then cooked for 1-2 hours.
Top it off: Add fresh diced tomato, red onion, lettuce, fresh coriander, mango or pineapple pieces, and lemon juice and/or red wine vinegar (or any vinegar, really).
Alternative recipe: Que Rica Vida has a delicious looking bean and quinoa salad that includes a peach salsa that looks luscious.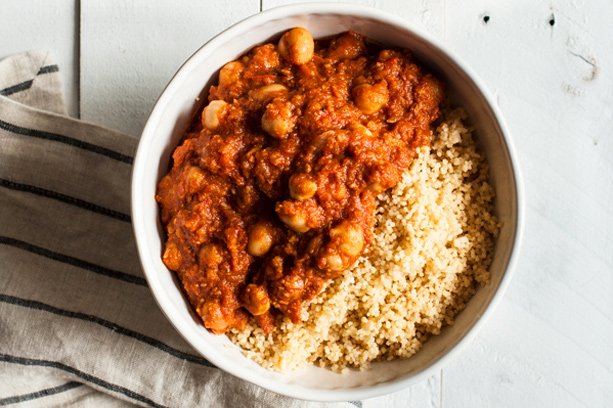 Chickpeas and couscous
Simmer sauce: Combine a tin of chickpeas with a tin of tomatoes in a saucepan. (I always buy whole, peeled tomatoes and crush them myself — I think they have better texture, and it's fun to do by hand!) Add a splash of water or vegetable stock and simmer until the tomatoes have broken down a little to form a sauce.
Steam it : To steam couscous simply combine 1 part couscous with 1.5 times the amount of boiling water, cover, set aside for 5 mins, then gently fluff up the grains with a fork. You can use boiling vegetable stock instead of water for more flavour — or simply add a pinch of stock powder to the dry couscous and stir through before adding the boiling water.
Liven it up: If you've got some garlic and onion, chop them finely and sauté until softened. Add a sprinkle of some seasoning with the tomatoes (Moroccan seasoning or you could use a mix of paprika, rosemary, turmeric, coriander and cumin), before adding the chickpeas and tomatoes and cooking as above.
Serve it up: Fresh baby spinach leaves also work well with this, just add them to your bowl at the end. Garnishing with fresh coriander or mint (or both) and a squeeze of fresh lemon juice also makes a nice twist.
Alternative recipe: Find a delicious (and easy) chickpea-tomato stew at The Full Helping.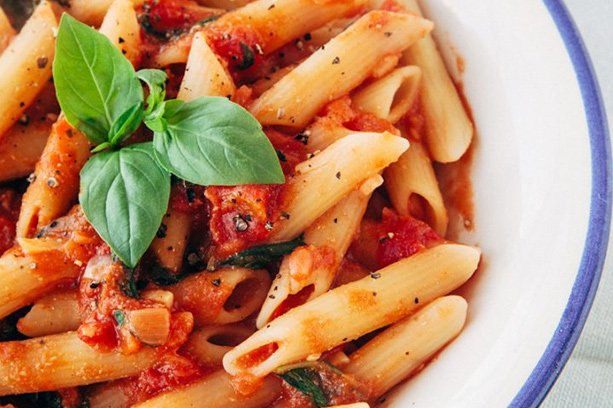 Pasta
Heat things up: A classic Italian dish, Pasta Aglio, Olio e Peperoncino — pasta with garlic, olive oil and chilli — absolutely bursts with flavour, has just five ingredients and comes together in about 15 minutes, start-to-finish.
Stir up a sauce: It's only slightly less simple to make your own tomato sauce. Start by sautéing diced onions and garlic in olive oil, until just softened. If you've got dried oregano, or an Italian herbs mix, add a pinch or two of it now, and some chilli flakes if you like. Stir in a splash of stock or wine, and allow to simmer for a minute. Add a tin of diced tomatoes, stir, then simmer for 10-15 to let the flavours infuse. Serve with your favourite pasta, and, if you've got some fresh basil or parsley, tear that over just before serving as a garnish.
Alternative recipe: Wallflower Kitchen has a simple tomato and basil penne recipe. She garnishes with nutritional yeast ('nooch'), which delivers an umami-rich, 'cheesy' flavour — along with essential B-vitamins. It's exciting to see products like nooch readily available in major supermarkets these days, and sure makes shopping a lot easier!
What are your favourite 'cheap and cheerful' plant-based meals? 🙂