Opinion
From baked feta to nachos: 18 crave-worthy vegan cheeses that you can make at home
Kitchen Tips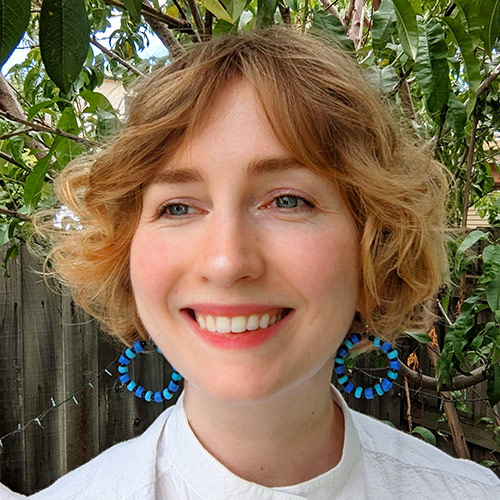 Author: Liv
Published: June 5, 2023
I have something to confess. Back in my vegetarian days, I was absolutely one of those people who used to say "I could never go vegan, I love cheese too much!" 
Like many cheese fiends, even when I was confronted with the ethical dilemma of what dairy production meant for cows and knew I wanted to make a change, I still couldn't fathom life without pops of tangy feta in my salads, a crust of melted cheese bubbling on my pasta bakes, or strings of mozzarella stretching infinitely between my pizza slices. 
But (not to be dramatic) my whole world-view shifted when I learned two things. 
Firstly, it turns out there's a really good reason why so many people feel like they're addicted to dairy cheese. It's because they are, literally! No wonder it can feel hard to start phasing it out – I resolved to cut myself a bit of slack and go at my own pace.
And my second, most exciting discovery was that I actually didn't have to give up cheese in order to make choices that better aligned with my values!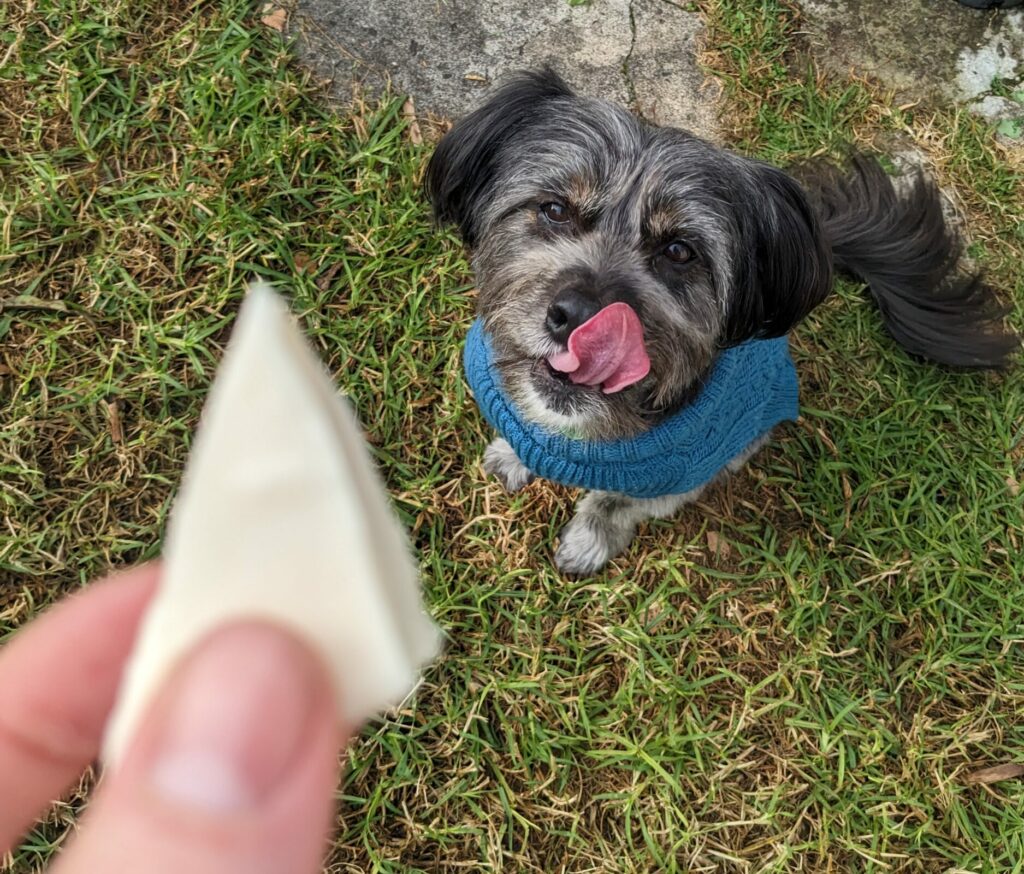 These days, the vegan section is practically overflowing with dairy-free feta, artisan soft cheeses, cheddar blocks and slices, mozzarella shreds, cream cheese, and more – we are truly spoiled for choice.
But my journey here started nearly ten years ago, when there were admittedly only a few plant-based cheese options on the shelves. So at the time, I turned to the many easy recipes for making your own vegan cheese at home! The variety, complexity, and flavour possibilities are endless, and many of these homemade options are so mouthwatering that they're 100% addictive in their own right.
Trust me, I would know … In fact, the startling realisation I've had to come to terms with while writing this post is that I probably eat even more cheese now than I ever did before! But hey – that works out well for you, because I've carved a pretty good wedge out of the vegan cheese world at this point and have plenty of recommendations to share 😉
Check out my shortlist (really, this is the shortlist) of favourites below. These are the tried-and-true vegan cheeses I'd take back in time to show my past, dairy-eating self what I was missing out on!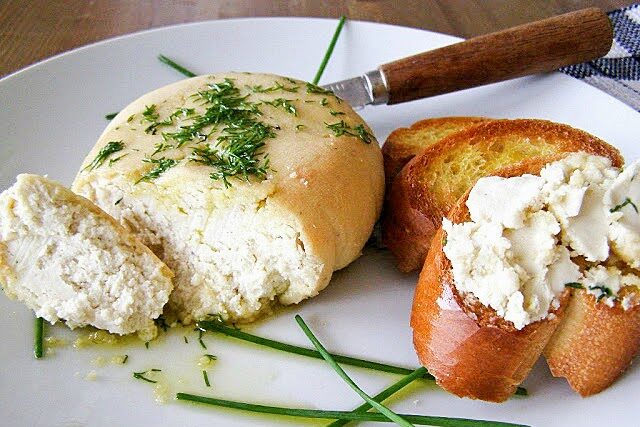 This is the feta recipe that first opened my eyes to how achievable it was to make incredible vegan cheese at home. It's as simple as blending, setting, baking, and scoffing!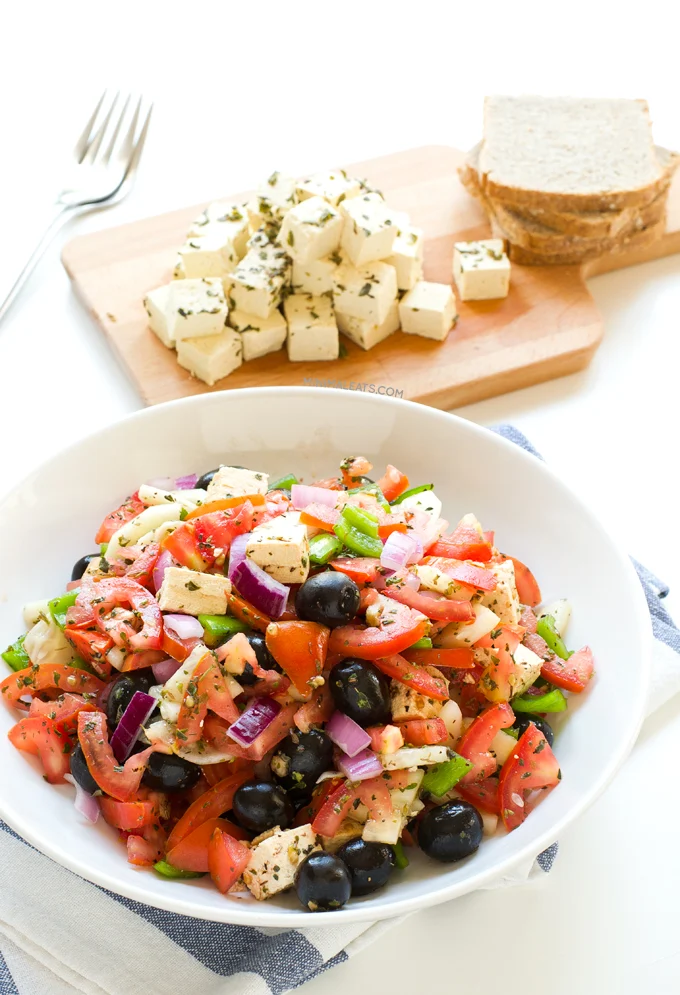 Another super easy way to make feta is with tofu. This delightfully fresh feta alternative only takes 15 minutes to make, and happens to be packed with protein, too.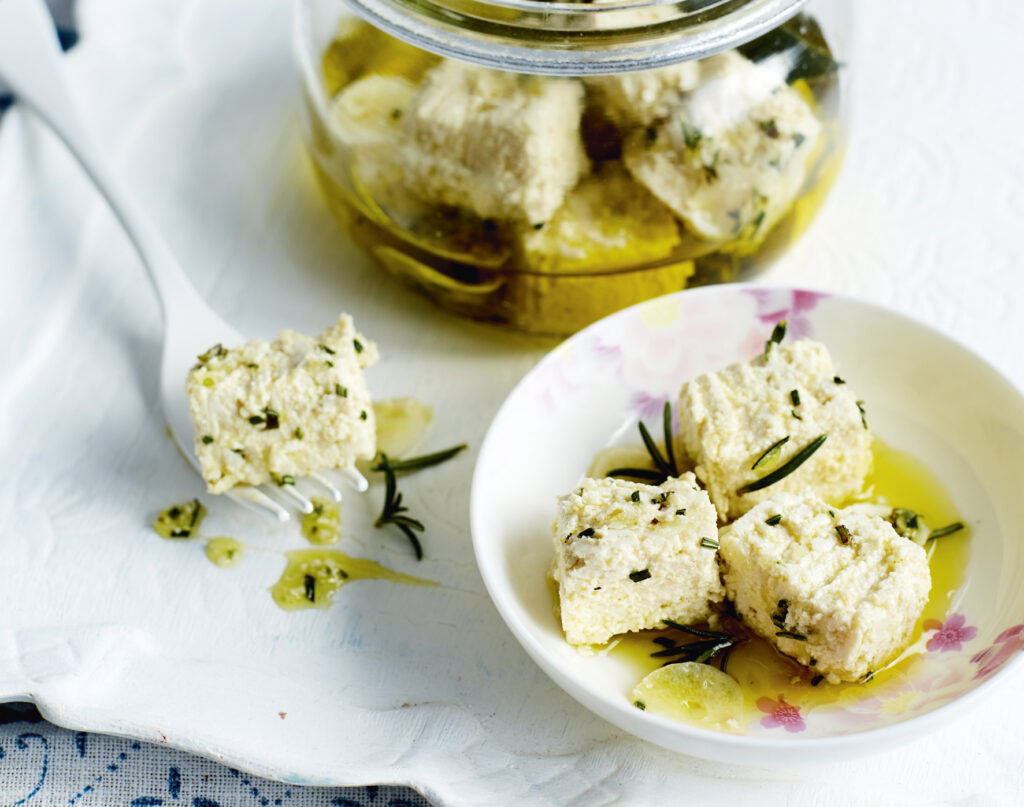 My other favourite recipe in the feta trifecta! Marinating the cheese with rosemary and garlic adds a little extra magic, making it so soft that it practically melts in your mouth. 
You can whip up a whole batch of this 4-ingredient cheese quicker than you can say 'parmesan'. It's perfect for sprinkling on all your pasta dishes and keeps for ages in the fridge.
When we named this one, we decided to just tell it how it is! Rest assured, it lives up to every bit of the name (seriously, its stretchiness puts my attempts at yoga to shame).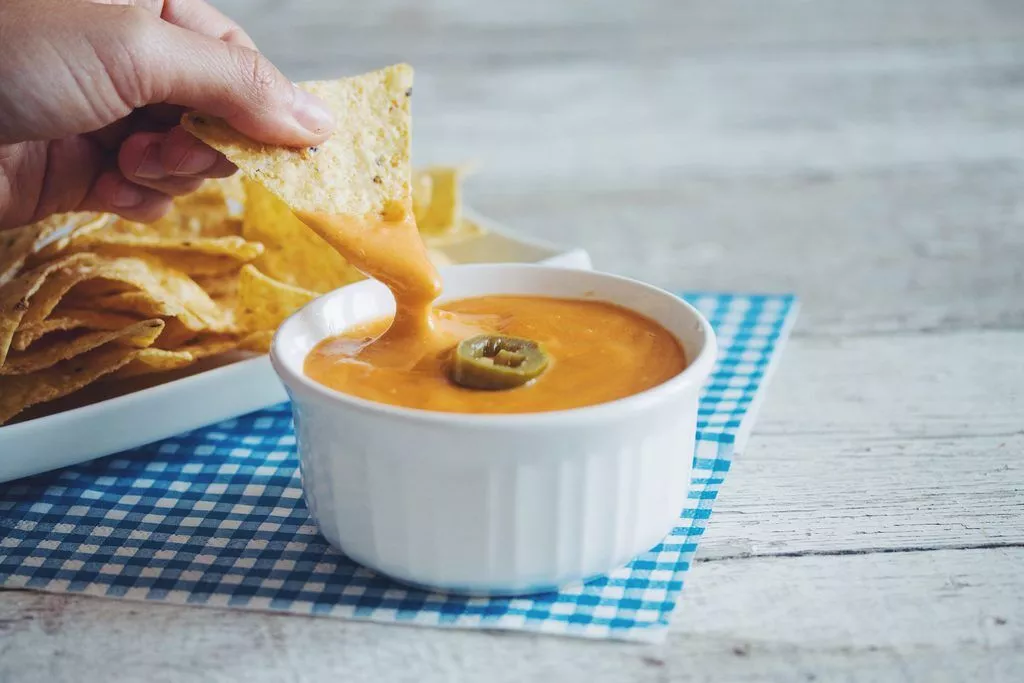 This potato and carrot-based cheese may have humble beginnings, but it's velvety-smooth and beyond indulgent! Pour it over nachos or roasted veg, or use it to amp up your mac 'n' cheese.
If you love a rich, creamy cheese that still manages to pack a bit of a punch, you can't go past this vegan pepperjack cheese. It's ideal for snacking on, but meltable for cooking, too.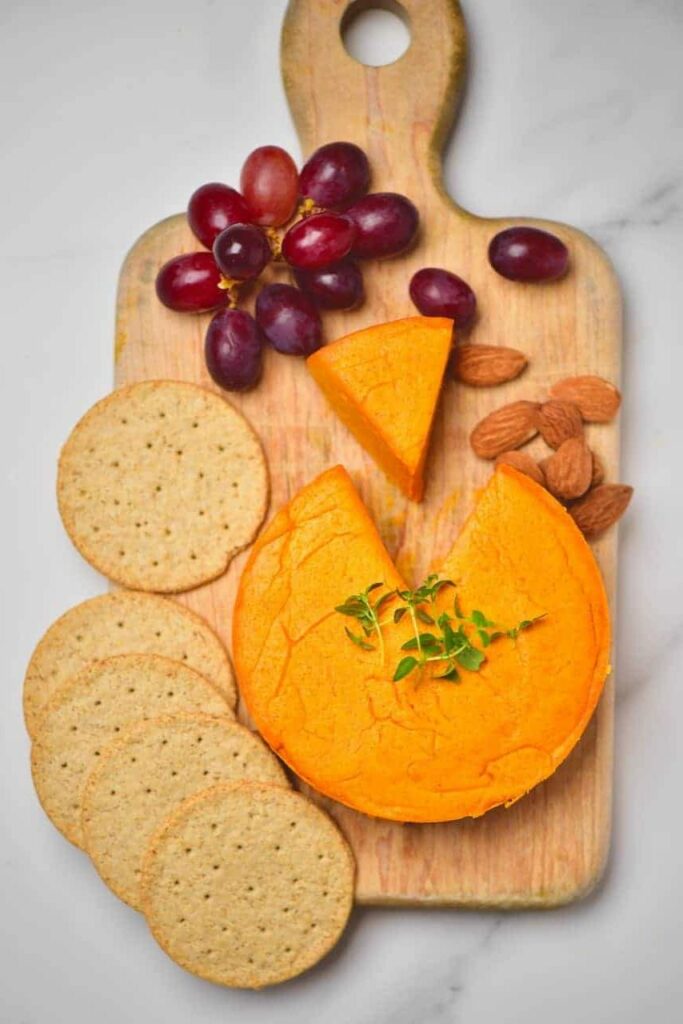 Possibly the best smoky vegan cheddar cheese recipe that exists! It's super simple and flavoursome – and there's always a bit of a standoff over who gets the last piece.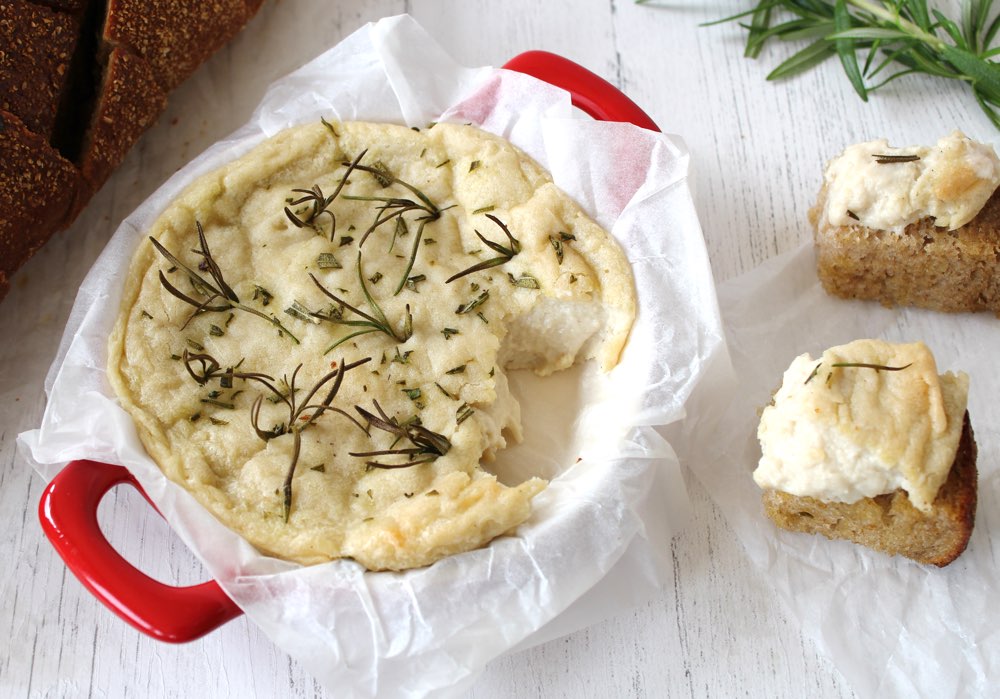 This beautifully rustic, rosemary-studded camembert recipe is an awesome last-minute option for picnics and parties! It only takes about 30 mins to make and never fails to impress.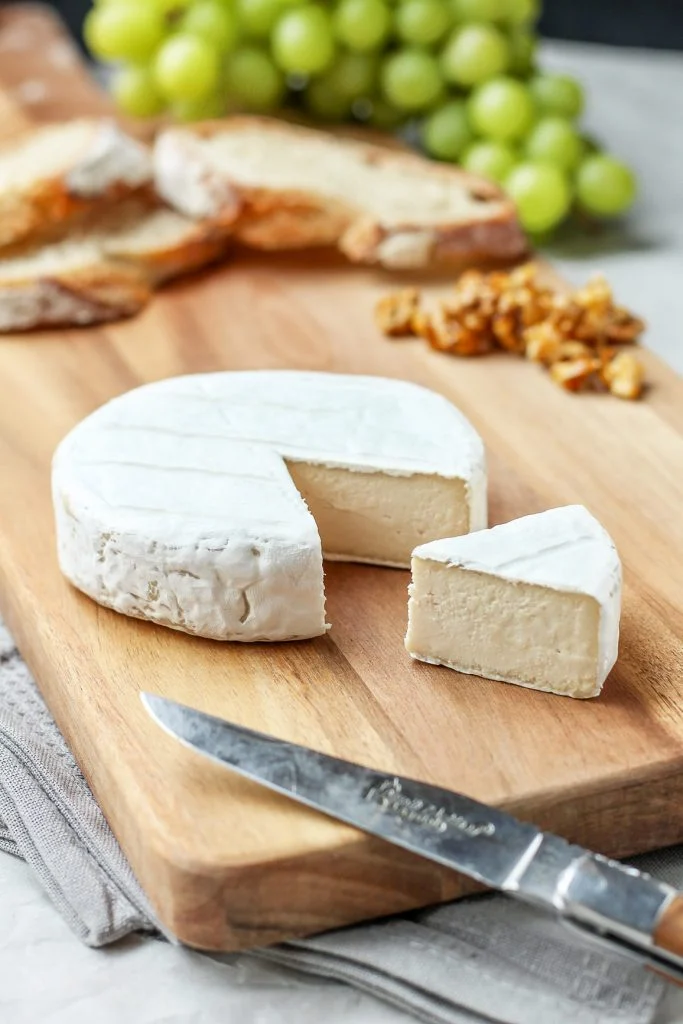 For when you've got a bit of extra time and are up for a (totally worthwhile) cheese-making challenge. This authentic aged camembert is divine – it even has the classic white flowery rind!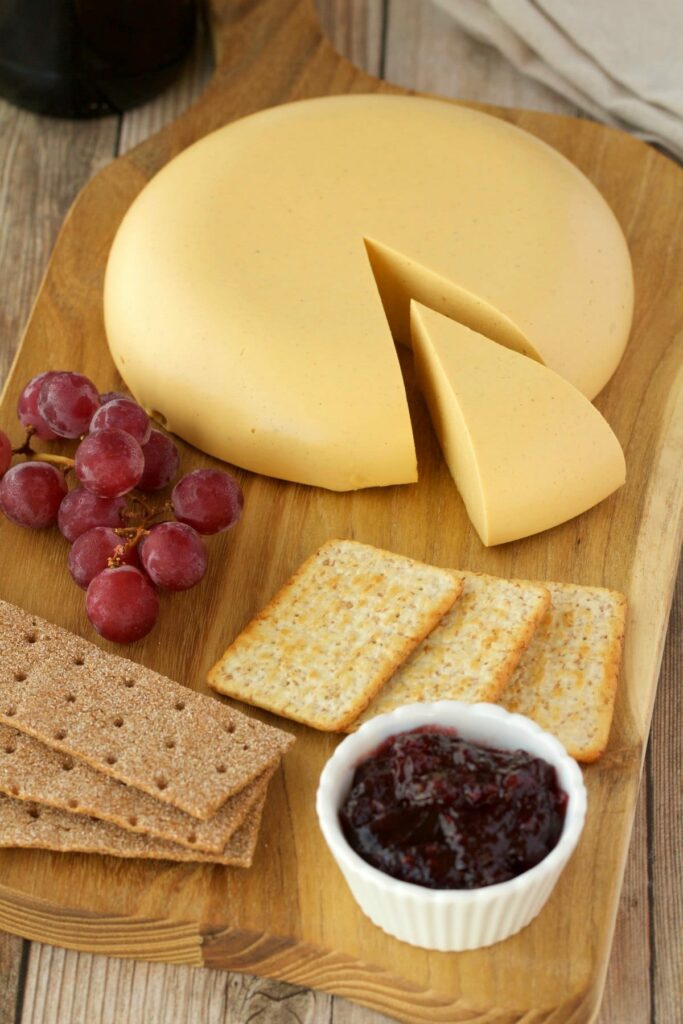 A full-flavoured cashew cheese just soft enough to savour, and just firm enough to slice … but tempting enough that you'll want to nibble it straight from the block anyway.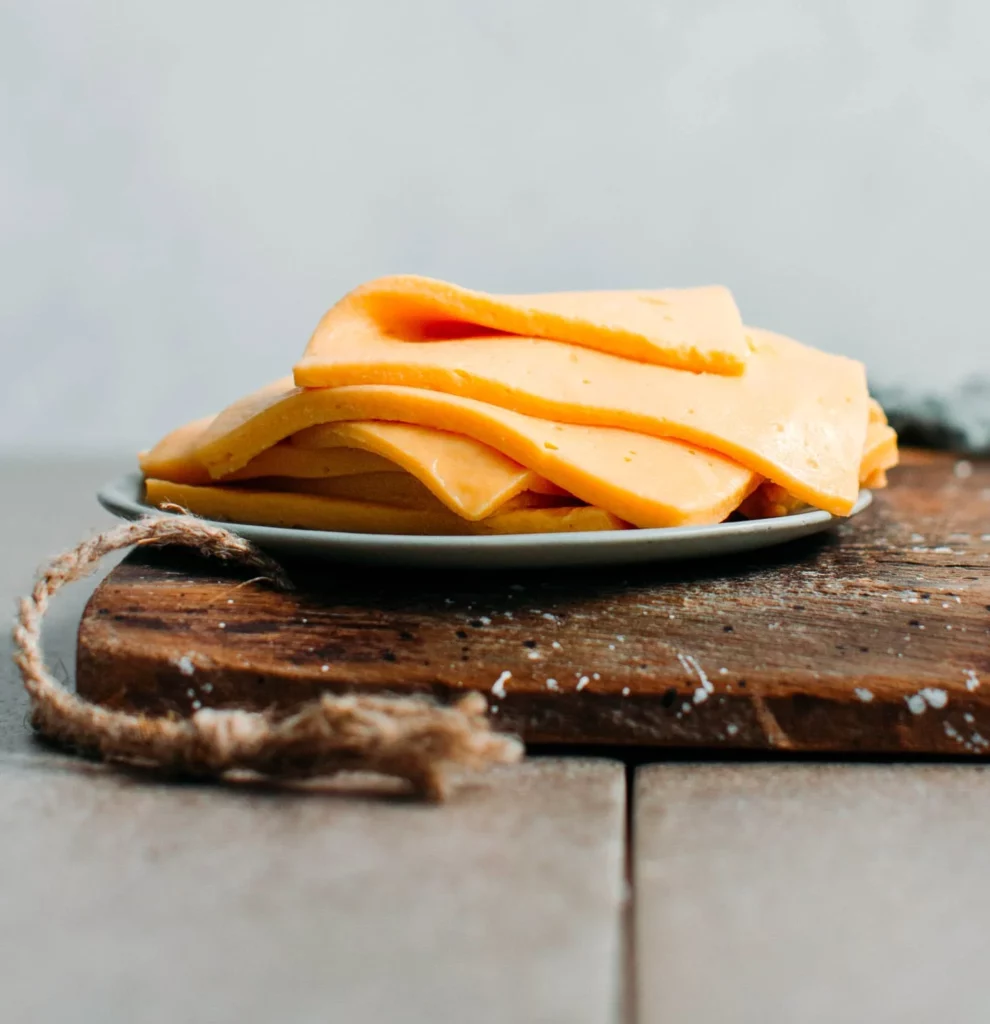 This innovative recipe for near-instant vegan cheese slices features chao, a type of fermented tofu with a surprisingly cheesy flavour and the exact right amount of bite.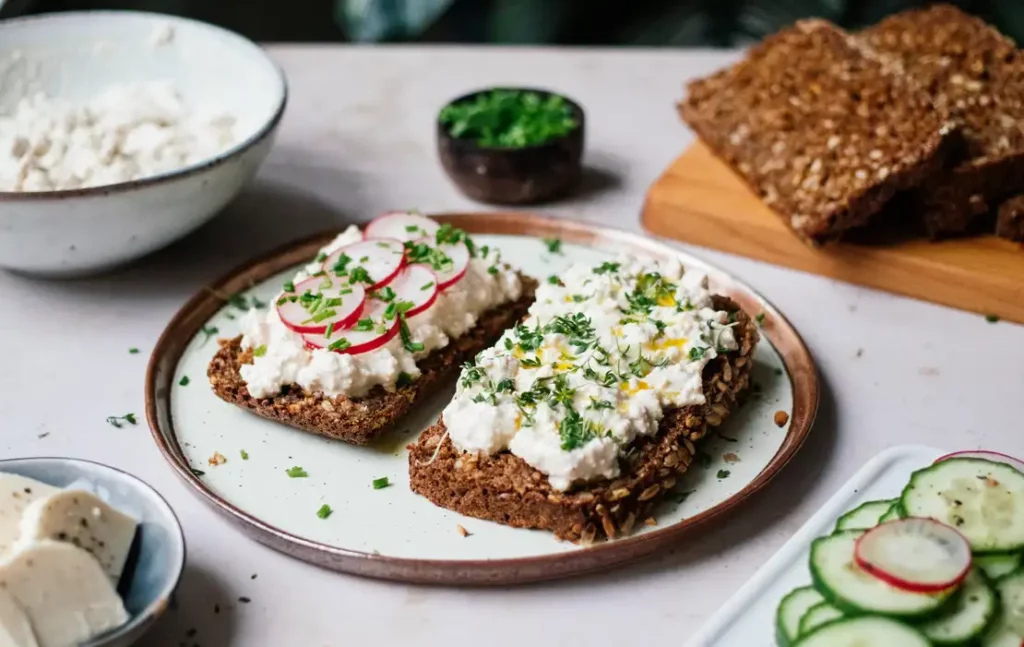 The secret ingredients for nailing the signature tanginess and texture of cottage cheese? Plant-based yoghurt and crumbled tofu! This vegan alternative tastes just like the original.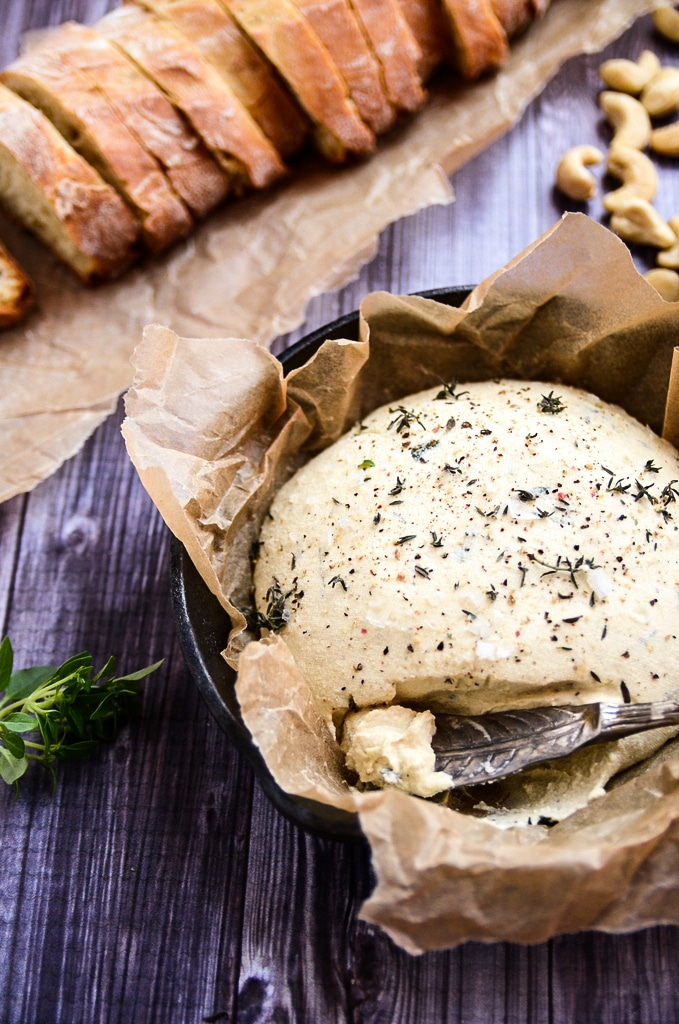 Cashew cheese is already delicious in its basic form, but adding a blend of fresh herbs and some spicy jam really turns up the heat! This on a crusty baguette = chef's kiss.
Bagel-lovers rejoice – tofu-based cream cheese is here to save the day! It's quick to make, lovely and light, and pretty nutritious too.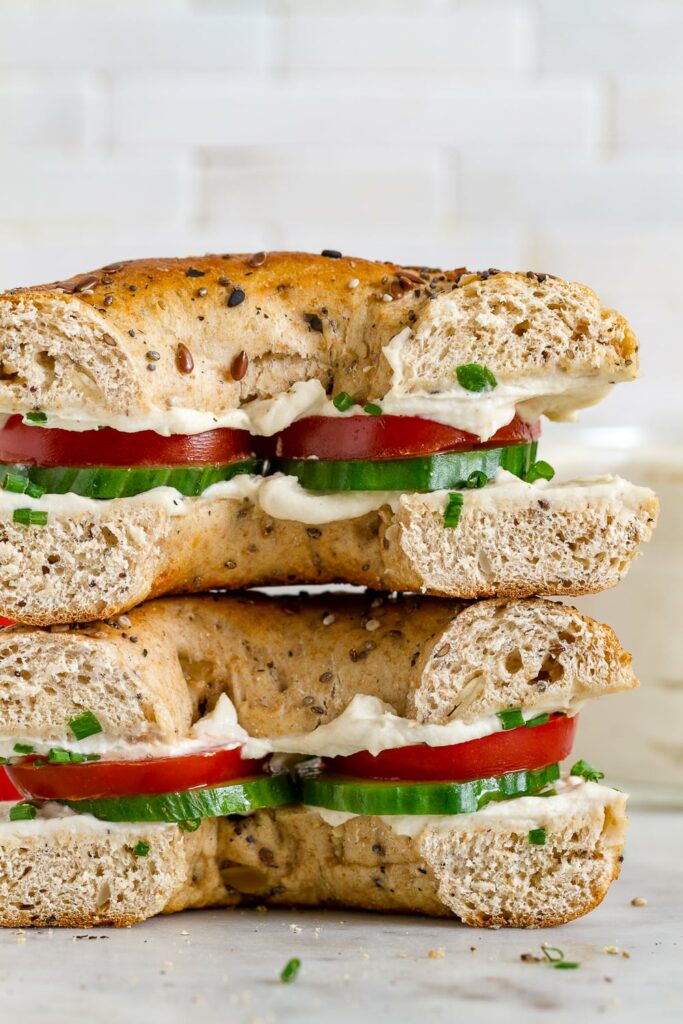 This vegan cream cheese is a cashew-based alternative, so it's a little more decadent but still smooth, and spreads like a dream! (It also makes a yum dipping sauce for cauliflower wings.)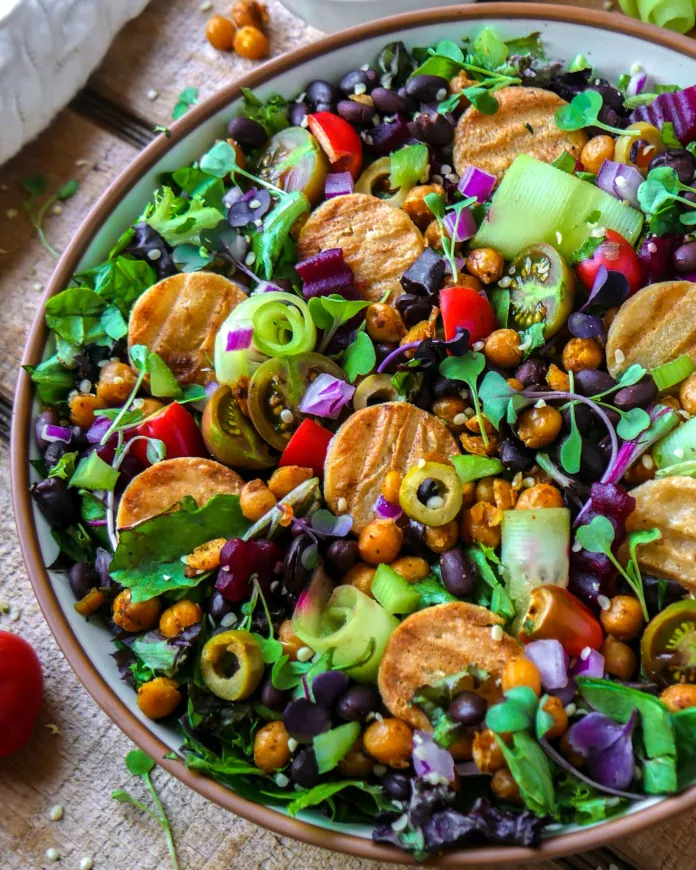 Can you believe you can even make your own crispy vegan halloumi at home? This cashew-based recipe is such a game-changer that it's almost dangerous…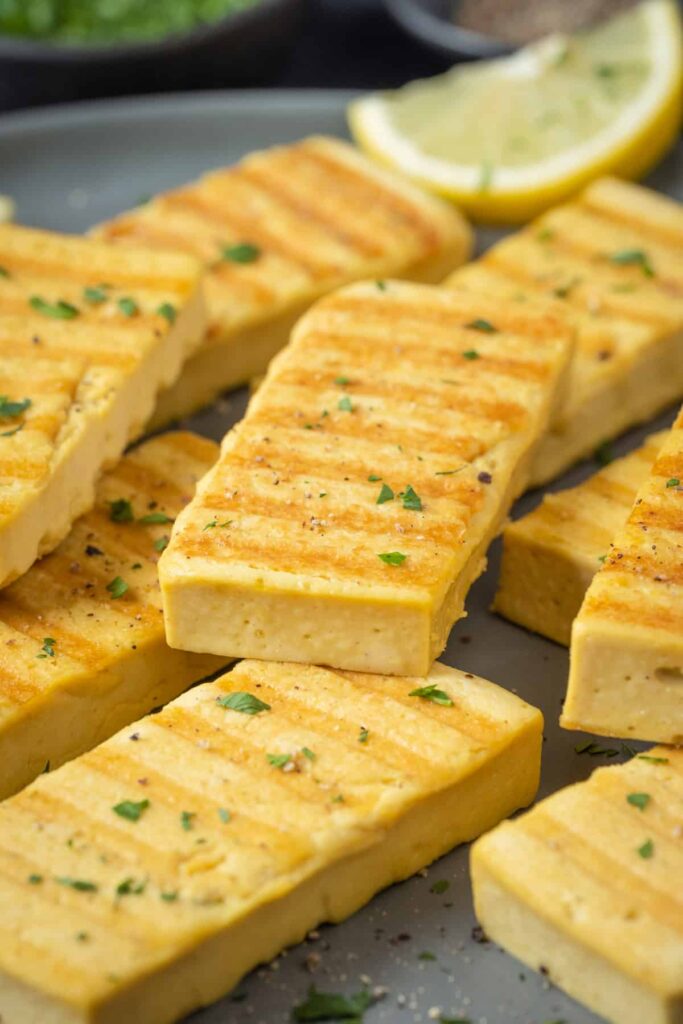 Another nifty way to make succulent vegan halloumi is by pressing, marinating, and frying tofu! This recipe even includes some tips on how to give it that satisfying 'spongy' texture.
If you've made it to the bottom of the list, I can only assume your fridge is about to be absolutely laden with these homemade creations – I can't wait for you to try them! They shine wonderfully on their own but are also grate great for using in all your favourite cheesy snacks and meals.
Or why not save them (if you have more self-control than I do) for a plant-based cheese platter next time you have people over? I've found that sharing a delicious spread can be a lovely and approachable way to open people's minds to just how amazing vegan food can be.
And if it comes up, I'm always quick to reassure my fellow cheese fiends that I really don't miss cheese at all – because it never left in the first place! You can take the dairy out of the cheese, but you can't take the cheese away from the gal. She'll just develop a bit of an obsession with all the plant-based possibilities instead