Feature
How to make the ultimate plant-based cheese platter
Kitchen Tips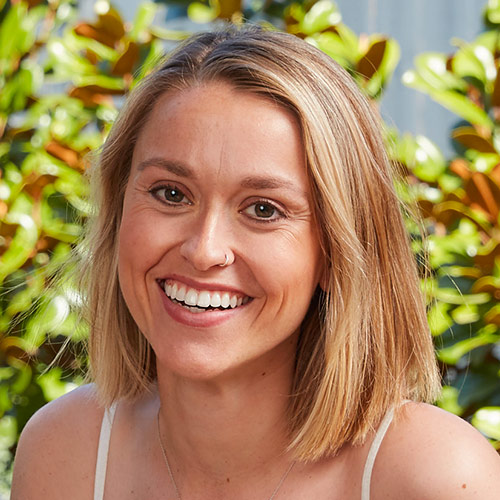 Author: Maggie
Published: November 30, 2021
Imagine a colourful, fully stocked, carefully arranged cheeseboard plopped down at the centre of a gathering. This host means business. Now imagine that every single person at this little shindig – including the vegans and the coeliacs and the lactose-intolerant and even the paleo* ones – can share in its creamy, soft, tangy glory! That's the power of a thoughtfully curated plant-based cheese platter.

*Don't quote me on the paleo thing.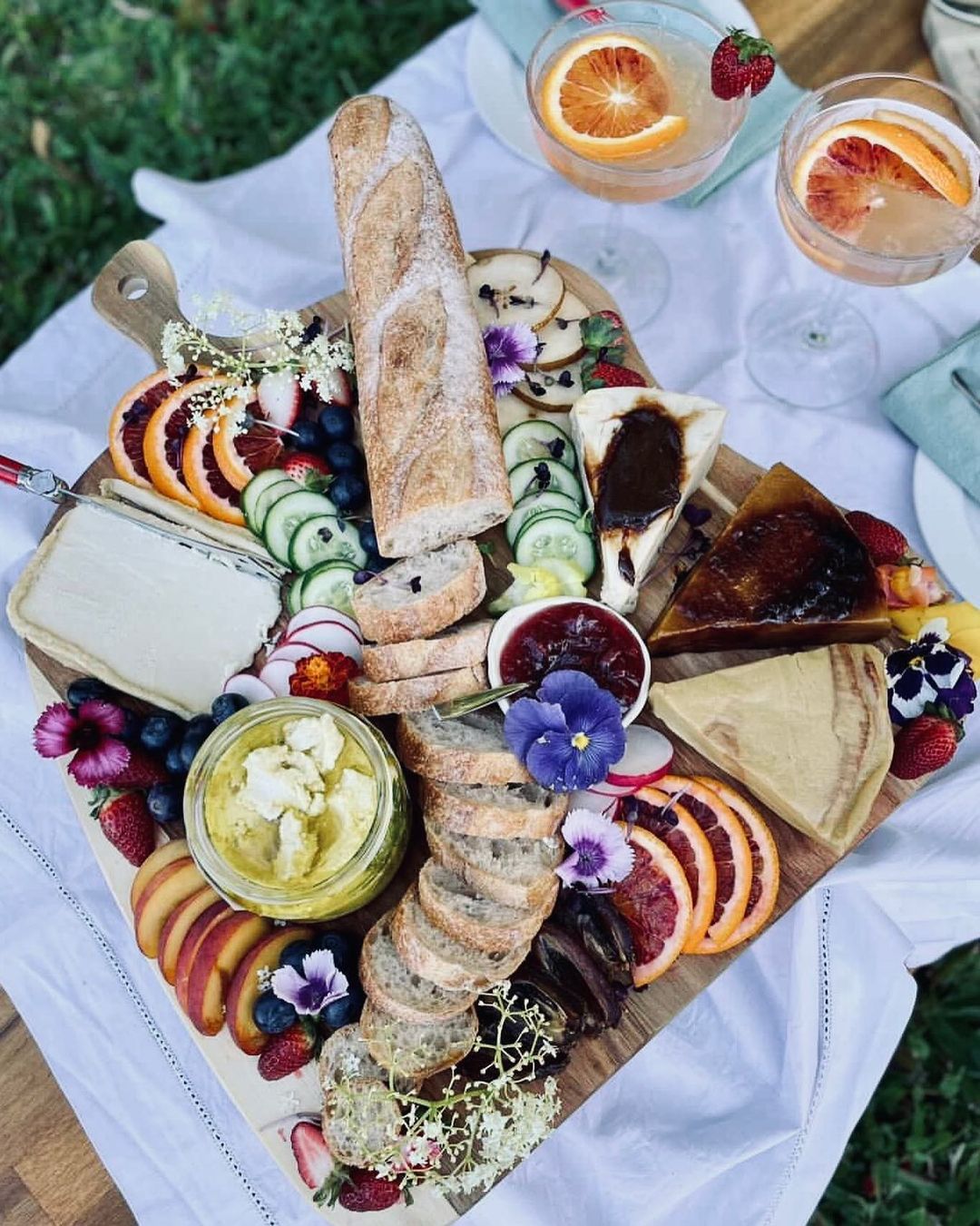 A cheeseboard can be downright dazzling to the senses. But you'd be mistaken for thinking it needed dairy products to deliver the goods. Dairy-free cheese has come a long, long way in the past decade. And we need only have a browse at local grocers or online to see the plethora of plant-based spreads, blocks and wedges available to us today.
Whether for Christmas pre-lunch snacking or a Tuesday night catch up with mates — a knockout centrepiece smorgasbord is worth the effort. Here's your guide to building it…
Step 1 — Cheese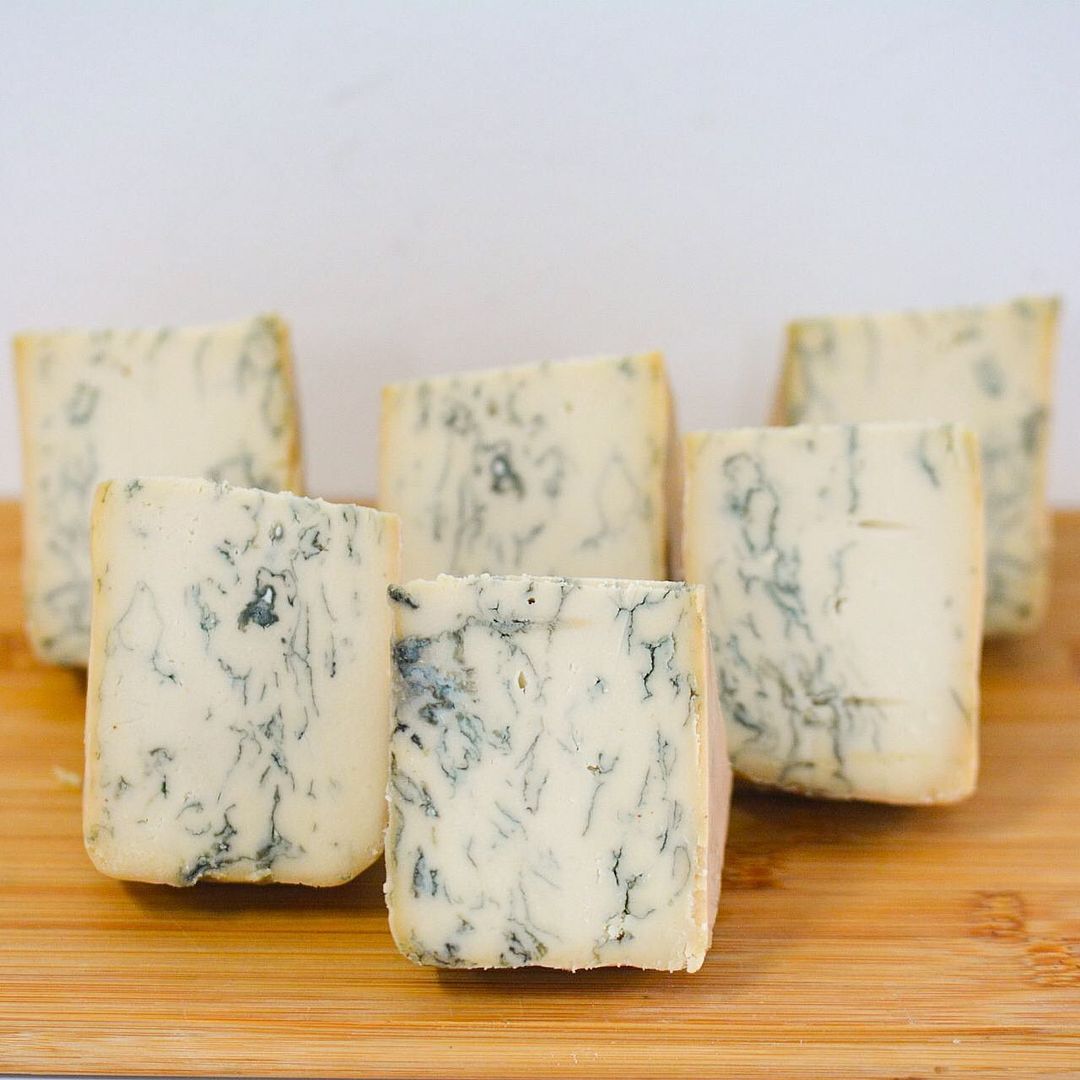 These days, plant-based cheeses are their own artisanal category, with lots of people opting for them purely for their spot-on creamy textures and sensational depth of flavours. (Add live cultures to any nut-based cream and, surprise surprise, magic happens!) It's simply a bonus that they're often made from nutritious foods like cashews, macadamias, almonds, soy beans, and coconut.
The most important element for your cheese selection is variety, and luckily, we are spoiled for choice. But your selection may be partly driven by how simple or indulgent you want to go. As with traditional cheeses, plant-based ones come in a wide range of price points — do you want pretty nice? Or fancy-fancy?
Hard cheeses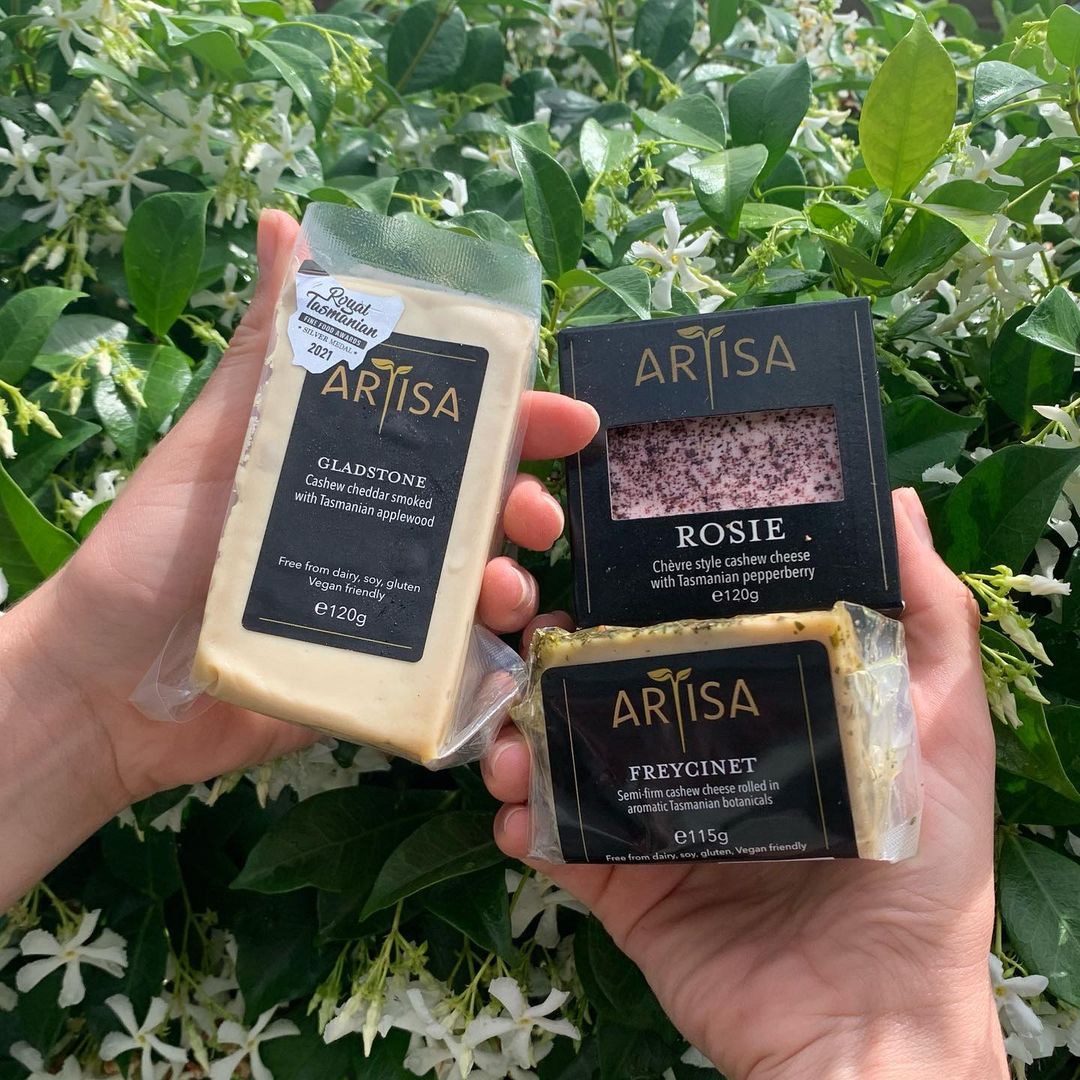 These are great blocks to place on your platter alongside that little pronged knife (the one that looks like a snail — tell me you don't see it!), to let your guests slice and layer as they please…
Artisa's Gladstone Cheese is made primarily of cashews — and it's got a really light, nutty flavour, with a subtle smoky flavour thanks to cold smoking over Tassie applewood.
Vegusto's No-Moo Piquant Cheese is a perfect pick for your 'plateau à fromage', with a well-defined, piquant flavour, thanks to salt, spices, yeast, and even a bit of almond butter — aged to rich, savoury perfection.
For a tasty bargain, try one of the many cheddar-style blocks you can find at the shops: Sheese, available from Coles, is a well-loved classic, and the tasty block from BioCheese is a popular choice too. Made With Plants makes a great cheddar-flavoured block that sells for just $5.50 at Woolies. Each of these cheeses have a sharp flavour and a nice bite to them, and they all get bonus points for melting and browning beautifully on toasties or pizzas too!
Soft cheeses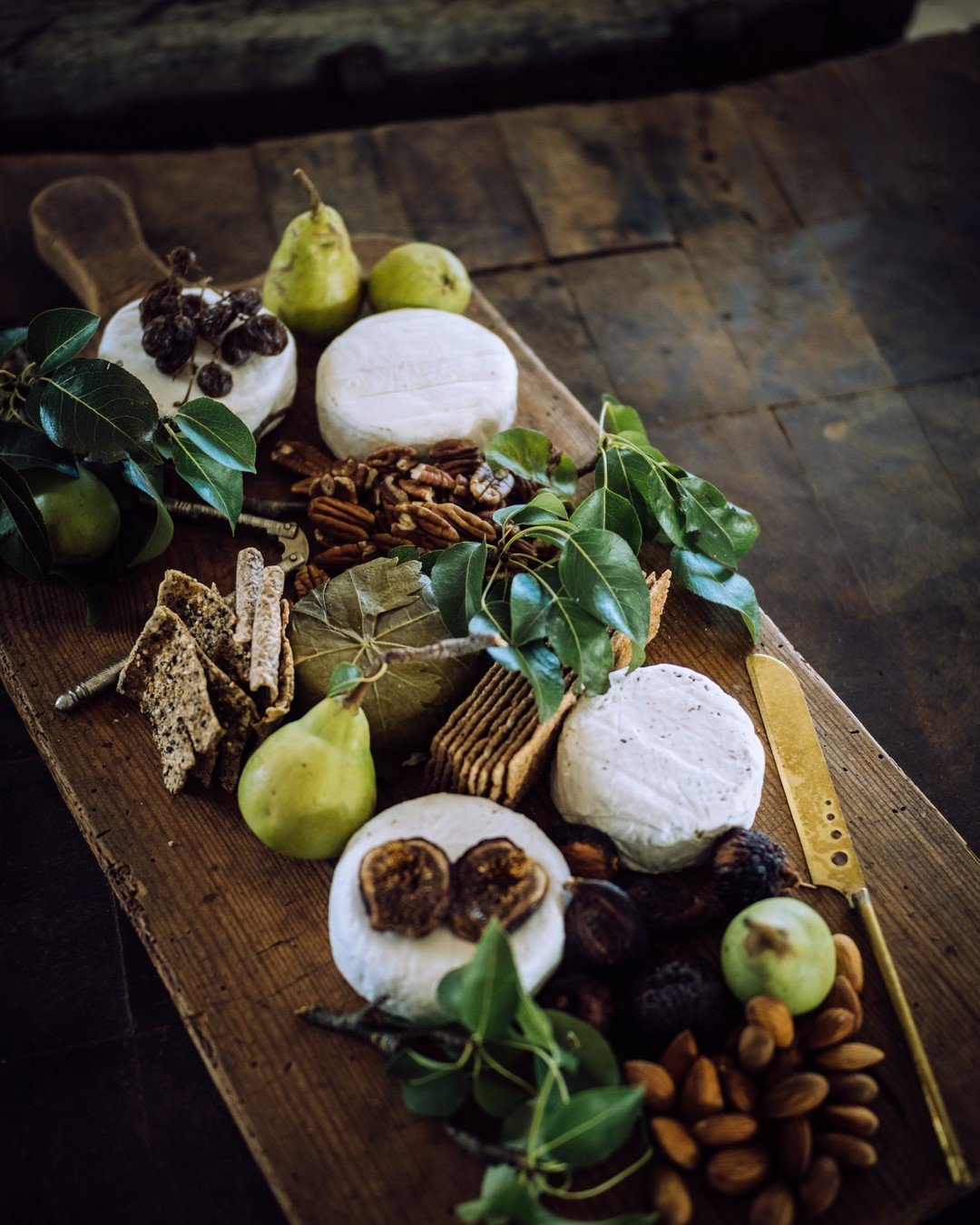 All the Things Truffle Brie is a cashew-based wheel of heaven. Super smooth and creamy, aged precisely, and delicately flavoured with a hint of truffle. This cheese is nutrient-rich, delicious, and just subtle enough that you almost can't stop going in for one more bite. As the company says, "It's all the things, because it's All the Things."
The Vegan Dairy's Herb Garlic Boursin Cheese is "a French-style, fresh, creamy cheese" — with a texture similar to a traditional cream cheese. The injection of garlic-herb goodness and the outer coating of dried chives and parsley make it a standout for me! But they have loads more delicious products too 🙂 Brittany Bertschinger, the bright spark behind this company, started in traditional cheese making with her mum, and then applied her expertise to the dairy-free variety. (Thank you, Brittany!)
Fine Cultures Caramelised Onion Camembert makes a solid case for a spot on your cheeseboard. But note, it is just one gem among a sea of unique flavours from this brand. Ever adventurous in the test kitchen, Fine Cultures also makes varieties like a whiskey camembert, port cheddar, and a gin and candied lemon flavoured cheese. I'd be lying if I said I'd tried them all — but I think you're safe going rogue here!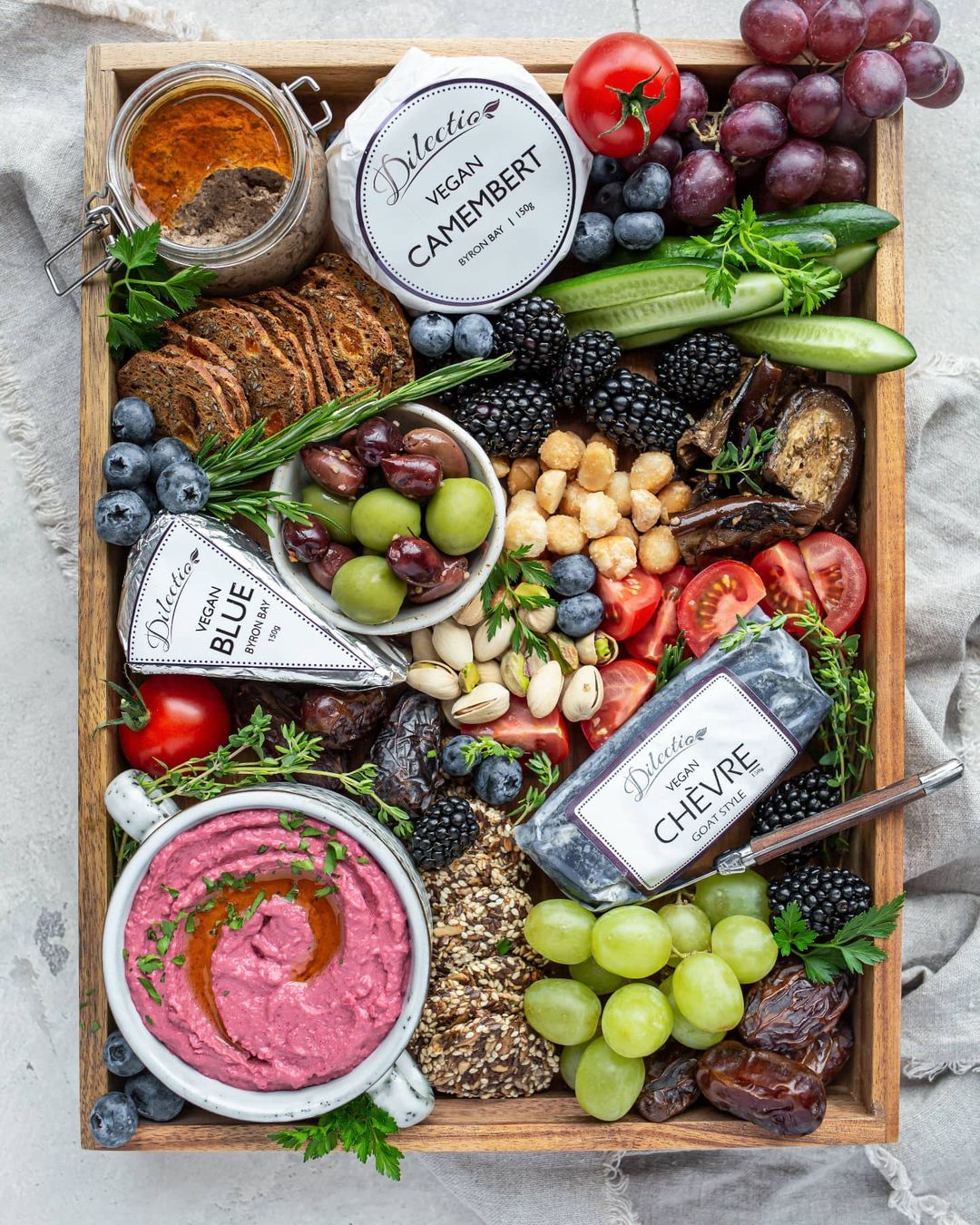 That list is genuinely the tip of the umami iceberg … There are so many innovative, talented folks here in Australia finding new ways to create incredible plant cheeses. My other favourite brands to explore:
Botanical Cuisine: These jars of organic, fermented, creamy beauties are more like cheesy spreads really, but honestly 10/10 delicious, all of them! (My favourite is the New Yorker spread — though the lemon & dill makes me salivate too.)
Damona: Special mention goes to their beautifully soft and gooey brie; and a fresh mozzarella that will have you making homemade pizzas just to do it justice!
Dilectio: These guys have tackled the trickier ones like blue cheese and goat cheese — and they are absolutely nailing it.
Hello Friend Foods: Their flagship (and most famous) product is a haloumi that fries, sizzles, smells, and tastes just like the old-school version.
Lauds: A Tassie-based company who is, at least in Australia, pioneering the use of oat milk in plant-based cheese. (In other words, bonus points for most sustainable!) Try their original oat melt for your everyday cheesy needs, or pop the smoked oat cheese on your platter for a soft, subtly smoky vibe.
YAY! Foods: Feta is the only cheese this company makes, and that's all they need to make, for it is a champion. In fact my own mother told me this was better than any traditional feta she's ever had. Crumbly, creamy, salted and herbed to perfection, you would never (I mean never) guess that their hero ingredient here is tofu.
Many of these products are found at small grocers and local health food shops, and most of them are available for purchase online too! Check out The Vegan Grocery Store for an incredible selection all in one place.
PLOT TWIST: Make your own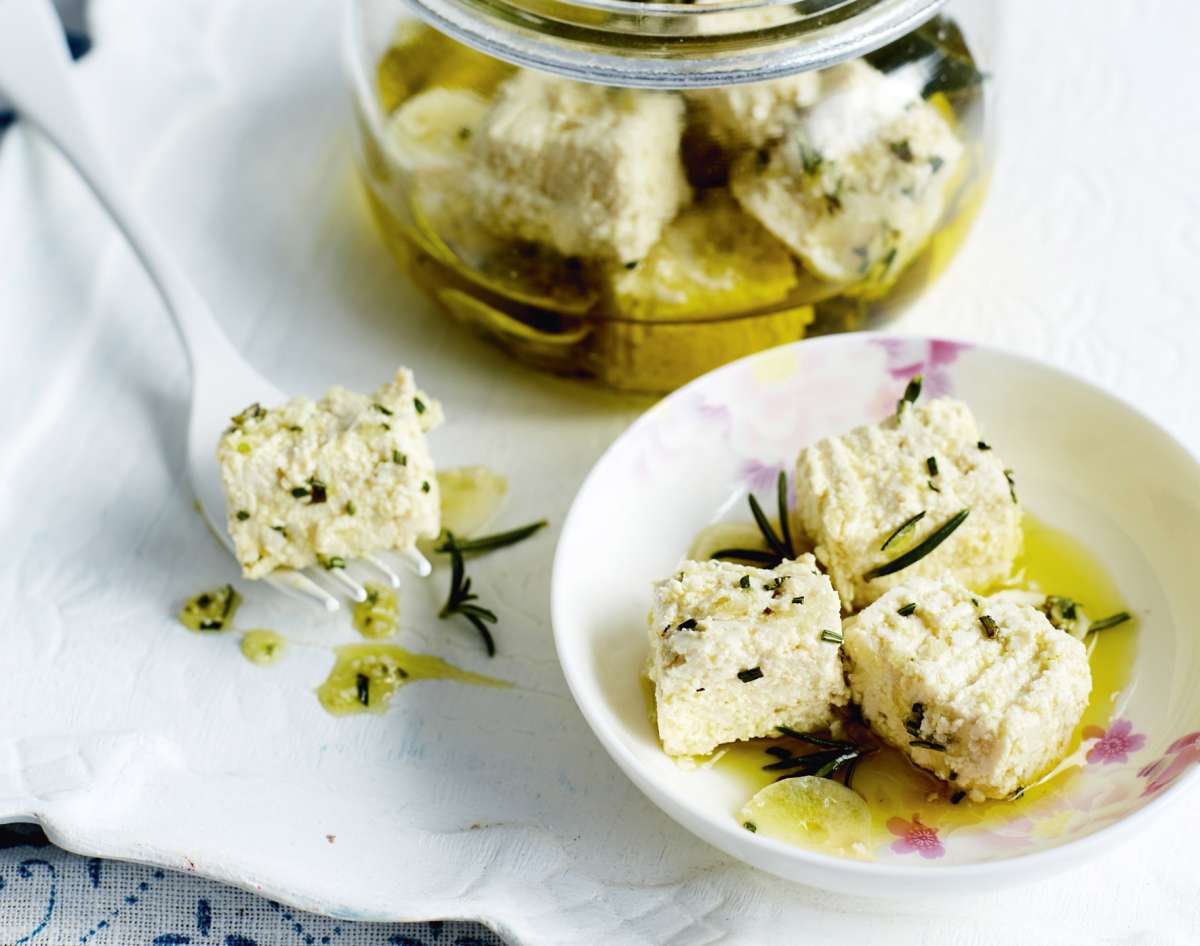 Perhaps you're looking at the ingredients on some of these products thinking, 'They're so simple! So wholesome! I could almost make these myself!' Well, you're kind of right. (Kind of.)
If you're feeling ambitious, creative, or you're simply on a tighter budget — let it be known, you can actually make your own cheeses — and some of them are so easy-peasy-cheesy you can put them on the regular rotation at home! And here you thought plant-based cheese couldn't possibly score another point over dairy 😉
Step 2 — Dips, jams & spreads
Once you've selected your cheeses, everything else is about adding complementary flavours, textures, and colours. Enter: the dips.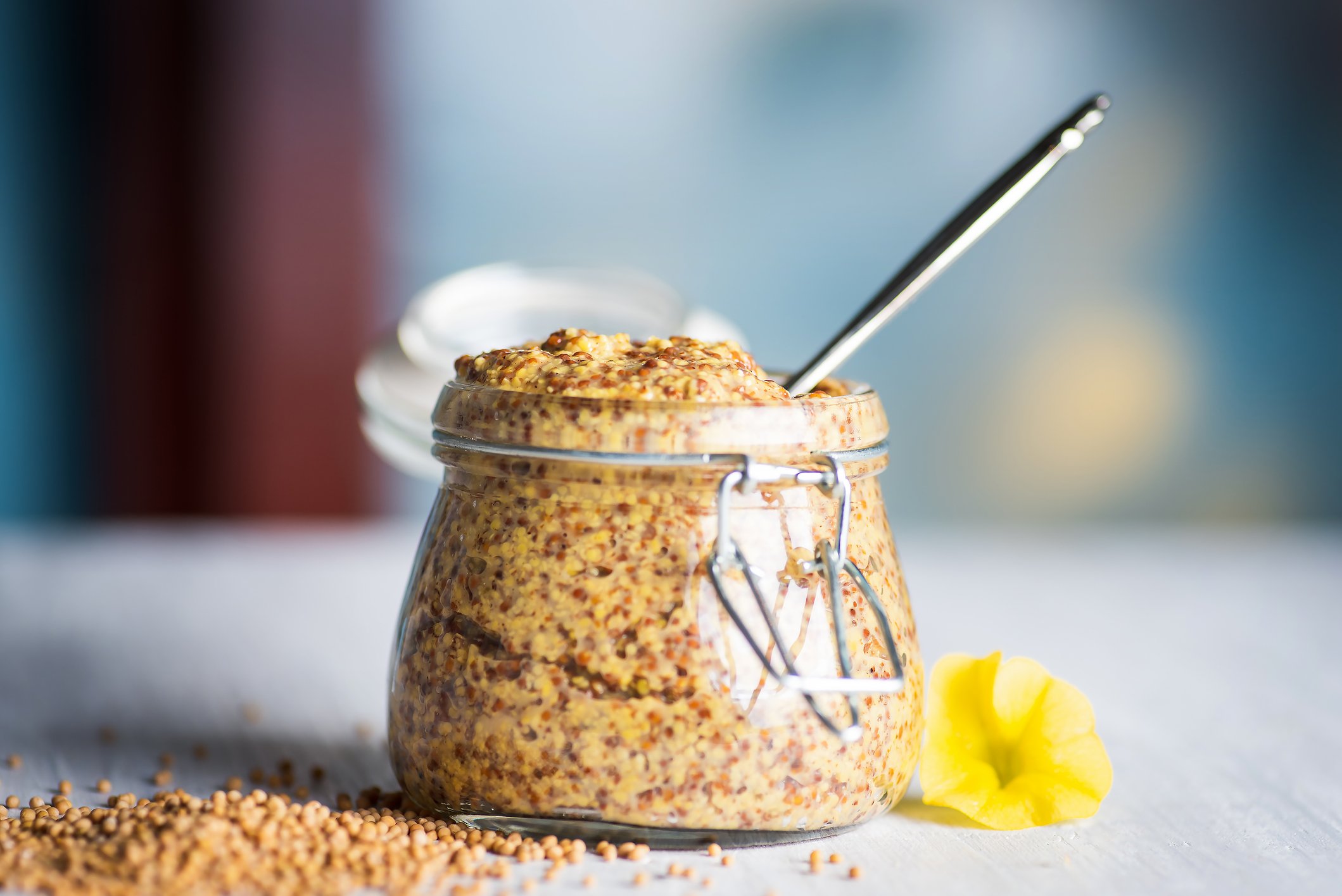 Dips and spreads are meant to balance and play off the flavours of the cheeses. That's why you often see sweet jams and marmalades on a platter with really tangy, sharp cheese. (The general guidance is that the stronger the cheese's flavour, the more sweetness or spice it can handle in jams or spreads!)
Explore the likes of strawberry-rhubarb or fig jam, or a classic quince paste to top your soft, mild cheeses. For a pop of spice on bold-flavoured cheeses, chuck a little wholegrain mustard into the mix. The 'experts' may tell you there is a right and wrong way to pair these, but in reality, if it tastes good to you, it's a match! Experiment and let your taste buds guide you 🙂
Additionally, it's nice to break up bites of dry crackers and crumbly cheeses with the odd scoop of dip. But the dips aren't trying to steal the show — they're simple and fresh. If you're buying dips from the shops, you can't go wrong with a classic hummus or babaganoush, which are both usually plant-based. Beetroot hummus is increasingly popular and easy to find in the shops — or of course, you can make your own! A homemade pesto or hummus are welcome additions too.
Step 3 – Crackers & bread
Ah, grains — the most reliable vehicle of the food world.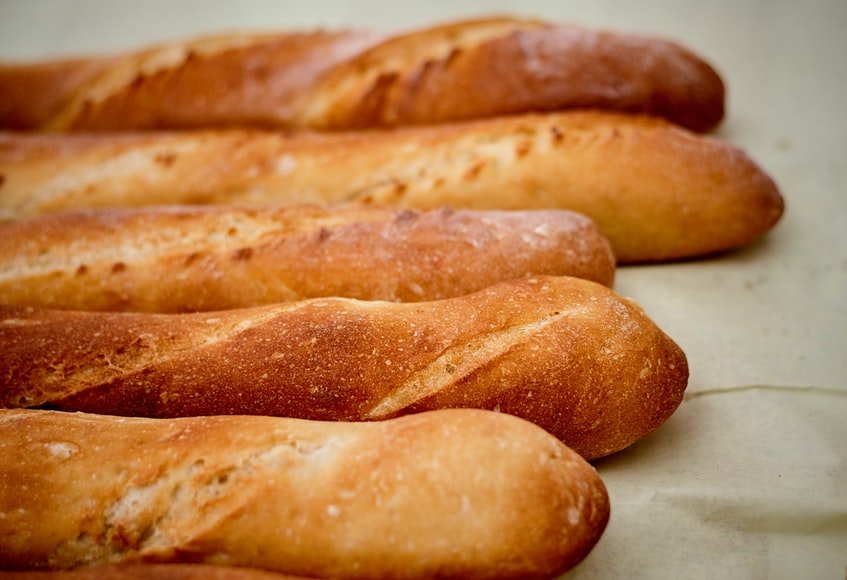 Brittany from The Vegan Dairy said, "I often find a lot of people don't put enough breads or crackers on a cheese platter, so we're usually quite generous with those." She puts her extra grains in a bowl to the side so they're easy to reach, and not disrupting the colourful display platter.
My favourite crackers for cheeseboards are whole wheat (like Vita-Weat), seeded, extra seeded, rosemary-flavoured, and pita chips. Just peek at the labels to avoid milk solids or egg, but there are plenty of varieties to choose from. (If you want to keep your platter gluten-free, opt for seeded crackers and rice crackers, or at least offer some for any gluten-free pals!) And always the option throw your apron on — here are 10 easy plant-based cracker recipes, which range from basic, to super complex and packed with seeds, herbs, and all the goods!
For breads, consider the humble baguette, sliced up diagonally — it's an easy, versatile vehicle after all. And maybe grab a fruit loaf or specialty bread from your local baker if they've got an interesting flavour going! (Consider gluten-free breads too if entertaining coeliac folks.) For both crackers and breads, the goal is to include a couple different textures and flavours so you can create interesting pairings for each cheese.
Step 4 – Fruits & nuts
Probably my favourite step in cheese platter curation, because it feels the most artful! And at this point, I crave whole foods.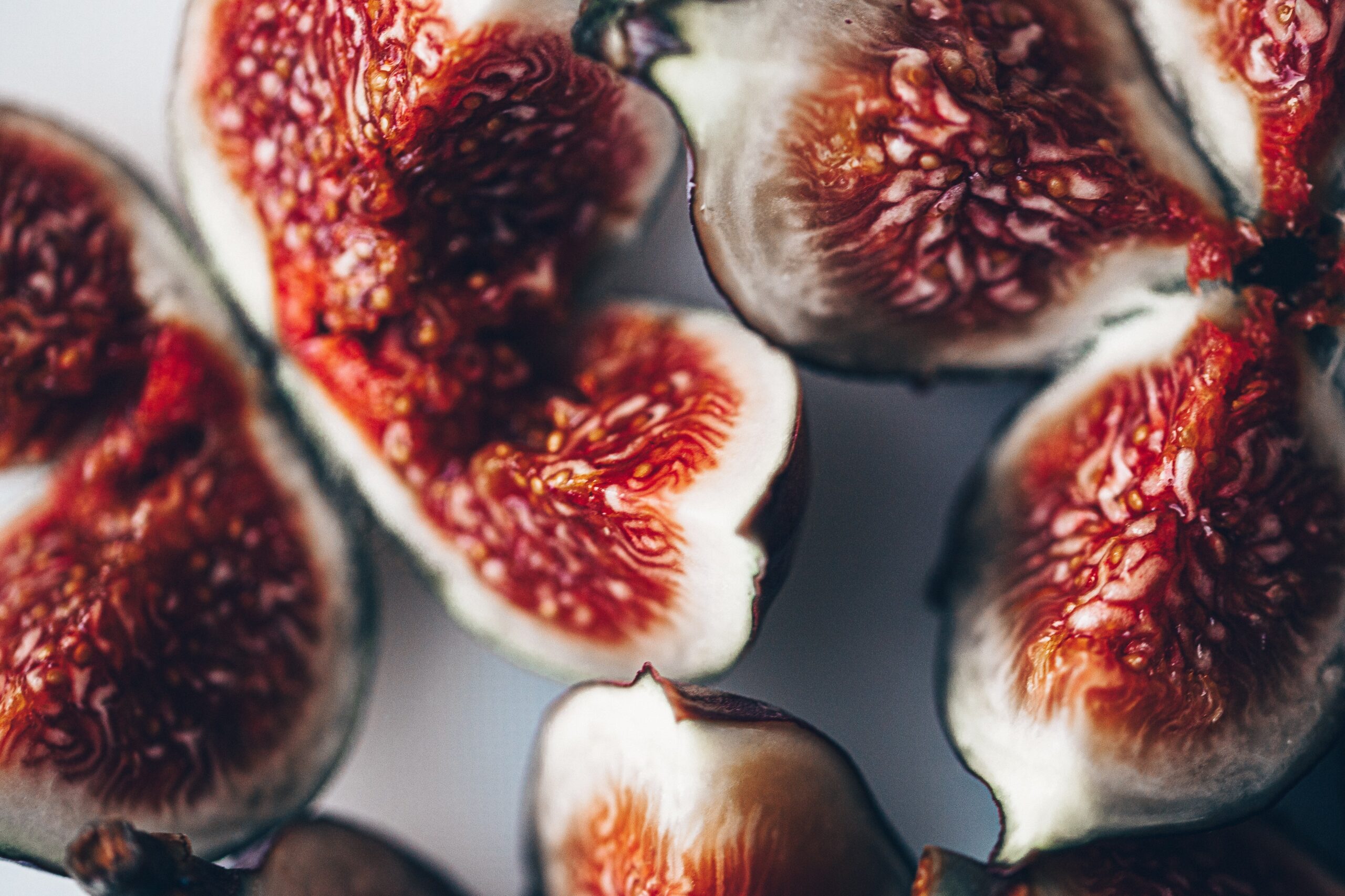 Pear slices and fresh figs are classics for a reason: their mild freshness suits a lot of soft cheeses perfectly. And dried fruits like dates, dried apricots, and currants make excellent chewy treats between cheeses. Grapes and strawberries are a visually dynamic, no-fuss way to add a juicy palate-cleanser on here too — and you can easily distribute these across the board for little pops of colour! If you need a little more salty-sour flavour, you might include the odd pickled plant in here too, such as dill pickles or olives.
And for our final act — go nuts! Walnuts, smoked almonds, candied pecans, or roasted cashews fit perfectly into any little crevices that need filling.
Step 5 – Arrange & serve!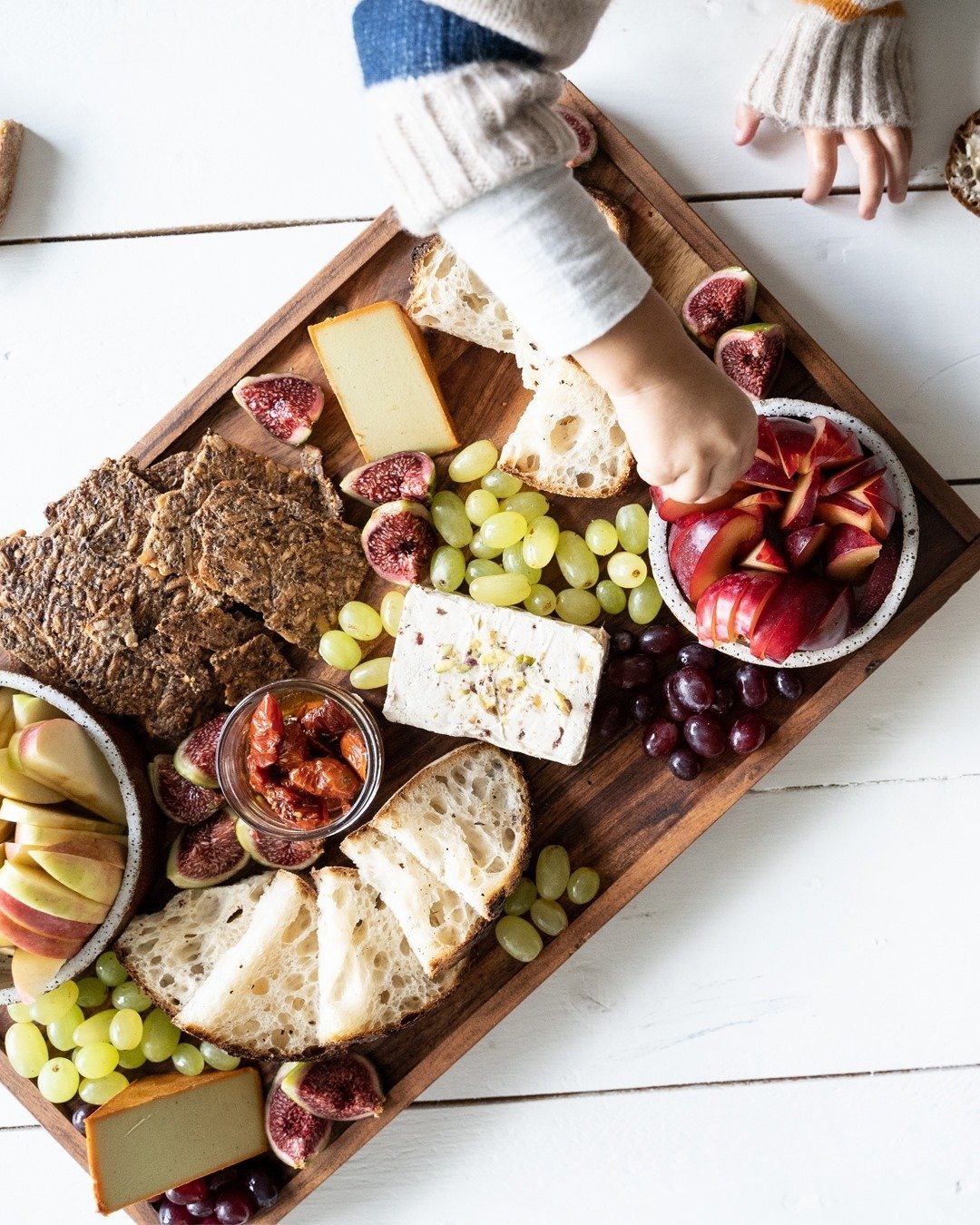 I'm taking some pro tips from Brittany at The Vegan Dairy again here … To arrange your foods, start with your dips and jams — the bulky items in ramekins or jars that will probably stay put. Spread them out across a big ol' board.
Then space out your cheeses. Consider slicing the blocks in half and placing them on opposite sides to make each cheese more accessible for your friends.
Then add a few fanned-out clusters of your breads and crackers — leaving any extra in a bowl to the side.
Finally, fill the rest of your space with fruits and nuts, again spreading them out nicely for easy reaching! One final tip from the pro herself:
Always have different cutlery options ready to go within your cheese platter; having spoons and knives all ready with your fruit pastes and cheeses makes it really easy for people to dig in!
If you've been looking for a creative outlet, my friend — this might be it. Creating beautiful platters is a rewarding artform indeed — impossible to screw up and always graciously received. And honestly, what better way to share all your new plant-based cheese discoveries with loved ones?!