When it comes to putting together a well-balanced meal-plan, there's a healthy eating rule of thumb to remember: enjoy a wide variety of foods including fruit, veggies, legumes, wholegrains, nuts, and seeds. You can learn more about cooking and eating the plant-powered way here
And now — on to the food! Here's the first in our series offering you a week's worth of plant-based meal ideas to cover you from breakfast to dessert, and everything in between. (If you're pressed for time or feeling less than ambitious, jump to the 'quick n' easy' meal plan instead 😉 No judgment!)
VegKit (top) | Rainbow Nourishmenta (left) | Oh She Glows (right)
Breakfast
Why make your own baked beans? This recipe — heady with garlic and smoked paprika — is why. A bit more effort than cracking open a tin, but well worth every moment: Smoky beans on toasted sourdough.
Chai-spiced porridge with caramelised apples — it could almost pass for dessert! A delicious and healthy breakfast that puts a simple yet luxurious spin on the old podge. I like it with a drizzle of golden syrup on top...
Or try starting your day with a classic Green Monster smoothie from Oh She Glows to put some pep in your step! (If anyone else isn't a huge banana fan there's a banana-free version too.)
Another variation is the All day glow smoothie that gets a savoury twist from fresh turmeric, with its incredible anti-oxidant power, and coriander (cilantro) leaves which bring a bright burst of grassy citrus — along with too many nutrients and vitamins to count
You might also like to try:
* Rainbow rosti with 5 vegetables and an avocado cream (use coconut yoghurt to keep this purely plant-based).
* Raspberry chia pudding — simply mix the night before and it'll be ready when you wake up (tweak the recipe as you like with coconut milk for extra creaminess, a splash of vanilla for flavour — and feel free to use your favourite fruit).
* A soft tofu scramble, a delicious egg-free and protein-rich way to start the day!
Remember that many of the cereals at the supermarket are fully plant-based — so just check the label then team with a dairy-free milk or yoghurt for a simple breakfast option 🙂
Lazy Cat Kitchen (top) | Oh She Glows (left) | Love & Lemons (right)
Lunch
Onigirazu is essentially a sushi sandwich — with a variety of different fillings and seasoned rice in a toasted nori seaweed 'slice of bread'. Colourful and delicious!
The 'Eat your greens chickpea medley' is a high-protein recipe full of green power. The vitamin C in the lime juice helps with iron absorption from the chickpeas and spinach. In fact, just 1 serving of this salad contains 45% of your daily iron requirement!
The filling of this vegan egg salad sandwich is creamy, bright and briny. It's also healthy and simple to make! If you're not in the mood for a sandwich, go ahead and serve with crackers or pita bread instead, or alongside some salad greens.
More lunch options:
* Creamy potato salad with avocado and dill
* Aromatic cumin-lime black bean and quinoa salad
* Zesty mint and basil green salad with fried tofu
* Pita pockets with Ras-el-Hanout roasted vegetables and spiced hummus

Skye Swaney (top) | Bianca Zapatka (left) | Full of Plants (right)
Dinner
Wholesome and delicious soba noodles with spicy tofu and edamame are given the treatment with a moreish sesame-soy dressing in this light yet hearty dish.
It's a bit tricky for me to find dried tomatoes but I often make this pesto rossi pasta (red pesto) with quality sundried tomatoes in oil instead (which also means you can skip the soaking step, bonus!) – I'll also sometimes throw in a small handful of capers and/or olives to shake things up a bit too.
Super creamy curried mashed pumpkin with spicy green lentils is a protein- and iron-packed meal that is as colourful as it is delicious.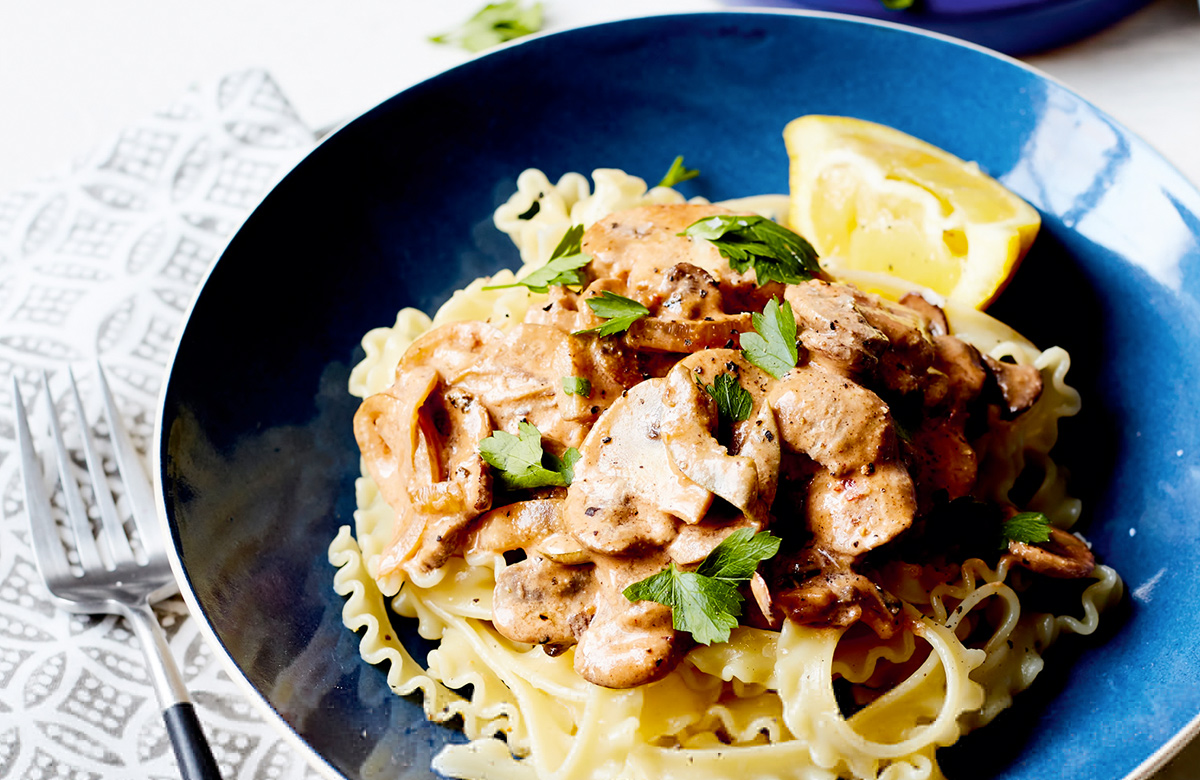 Rich and creamy mushroom stroganoff heady with smoked paprika and perfect for a chilly evening.
Or try your hand at:
* One-pot chickpea and cashew vegetable tagine, fragrant with Moroccan spices.
* Discover the joys of an ancient and nutritious fermented food with this recipe for sticky ginger tempeh with coconut rice.
* It's not easy to go past a cheesy eggplant bake (a plant-based twist on eggplant parmigana) — smoky, hearty and satisfying. (Look here for tips on dairy-free cheese — Follow Your Heart and Vegusto are my top picks for this recipe.)
* Bejewelled whole roasted cauliflower with tahini and pomegrante.
* Find your bliss with this pumpkin sweet potato Buddha bowl with creamy mustard dressing.
Full of Plants (top) | Skye Swaney (left) | Maple Spice (right)
Snacks & Dessert
Packed with banana flavour, this sweetly caramelised self-saucing banana pudding is a dessert to drool over (I'm not even a banana lover and yet I LOVE this pudding!)
Perfect for a post-workout treat, breakfast on-the-go, or an anytime snack, these zesty lemon-coconut protein balls are a perfect pick-me-up treat.
Who said snacks have to be sweet? Give this baked almond feta with fresh herb oil a whirl — it's a firm favourite in the VegKit/Animals Australia office since our magnificent Social Media Officer, the lovely Liv, introduced it at a staff potluck ❤
You may also like:
* Ultimate flourless brownies for two (...or one!)
* Nourishing detox green smoothie — perfectly balanced: slightly sweet, slightly sour.
* Homemade beetroot hummus on toast with avocado — finally, instructions on how to create an Instagrammable avocado 'rose' 😀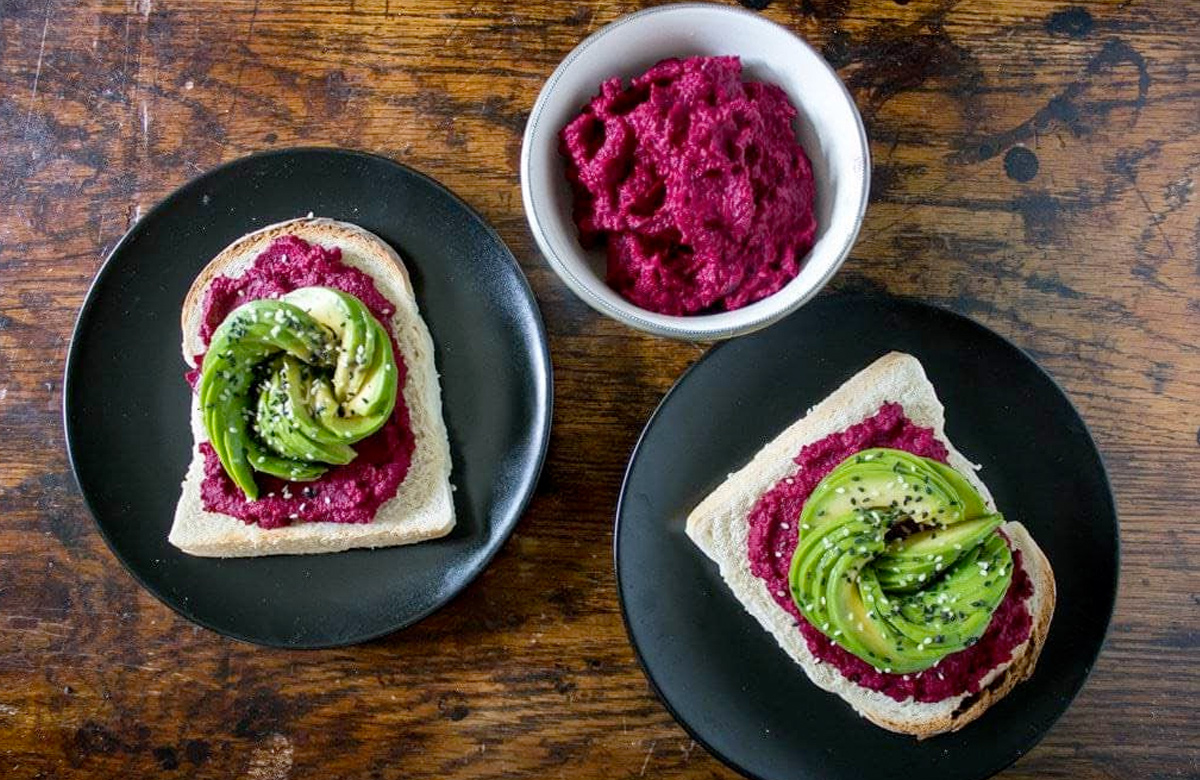 Veggie Desserts
* Actually crispy baked chickpeas — customise these using your favourite spice blend for a nutritious and delicious snack.
* Any fellow Twin Peaks fans out there? You might like to try your hand at this Double R diner-style cherry pie — Federal Bureau of Investigations Special Agent Dale Cooper would approve!

Hungry for more? Click here to find weeks two, three and four in this series!
If you're just after something quick and simple that requires minimal energy output on your end — we've also gathered a handy list of easy plant-based meals you can throw together in 15 minutes or less, featuring plenty of meals you're probably already familiar with
We'd love to hear about the plant-powered creations you've been cooking up and enjoying recently. Please let us know below! 🙂