When it comes to putting together a well-balanced meal-plan, there's a healthy eating rule of thumb to remember: enjoy a wide variety of foods including fruit, veggies, legumes, whole grains, nuts, and seeds. You can learn more about cooking and eating the plant-powered way here
And now — on to the food! Here's the third in our series offering you a week's worth of plant-based meal ideas to cover you from breakfast to dessert, and everything in between. (If you're pressed for time or feeling less than ambitious, jump to the 'quick n' easy' meal plan instead 😉 No judgment!)
Deb Kaloper (top) | Bakerita (left) | Nutrition Facts (right)
Breakfast
You will need a waffle iron for Deb Kaloper's divine potato & chive waffles with chilli sour cream breakfast of champions — but I hope you'll trust me when I say it's well worth the investment. This is the spicy, crunchy, giant hash brown of your dreams (or my dreams at least) ❤
Apple oatmeal muffins? While they might sound like the less glamourous cousin of a flavour-combo such as, say, white-chocolate and raspberry, in reality these muffins are golden little bundles of wholesome joy. And did I mention they have apple cider in them? 😉
A healthy chocolate milkshake. Yep, you read that right. This delicious drink is full of the good stuff — like antioxidant-rich cocoa and cherries — but tastes like a decadent dessert. Enjoy!
You may also like:
* Less than an hour from go to whoa, this gloriously golden cornbread — equally delicious with sweet and savoury toppings — makes a perfect weekend breakfast (though it's perfect anytime).
* Hearty chickpea shakshuka, with nutritious, protein and fibre-rich beans standing in for the eggs — making this cholesterol-free and absolutely delicious!
* A pumpkin pie smoothie full to bursting with goodness — buy or make your own pumpkin puree for this one.
While not strictly a health food (ahem) did you know Cocoa Pops are 100% plant-based?? All you have to do is use your favourite dairy-free milk (you might even like to make your own) to make it a plant-powered milkshake, only crunchy! 😀
Madeleine Olivia (top) | Vegan Richa (left) | Well and Full (right)
Lunch
I prefer to mix up the filling for Madeleine Olivia's chickpea 'Tuna' sandwich with a potato masher (rather than in a food processor) to maintain more texture — but I do like a chunky sandwich! For more of a briny taste, I sometimes also add a sprinkle of kelp granules, or some torn up nori seaweed sheet, for a refreshing ocean flavour 🙂
Perfect lunchbox or picnic fare, these samosa-style potato and spiced chickpea burritos pack, travel and keep well. Either make up the wraps, or pack everything separately (good for a gluten-free option if people would prefer to serve the fillings in lettuce cups or over rice instead).
Well and Full's orecchiette pasta salad with mustard vinaigrette is simple perfection. Customise as you like — sometimes I'll add a handful of sundried tomatos, capers, olives and some lemon zest for a bit of Mediterranean-inspired zing. You could also add some cooked chickpeas or butter beans for a burst of protein!
More lunch options:
* New York-style bagels (try with homemade cultured cashew cream cheese — it's simple and delicious!)
* Creamy white bean soup with kale, rosemary and lemon
* Russian-style quinoa salad with winter vegetables
* Coconut-crusted tofu with chilli-lime sauce
* Over the rainbow cabbage salad with tahini-lemon dressing

VegKit (top) | Rainbow Nourishments (left) | Green Evi (right)
Dinner
When noodles and curry meet... surely the most legendary love child of this match made in heaven is laksa — here given a plant-based twist as a spicy, creamy ginger tofu laksa. And, in case you were wondering, it's absolutely a-okay to slurp every last drop of this deliciousness (I do, anyway!) ❤
If Vincent Van Gogh was more into baking than painting I'm pretty sure his creations would look something like this vegetable roulade tart — a little less starry night and a little more swirled sweet potato, perhaps, but I hope you'll agree it's beautiful nonetheless!
This spinach-peanut stew with chickpeas is an incredibly flavourful, rich, and comforting dish — that only requires a few simple and budget-friendly ingredients to make. Serve over brown rice, quinoa, cauliflower rice or your choice of base for a hearty and cosy dinner.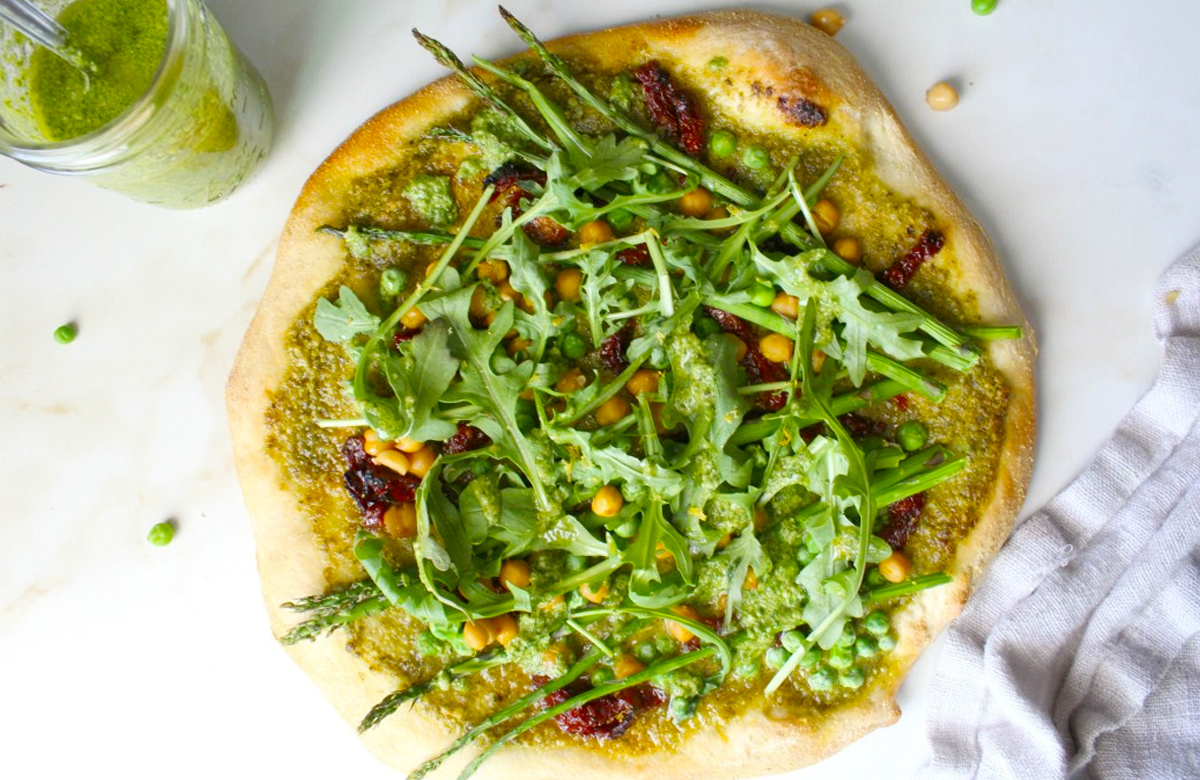 This Savoury Vegan
Spring greens pesto pizza — celebrate the changing seasons and warmer days with this vibrantly verdant pizza
Or try your hand at:
* Tempeh in a creamy mushroom pepper sauce — protein packed and nutrient dense deliciousness.
* Mushroom brown rice bake with caramelised shallots, crispy lentils and gremolata sounds like a million bucks and super complicated, but this delicious dish can be yours in a few simple steps.
* BBQ-lentil stuffed sweet potatoes — a filling, hearty, yet healthy meal that is easy to make without sacrificing flavor.
* This quick and easy udon noodle stir fry, packed with vegetables and coated with a moreish ginger, garlic and sesame sauce is just the ticket for a quick midweek meal. I'll sometimes add some tofu or tempeh for an extra protein boost, but this stir fry is hearty as is.

Minimalist Baker (top) | Minimalist Baker (left) | Deb Kaloper (right)
Snacks and dessert
All the flavours of a kebab — think spices, hummus, garlic sauce, crunchy fresh vegetables and herbs — reimagined as a chickpea shawarma dip! Full of healthy fats, fibre and plant-based protein, this creamy, savoury snack is hearty and delicious.
Tender, naturally-sweetened carrot cake bites have all the flavour of the classic cake, but come together in just 30 minutes!
Tangy, sweet, and reminiscent of a Weis bar, these mango-lime coconut-swirl popsicles are a deliciously healthy and refreshing treat for a hot summer's day. Heck, they're so good for you, you could even have one for breakfast!
You may also like:
All dressed up crunchy kale chips (with 6 top tips for flawless chips!)
Chinese spring onion pancakes — savoury deliciousness! Perfect with chilli-sesame oil, soy or black vinegar dipping sauce (or just on their own!). Try serving with garlic bok choy and steamed rice for an amazing meal.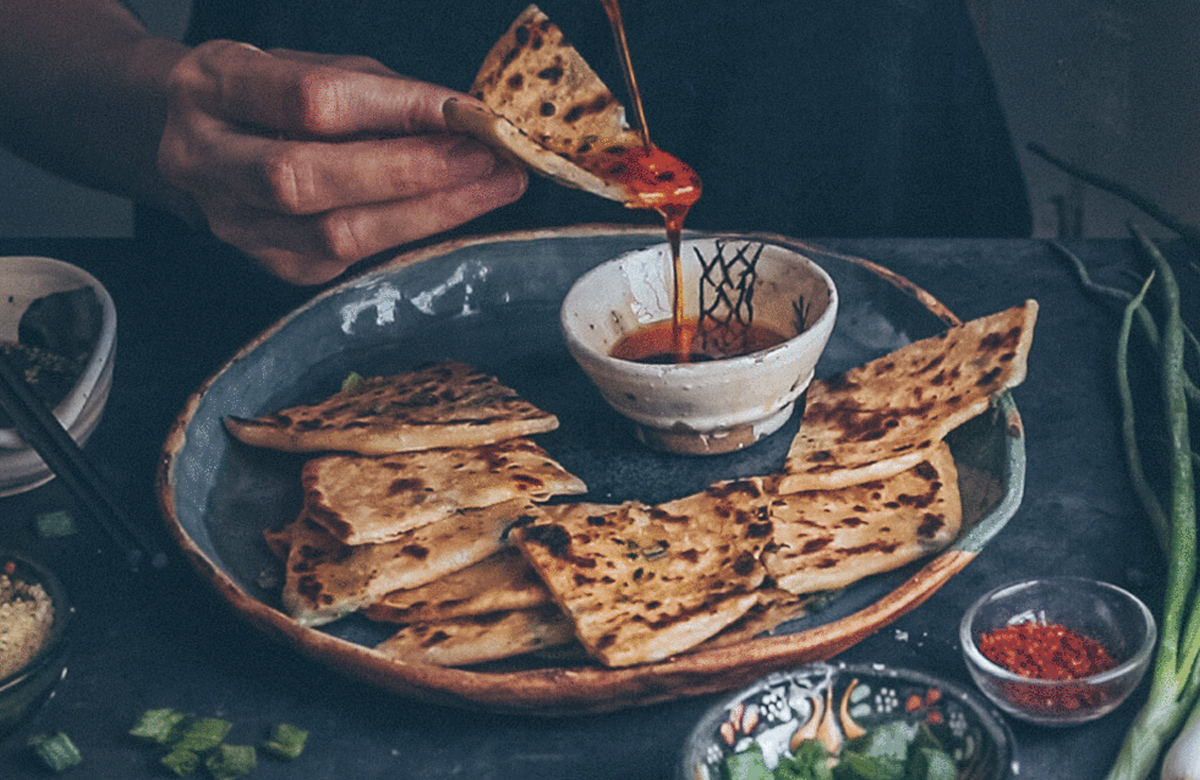 Black White Vivid
Mushroom and eggplant miso soup — the recipe uses brown rice noodles, but I've also made this recipe with succulent, chunky udon noodles and it was really tasty ❤
Sinless sticky toffee pudding — all I can say is make double the sauce... 😉

Hungry for more? Click here to find weeks one, two and four in this series!
If you're just after something quick and simple that requires minimal energy output on your end — we've also gathered a handy list of easy plant-based meals you can throw together in 15 minutes or less, featuring plenty of meals you're probably already familiar with
We'd love to hear about the plant-powered creations you've been cooking up and enjoying recently. Please let us know below! 🙂