Opinion
30 super satisfying vegan salad recipes
Kitchen Tips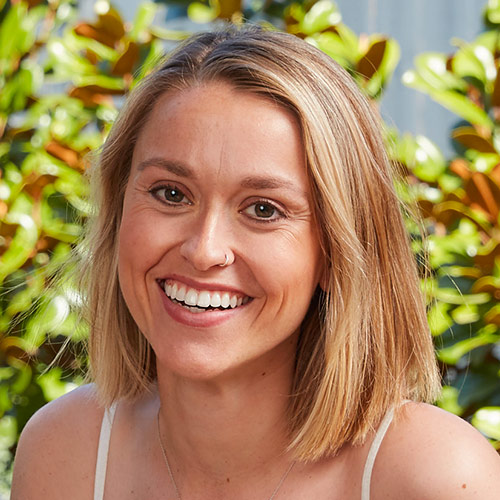 Author: Maggie
Published: November 8, 2023
Salads can be incredibly flavourful and filling when done right – and we've curated a list of the most vibrant plant-based recipes to prove it! Garden salad, if you're out there? Be afraid, be very afraid…
Whether you're looking for a veggie-packed side to complement dinner, a nice bright option to  take to a picnic, or something fresh to add to the table for your next BBQ, you're bound to find a suitably satisfying salad on this list.
We've tried to cover a bit of everything, from light and zesty salads to heartier options with creamy dressings and bases of nuts and grains. 
You'll find tonnes of variety – the one thing these recipes have in common is that they're all absolutely delicious, and packed with plant-based goodness 🤤🌿
Top tip: If you're trying to eat more veg and incorporate more colour into your meals, making a big salad that you can pick at throughout the week or pop on your dinner plates as a fresh side dish is a super easy way to get started!
1. Fig, Spelt & Rocket Salad with Lemon Mustard Dressing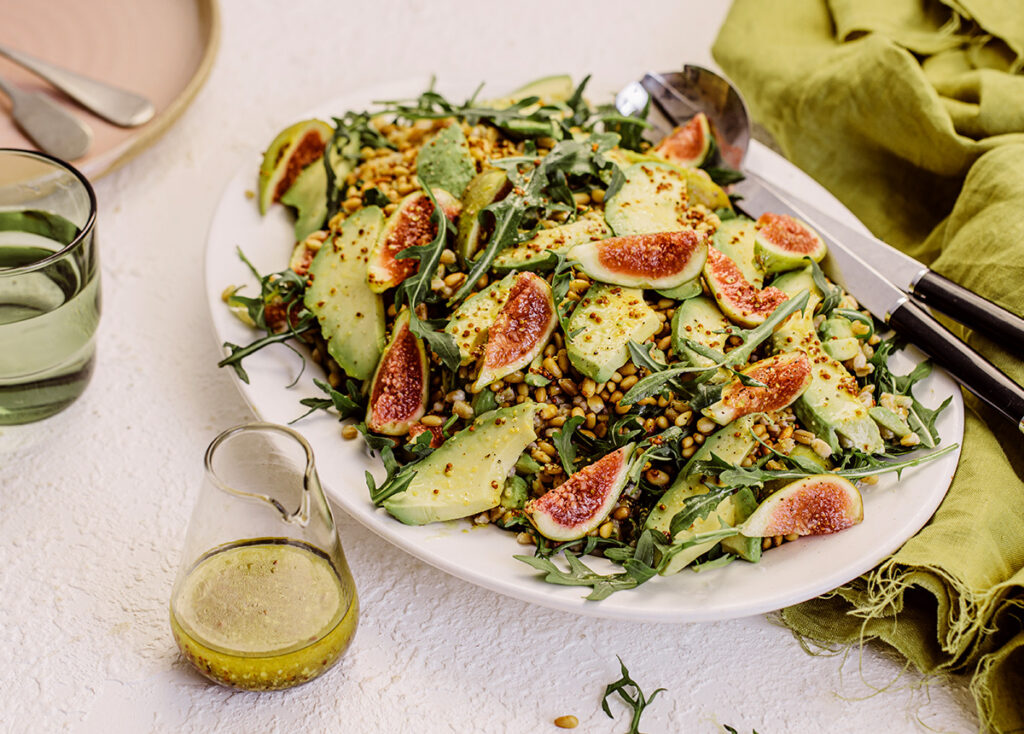 This one balances the sweetness of fresh figs of lemon and mustard, and somehow manages to taste even better than it looks. There are even roasted pine nuts and avo in the mix!
2. Greek Orzo Pasta Salad with Vegan Feta 
Teeny tiny orzo pasta makes a delectable base for salads. Add fresh Mediterranean veggies, salty kalamata olives, and vegan feta to the equation, and you've got yourself a seriously addictive salad bowl.
3. Hearty Roasted Butternut Squash & Apple Salad 
Combining butternut squash, baked apple slices, wheat berries, and maple-cinnamon toasted pecans with an irresistible ginger-based dressing, it's easy to see how this salad ends up tasting like a cosy autumn afternoon.
4. Charred Cucumber & Dill Salad with Pine Nuts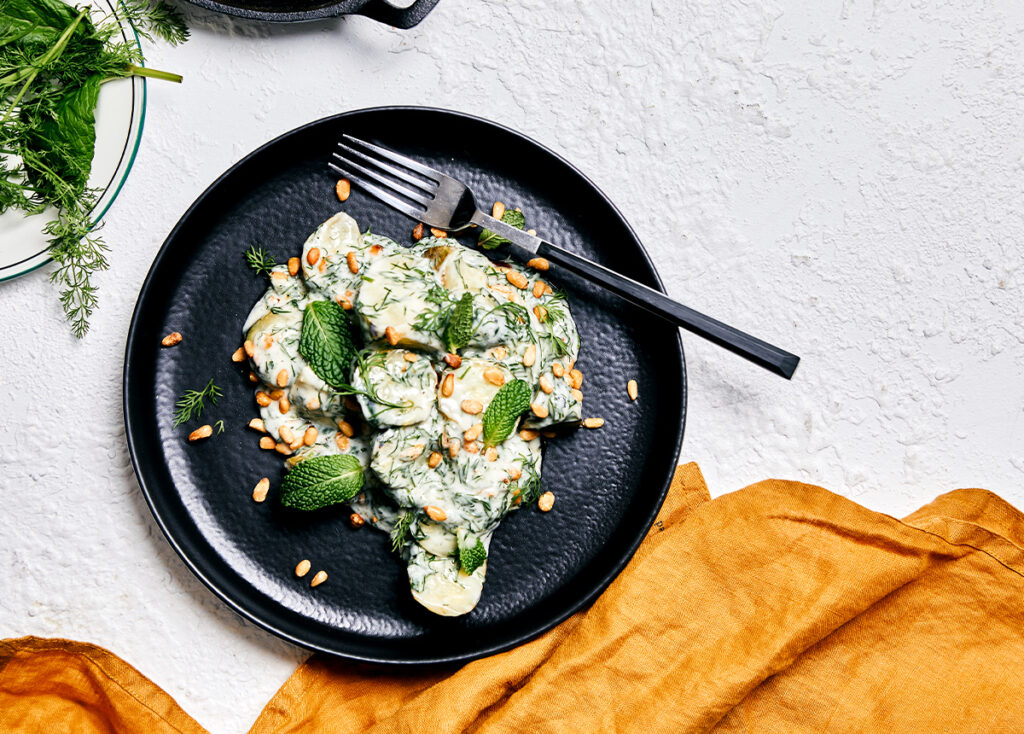 You couldn't ask for a quicker recipe to throw together! We're talking 10 mins of prep-time, max. The result is a refreshingly herbaceous salad full of coolness and crunch, with a subtle smokiness from the charred cucumber slices. 
This grated carrot salad is like sunshine in a bowl. It's studded with toasted cashews and raisins – little gems of nuttiness and flavour that pair perfectly with the Indian-inspired dressing of curry spices, maple, and citrus. 
6. Maple Sesame Smoked Tofu Salad 
On the more filling end of the spectrum, we've got this smoky tofu salad. The recipe calls for a base of shredded cabbage, greens, herbs, and carrot – but you could bulk it out even further by adding some soba or udon noodles, too.
7. Strawberry & Feta Salad with Smoked Almonds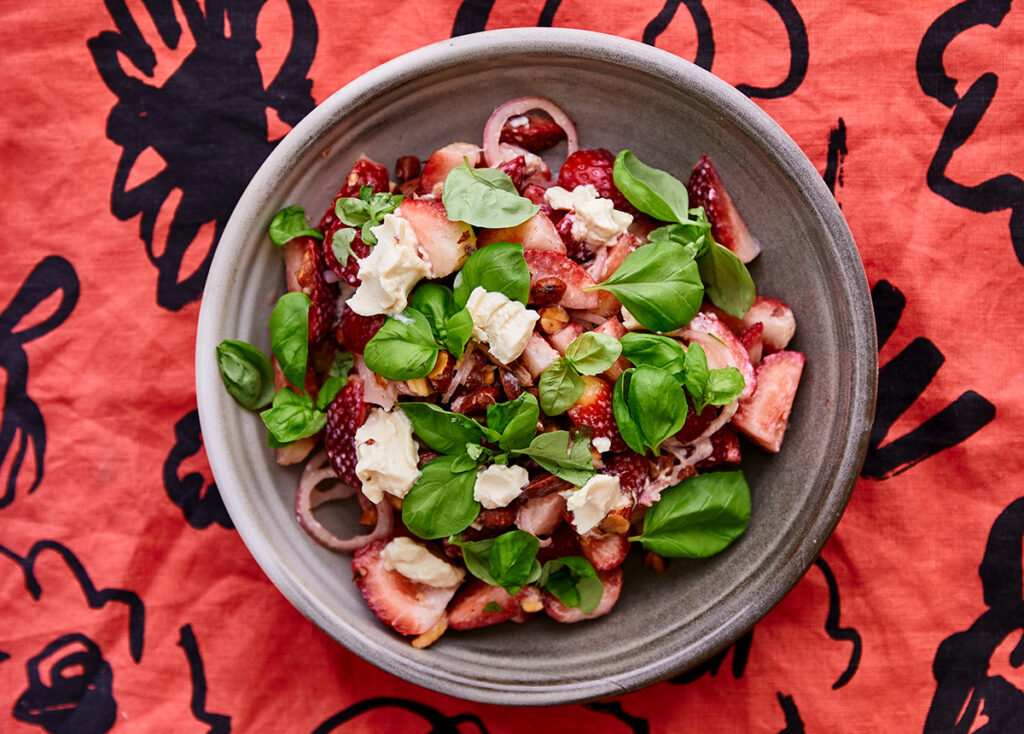 Somewhere in the sweet spot between fruity and savoury, you'll find this basil-strewn strawberry salad, featuring vegan feta and the magic of smoked almonds. You can either buy vegan feta at the supermarket or make your own at home!
8. Broccoli, Grape & Cranberry Salad with Creamy Dressing 
If you're sceptical, we understand. Raw broccoli and grapes does sound like one heck of a combination – but once you've tried this one, you'll see why it made the list! The creamy cashew dressing brings it all together, and somehow it just works.
9. Black Bean Quinoa Salad with Orange Lime Dressing 
This Mexican-inspired salad is perfection, and we don't say that lightly. Picture a protein-rich base of quinoa and black beans, melded with the brightness of orange segments and corn, and the creaminess of avocado – all drenched in the most divine orange, lime, and cumin dressing. 
10. Caesar Salad with Herb-roasted Chickpeas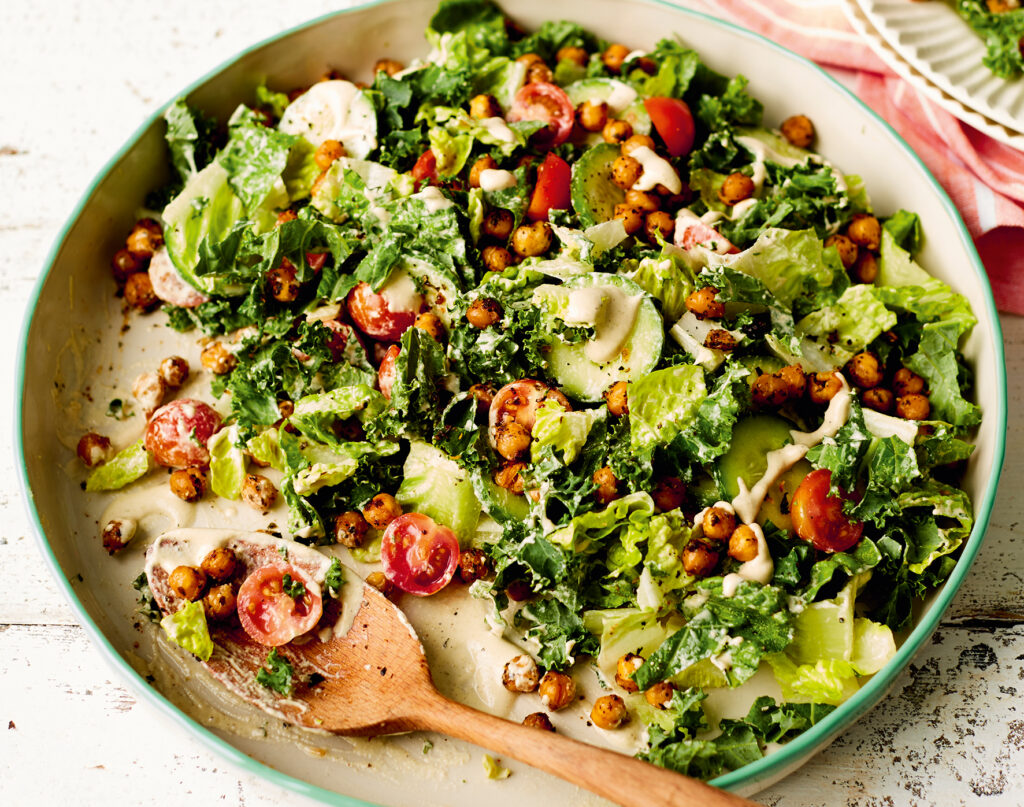 What would this list even be without a vegan version of the classic Caesar salad? This recipe uses cashews and a magic ingredient called aquafaba to recreate that iconic dressing, and swaps croutons out for crispy, protein-packed chickpeas!
A plant-based adaptation of Cobb salad that uses vegan bacon instead of animal bacon, chickpeas instead of chicken (although you could swap this out for vegan chicken if you prefer), and an amazing cashew-based ranch dressing to add cheesiness.
12. Watercress Salad with Peaches & Piccalilli 
The secret to nailing this salad is to patiently wait until peaches are in season to make it. Bookmark it for summer – that's when you'll find the ripest, juiciest peaches! For more tips on how to align your cooking with the seasons, check out our beginner's guide.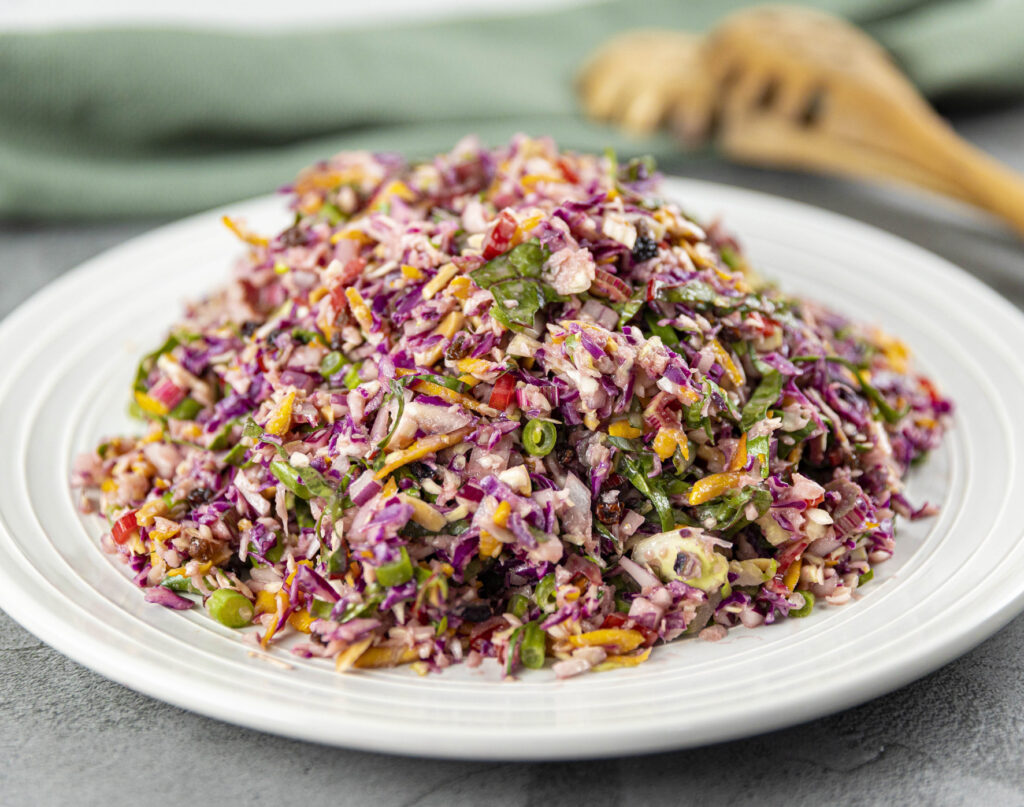 Talk about eating the rainbow! We're taking it literally with this extra-colourful slaw. Highly recommend pairing the freshness of this one with a rich, smoky main like a pulled BBQ jackfruit bowl or these braised mushroom rolls.
Super simple to make, yet full of complex flavour. Roasted broccoli takes centre stage here, but its supporting cast of toasted almonds, kalamata olives, lemon zest, and mustard seed maple dressing are what makes it really shine.
15. Vegan Caprese Salad with Peaches & Arugula 
Another delicious classic that's easy to make vegan – just buy vegan mozzarella or make your own from scratch. That indulgent creaminess is exactly what you need to balance out the peppery arugula, sharp tomato, and sweet pieces of peach.
16. Rockmelon Salad with Salted Capers & Hazelnuts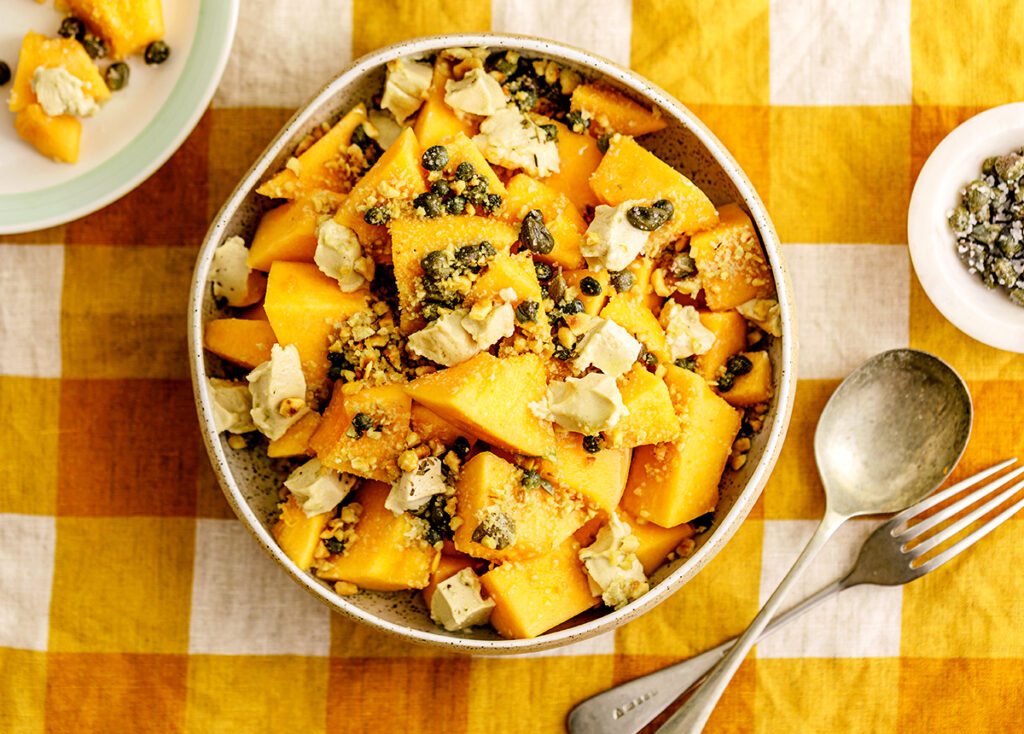 This salad's breaking all the rules – there's not a leaf in sight. And honestly – who needs 'em?! Instead, we've got sweet, soft rockmelon, salty bites of capers, rich pieces of roasted hazelnut, and tangy pops of plant-based feta. An unexpectedly harmonious medley. 
17. Barley, Pomegranate & Pistachio Salad 
We love how bejewelled this super hearty salad looks! Cranberries and pomegranate seeds add those ruby pops of colour, with mint adding the green – all among a golden bed of pearl barley, pistachios, and toasted almonds. 
18. Roasted Sweet Potato & Chickpea Salad 
Masala-spiced roasted chickpeas and tender, roasted sweet potatoes are a match made in heaven – made even more mouthwatering by a generous drizzle of easy-peasy 3-ingredient tahini dressing! A great weeknight recipe to have in your repertoire.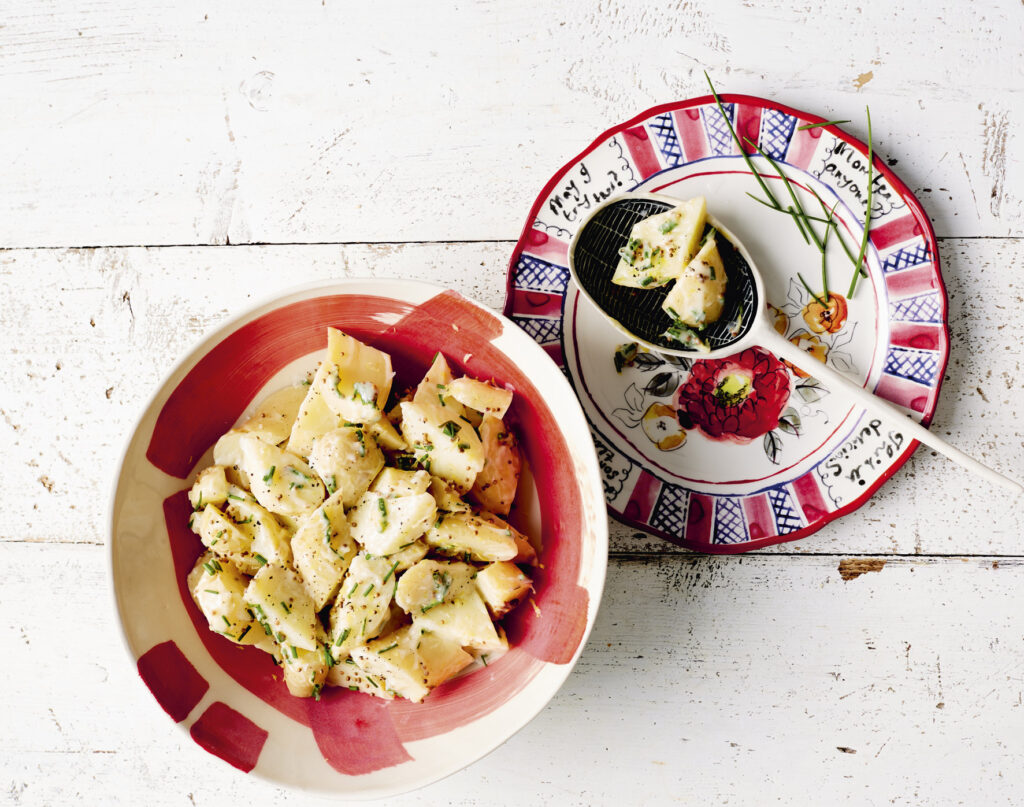 If you're looking for a quick and simple dish to make for a potluck or outdoor event, potato salad is your savoury saviour. This plant-based version uses egg-free mayo and is just as addictive as the original. Don't hold back on the herbs!
20. Summer Pasta Salad with Grilled Zucchini, Corn and Coriander Pesto 
A feast for the eyes as much as your taste buds … Don't you just want to dive straight into this one? The grilled zucchini, corn, capsicum and rice noodle combo is truly inspired. If you've never tried coriander pesto before, this is your sign to do so.
Not your average pasta salad – this is grown up pasta salad, smothered in a decadent roasted red pepper sauce and topped with herby bread crumbs. It's bold, it's gourmet, and frankly it's putting every other pasta salad recipe to shame.
22. Roast Cauliflower & Chickpea Salad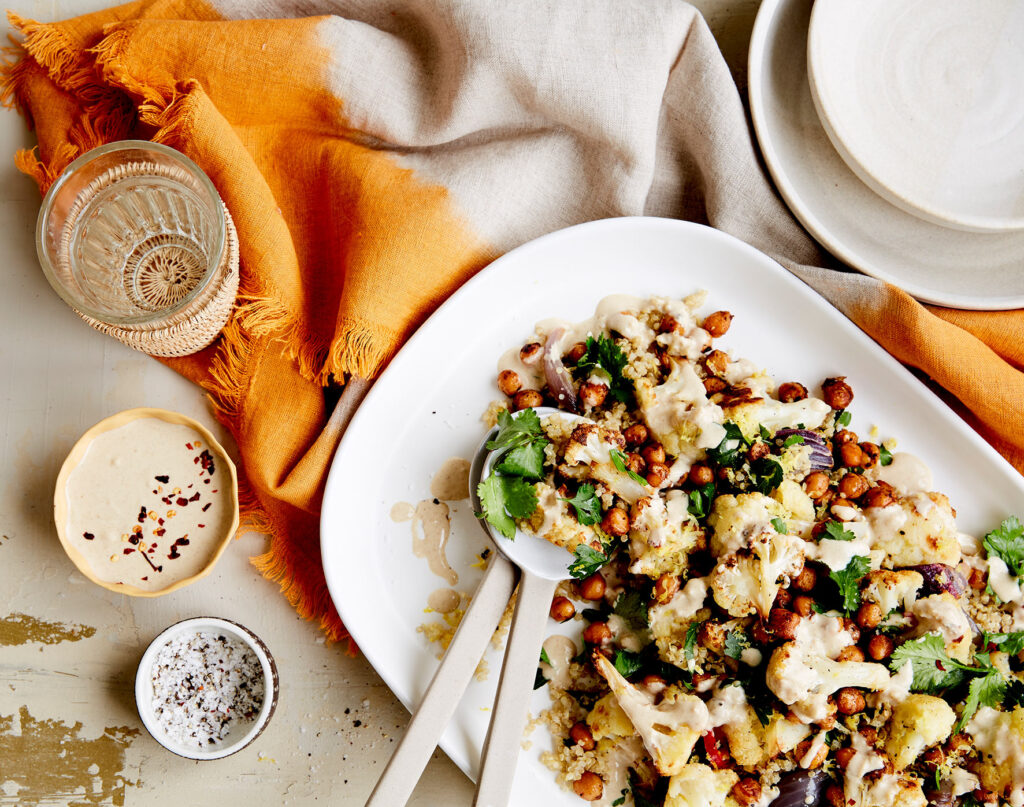 Cauliflower is incredibly versatile, but roasting it with a bit of salt and pepper has got to be one of our favourite preparation methods. It's so nutty and satisfying, while still feeling quite light. Paired with quinoa and chickpeas, it makes a winner of a salad.
23. TikTok Green Goddess Salad
If you're on TikTok, you've probably seen this recipe kicking around. Having tried it, we can vouch that it totally deserved to go viral, and we're glad it's still doing the rounds! You can't get much greener than this (or more yum). 
What we love about this cucumber salad is that you can take it in so many culinary directions with just a few tiny tweaks. To lean towards Thai flavours, add lime juice, vegan fish sauce, Thai basil, and crushed peanuts. To veer towards Korean, add gochujang!
25. Farro Salad with Pickled Red Onions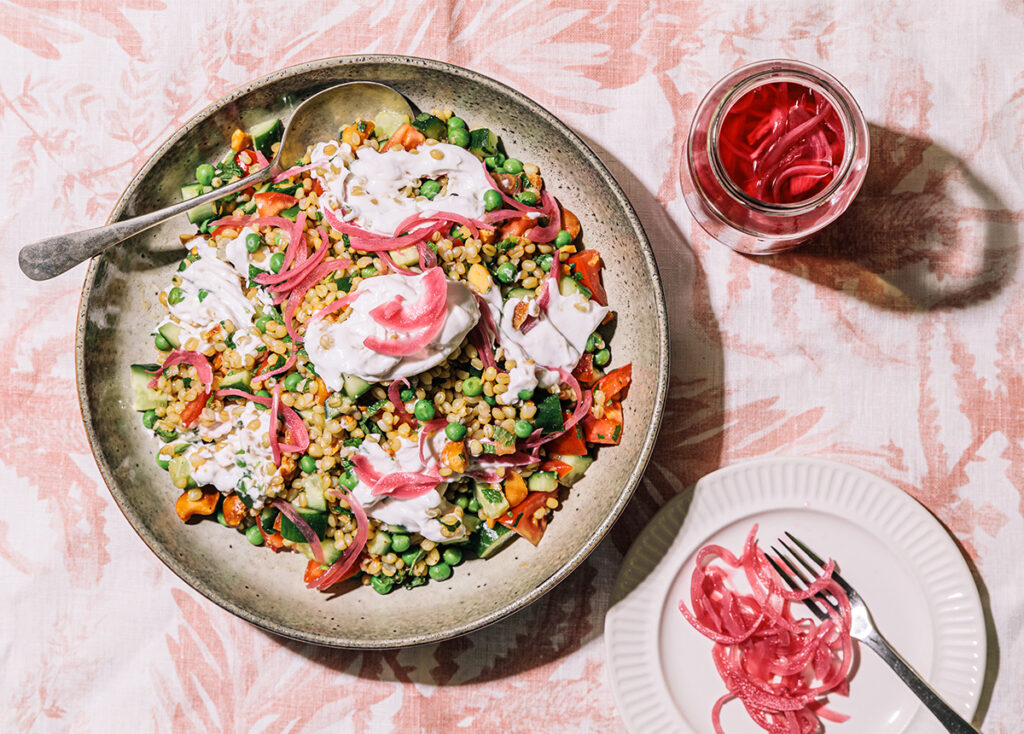 This ancient grain salad is a breath of fresh air. The delicate flavour of peas, cucumber, and mint is offset by the richness of roasted macadamias, the brininess of pickled red onions, and the lightness of coconut yoghurt. 
26. The Best Texas Caviar (Cowboy Caviar) 
Say howdy to your new favourite bean dish. We can't pretend to know where the name 'cowboy caviar' came from, but we can confirm that despite all odds, it is in fact vegan-friendly! Whether it technically qualifies as a salad is up for debate, but we're on team yee-haw.
27. Shaved Brussels Sprout Salad w/ Creamy Garlic Dressing
Fluffy shreds of Brussels sprouts, slices of crisp apple, and spiced maple walnuts go so well together, you'll wonder where this recipe has been all your life. There's so much texture and flavour in every bite! And don't get us started on the garlic dressing … 
28. Roasted Brussels Sprouts, Cranberry & Almond Salad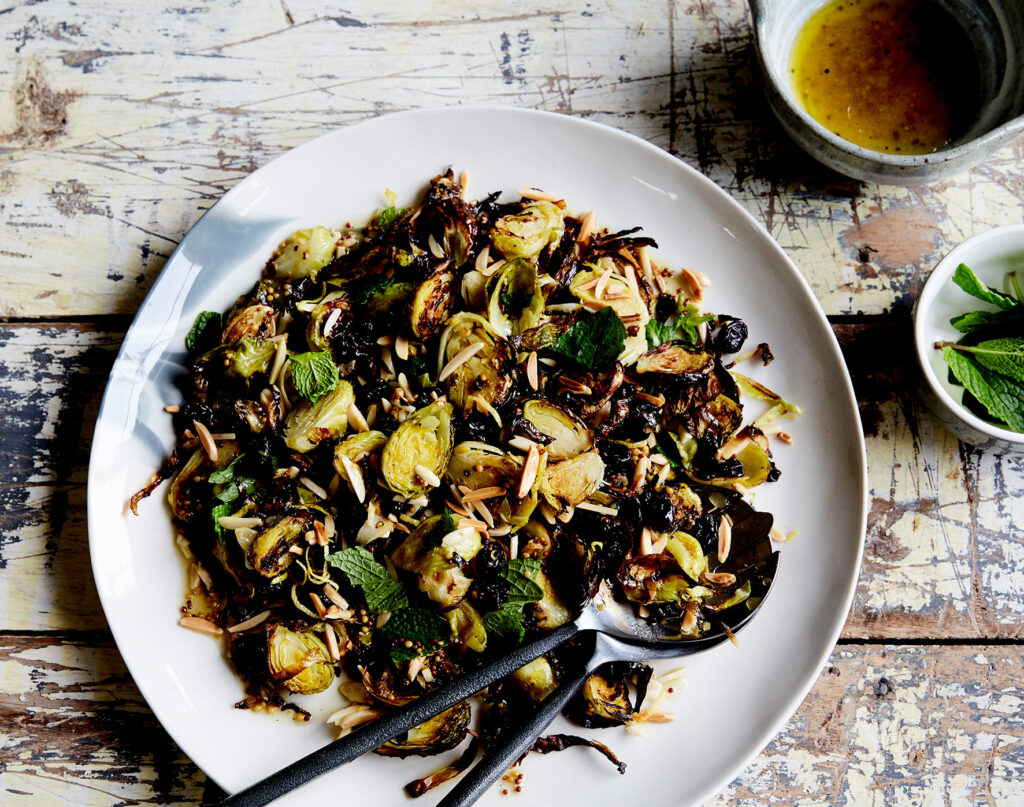 Any dish that combines Brussels sprouts with cranberries immediately gives us festive vibes – in the best way. And really, why save all the most comforting dishes for the holidays? This absolute gift of a salad is perfect for a feast at any time of year.
29. Tuscan Kale, Orange & Avocado Salad 
This dreamy citrus salad is so bright and sunny, you might even feel transported to the Italian countryside that inspired it! The addition of Tuscan kale, avocado, and toasted pumpkin seeds make this a super nourishing meal overall. 
30. Falafel-spiced Chickpea Couscous Salad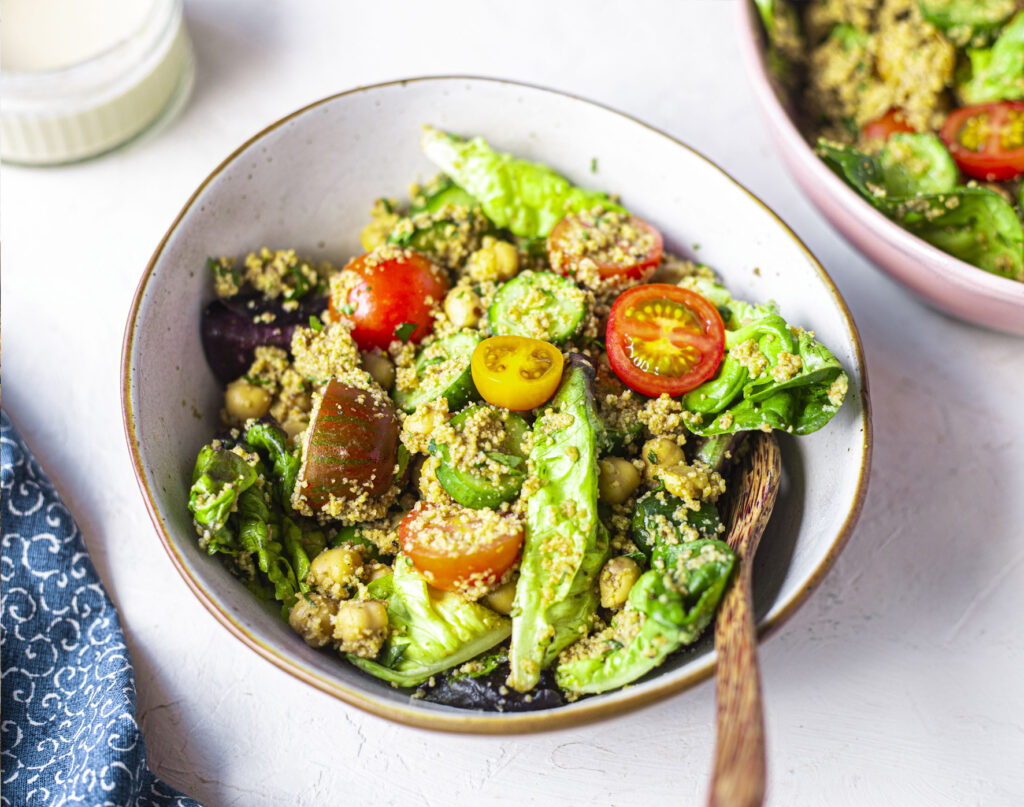 We're huge fans of adding couscous and chickpeas to salads to bulk them up a bit – and this recipe does both! The Middle-Eastern spices make it taste like a bowl of deconstructed falafels, and it's just as filling too. 
Now if this list doesn't smash all 'salad' stereotypes, then we're not sure what does. Start working your way through these recipes and you could eat a different salad every day of the month and never once encounter a sad little bowl of lettuce and tomatoes! (That's the goal here, isn't it?) 
Good luck deciding which one to make first 😉
If you need ideas for what to pair your salad with, you can find plenty of inspiration for yummy plant-based mains, sides, nibbles and desserts over on our recipe hub. 
Enjoy, friends!