From the staggering range of health and fitness benefits, to the immense positive impact for animals and the environment, to the simple fact that it can just be fun to explore something new in the kitchen … Whatever brings you to the exciting world of veg cooking – welcome! 
Just as there are countless reasons why people are choosing to embrace plant-based food these days, there are also countless amazing resources to help you learn more about all the 'why's and 'how's of eating veg.
Here are our top recommendations for books, docos, websites, and more to help you feel informed, motivated, and empowered on your plant-based journey.
For health & nutritional info…
Nourish your curiosity with a book: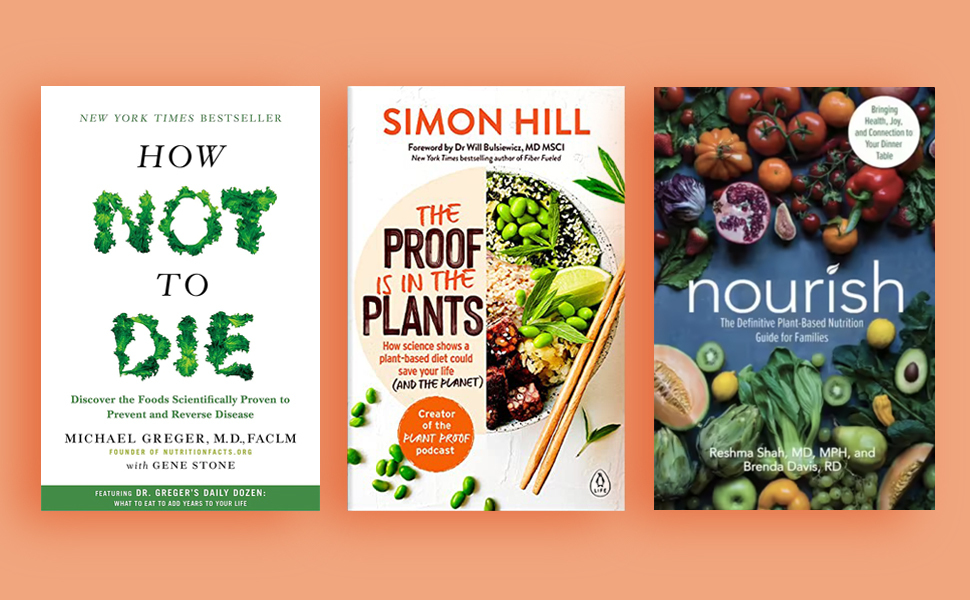 The Proof is in the Plants by Simon Hill 
Straight-talking nutritionist Simon Hill breaks down how plant-based eating can help us live healthier for longer – providing plenty of actionable advice for how to make changes to your plate to live a balanced veg lifestyle. 
How Not to Die by Dr Michael Greger
With his trademark humour, Dr. Greger breaks down (ahem, translates) hundreds of scientific studies that demonstrate how whole-foods plant-based eating is the only diet that has been shown to prevent – and even reverse – many of the leading causes of premature death.
Nourish: The Definitive Plant-based Nutrition Guide for Families by Dr Reshma Shah 
This book is an evidence-based, practical resource aimed at providing you with all the tips and info you need to bring health, joy, and connection to your dinner table – in the form of nourishing plant-based meals!
Devour a health-focused doco:
Following an elite athlete on a mission to find the optimal diet for human performance and health, this is a powerful movie about plant-based eating, protein, and strength.
This film puts the idea of food as medicine to the test – exploring the extraordinary power of plant-based food to help prevent, manage, and even reverse many chronic diseases.
Bookmark these handy online resources:

Want to know how to naturally boost your mood with fresh Aussie produce like fruit, veg, and nuts? The Good Mood Food is here to show you how to eat brighter – and feel better.
Doctors for Nutrition is a non-profit dedicated to improving public health using the power of whole food plant-based nutrition. They empower doctors to use nutrition as a powerful tool for disease prevention, and they offer the general public all the knowledge and resources they need to take charge of their health.
Exactly what it says on the tin! This site delivers the very latest in nutrition facts and health science news, always packaged in easy-to-understand videos, blog posts, infographics, and podcasts. 
Dr. Gemma is a UK-based GP and nutritionist who advocates for a whole-foods, plant-based diet as a way to prevent and treat chronic diseases. Her website is a treasure trove of nutrition info and tips!
Physicians Committee for Responsible Medicine
PCRM is an excellent source of information about the health benefits of a plant-based diet, as well as the risks associated with consuming animal products like meat and dairy. 
For reaching your fitness goals…
Sort your plant-powered meal plan:
Rich Roll is a self-proclaimed couch potato turned ultramarathoner who turned his life around at age 40 by adopting a plant-based lifestyle. Check out his meal planning tool – aimed at helping others transform their lives too!
Load yourself up with protein-packed recipes and tips: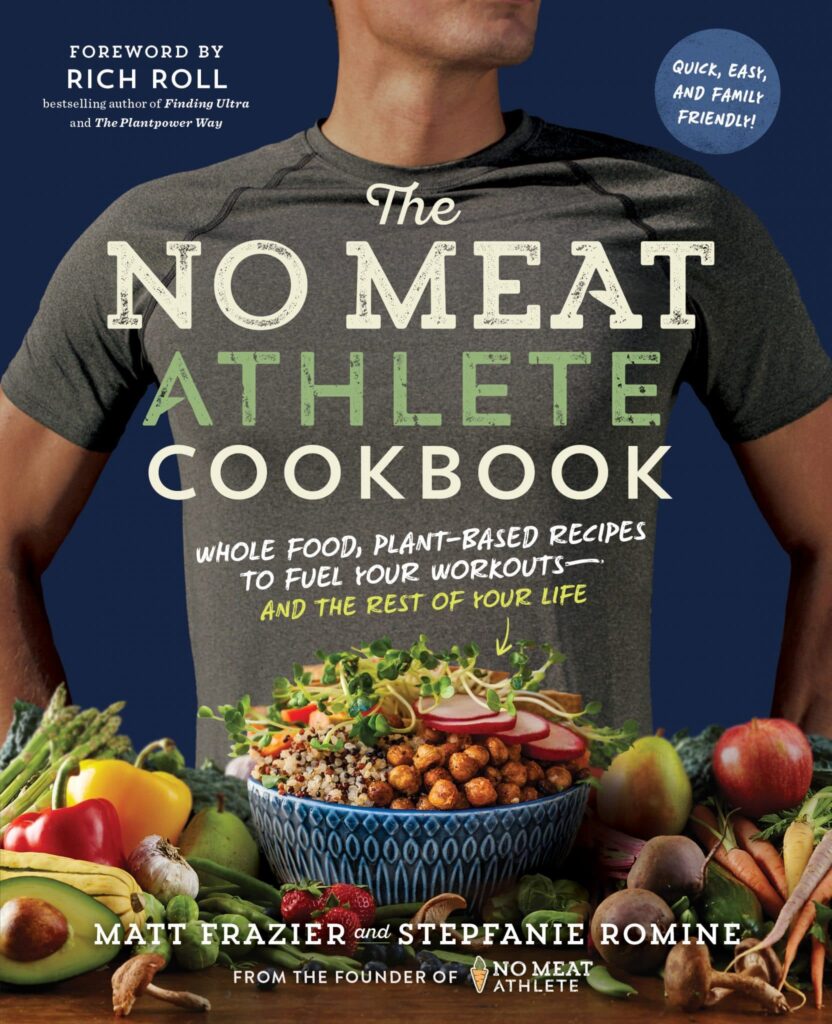 The No Meat Athlete Cookbook by Matt Frazier
This vegan cookbook is full of hearty, plant-powered recipes to help you perform better, recover faster, and feel great – brought to you by the founder of the No Meat Athlete movement.  
The Vegan Cookbook for Athletes by Anne-Marie Campbell
This gem contains over 100 nutritious recipes and 3 meal plans to help boost your overall energy, endurance, and strength – all plant-based and easy to prepare!
Be a Plant-Based Woman Warrior by Jane Esselstyn & Ann Crile Esselstyn
Written by a passionately plant-fit mother-daughter duo, this big-spirited cookbook is not only packed with useful info – it's also a call to action for anyone who wants to feel full of vitality and in control of their own health. 
The Vegan Athlete's Cookbook by Anita Bean
Anita Bean is an award-winning (and aptly named) nutritionist focused on delivering healthy and tasty vegan recipes, all loaded up with all the nutrients you need to train, recover, and perform at your best. 
Plant-Based Sports Nutrition by D. Enette Larson-Meyer & Matt Ruscigno
This brilliant book teaches you exactly how to get the right amounts of macronutrients, vitamins, and minerals, taking into account your personal caloric needs. Everything you need to smash your health and fitness goals!
Join the plant-based fitness community:
Their mission is "to provide world-class inspirational and educational experiences to support the growth and well-being of the plant-based athletic community" – and they deliver! Browse their website for meal plans, nutritional tips, workouts, and podcasts.
VegKit's round-up of plant-powered athletes
A growing number of elite athletes are embracing a veg diet and reaping the benefits! Check out our blog post to meet some of the plant-powered heavyweights leading the charge.
For meal-planning and cooking inspiration…
Flip through some ideas: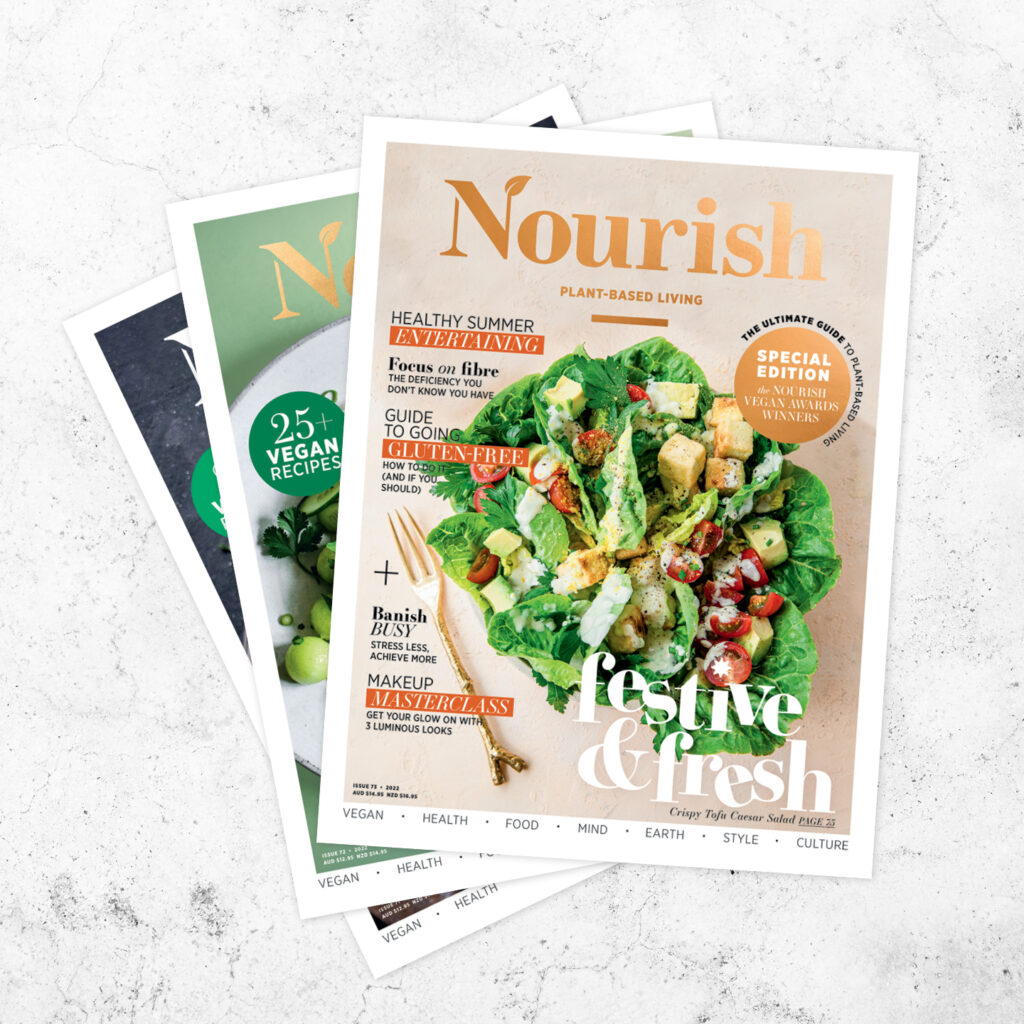 Nourish is a premium vegan food & living magazine from Australia that's absolutely packed with delicious plant-based recipes, health and wellness inspiration, news, and more. Check out the Nourish website or subscribe for a new issue every other month.

VegKit's favourite plant-based cookbooks
From mid-week dinners and one-pot wonders to slow-cooking weekend feasts and decadent desserts – these fun and flavourful cookbooks have got you covered!
Get everyday tips and recipes from the pros:
Freshly Picked – Australia's first 100% plant-based cooking show!
Join Masterchef grand-finalist Simon Toohey as he whips up all kinds of deliciousness, joined by an exciting range of guests each with their own cooking tips and vibrant veg recipes to share! Episodes available on 10Play for free. (For those who are new here, full disclosure: we had a little something to do with creating this show!)
VegKit's favourite plant-based chefs on YouTube
These talented chefs are using the power of YouTube to showcase the possibilities of plant-based cooking – guaranteed to give you some easy, mouthwatering meal ideas!
Turn your feed into a feast:
VegKit's favourite vegan foodies on TikTok
Are you keen to get plant-based trending – at least on your FYP? Check out our top recommendations for plant-based chefs who are always guaranteed to be cooking up delicious, bite-sized content on TikTok.  
For more about our relationship with animals…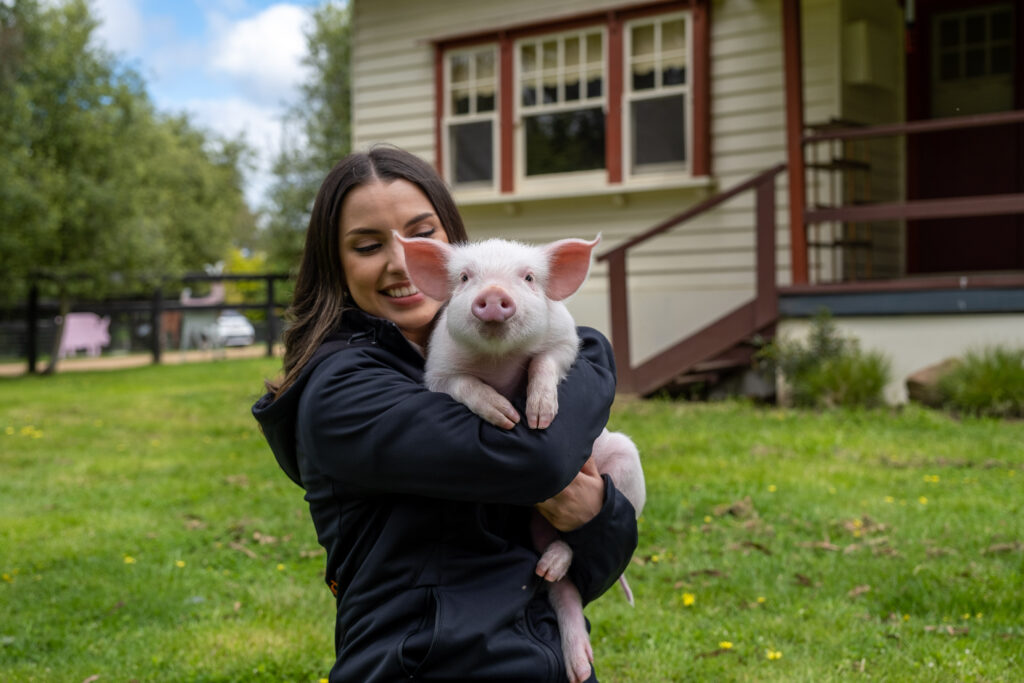 Read these thought-provoking books:
Eating Animals by Jonathan Safran Foer
Part memoir and part investigative report, this book is an eye-opening examination of what it means to eat animals in an industrialised world. A must-read for anyone who cares about using their consumer power and food choices to help shape a kinder future. 
Why We Love Dogs, Eat Pigs, and Wear Cows by Melanie Joy
Ever wondered why we think of some animals as 'friends', yet others as 'food'? This is the book for you. Acclaimed social psychologist Melanie Joy offers a thoughtful investigation as to how and why we ascribe certain 'roles' to animals in our society.
An Immense World by Ed Yong
Let science journalist Ed Yong take you on a tour of the senses – exploring the many fascinating ways in which our fellow animals experience, interact with, navigate and understand each other, and the world we all share.
Esther the Wonder Pig: Changing the World One Heart at a Time by Steve Jenkins & Derek Walter
This delightful read follows Steve and Derek's real-life adventure from reluctant pig parents to passionate advocates for animals. A heartwarming, funny, and utterly charming read!
Add these to your watch-list:
This groundbreaking film reveals the hidden impact of the meat industry on our health and the environment, and poses the question: How could the world change if eating animals became a thing of the past?
Moving and reflective, this documentary tells the remarkable true story of a wild octopus who forged an unexpected friendship with a filmmaker – and the lessons she taught him about empathy and the interconnectedness of life.
This exposé presents a deep dive into the industrial fishing industry, focusing on the massive threat it poses to our vulnerable ocean ecosystems and the marine animals who call them home.
Natalie Portman and Jonathan Safran Foer present an eye-opening look at factory farming – with a particular focus on how animals and our planet pay the ultimate price for "cheap" meat, eggs, and dairy. 
This short but emotional doco follows a British cattle farmer as he grapples with the ethical implications of animal agriculture, becoming increasingly conflicted about sending any more cows to slaughter. (Spoiler alert: It's a happy, hopeful ending for everyone!)
Earthlings shines a much-needed light on the suffering and abuse animals endure every single day in the profit-driven food, clothing, pet, and entertainment industries. Just be aware: The real undercover footage shown throughout makes for difficult viewing.
This Australian documentary exposes the dark underbelly of modern animal agriculture and questions the morality of humans' dominion over the animal kingdom. Not for the faint of heart, it's another harrowing watch, but one that could change the way you think about the use and abuse of animals in our society – forever. 
For proof that plant-based food is planet-friendly…
Read up on the link between food and climate: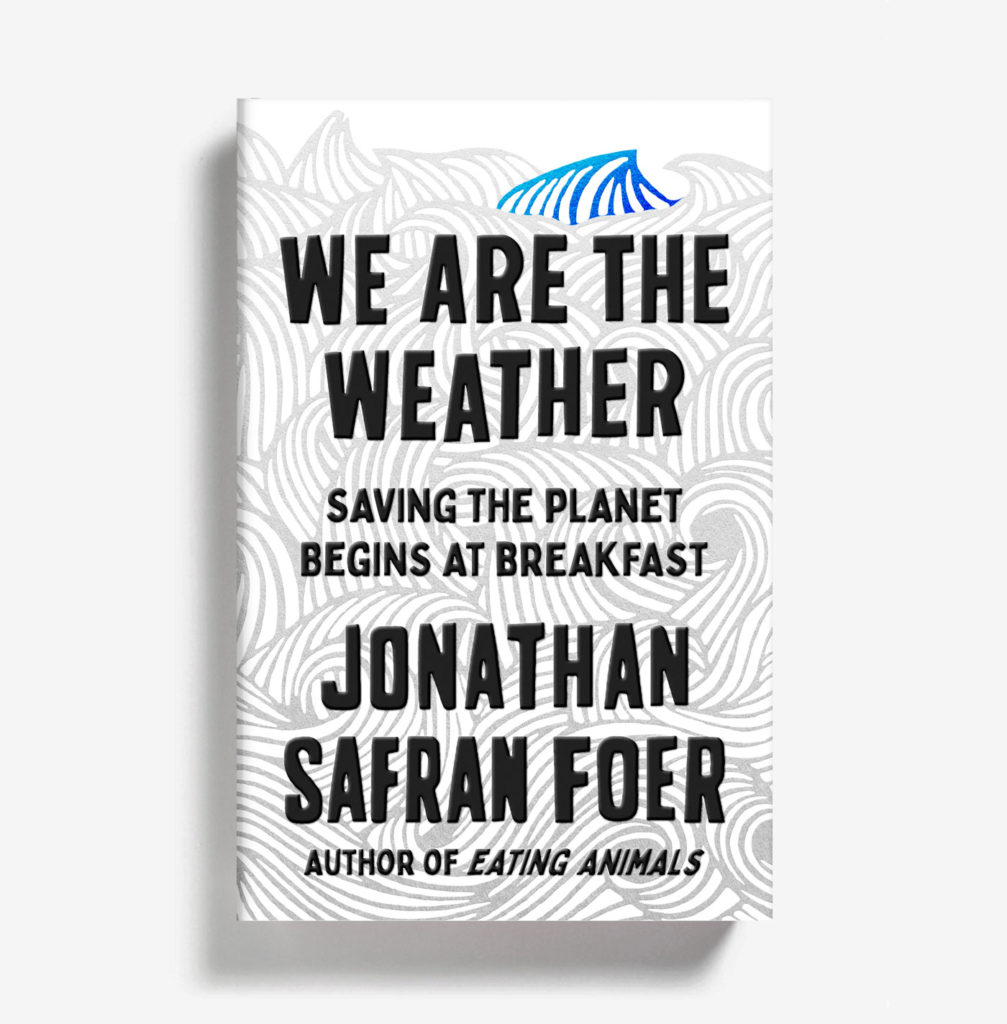 We Are the Weather by Jonathan Safran Foer
This book is an urgent, insightful, and personal look at the climate emergency – exploring how saving the planet "begins at breakfast", with what kind of food we choose to put on our plates.
Delve deeper with a doco:
By taking you on a cinematic journey through natural landscapes around the world, this informative and empowering documentary will challenge the way you look at the global food industry forever. 
Cowspiracy tells the shocking yet humorous journey of an aspiring environmentalist as he investigates the dire threat factory farming poses to our planet – and searches for a path to a more sustainable future. 
Milked follows a young change-maker out to expose the white-wash of New Zealand's 'dairy land', documenting all the ways in which the dairy industry deceives customers, negatively impacts human health, and harms the environment.
This has been hailed as one of the most pivotal documentaries of our time – and for good reason. After all, there are few things more resonant than the iconic voice of the natural world, Sir David Attenborough, urging people to eat more plants to save the planet!
But wait, there's more…
We're lucky to live in an age where we have unprecedented access to all the expert advice, creative meal ideas, and information we could ever want – meaning it's never been easier to find what you need to feel informed and inspired as you venture into the plant-based world!
And remember – we're always here to help with any challenges or lingering questions you might have along the way.
In fact, our final, slightly biased recommendation is that you grab one of our Veg Starter Kits if you haven't already got one, for an overview of … well, just about everything! Order your free copy here.